2016 BMW 640i xDrive Gran Coupe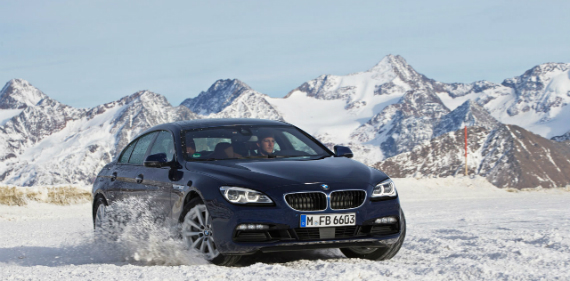 Winter is undoubtedly my least favorite season. I live in Maryland in the suburbs of Washington, D.C., so I get four true seasons each year. Note to Mother Nature: You can have winter back. This year's treacherous winter was epitomized by "Snowmageddon", a Nor'easter fired storm that dropped 36 inches of snow in my immediate area, and paralyzed the eastern seaboard from the Carolinas to New England.
Obviously overwhelmed, it took local authorities three days to even start clearing the roads in my small community, as major roads were the priority. Luckily, after my trusty snow blower cleared the driveway, my 2016 BMW 640i Gran Coupe tester was at the ready. I know, I know, BMW's are not normally known for snow and ice prowess, but this Bimmer was outfitted with xDrive, BMW's hi-tech all-wheel drive system.
I've never owned a BMW with xDrive, but I have owned several Audi quattros and currently own a Mercedes-Benz S-Class with 4MATIC AWD, so I have a good deal of experience with what works and does not work well with German-based AWD systems. In the past I would have ranked Audi, Mercedes and BMW as 1, 2 and 3. Now, after driving the 640i on performance tires during Snowmageddon, my opinion has changed. Time to rejigger quattro Audi, as xDrive IMHO is the new king of the slippery hill.
Why? Instead of a permanent torque split (which is featured in earlier systems), xDrive provides a variable torque split between the front and rear axles through the use of a multi-plate wet clutch located in the gearbox. This setup allows xDrive to modulate the torque split between the front and rear axles, which is normally split at a 40:60 ratio. If wheel slip is detected by the ABS/DSC system, xDrive can react within a tenth of a second to redistribute up to 100 percent of the engine power to the front or rear axle. The wet clutch is applied through a high-speed electric servomotor turning a cam-shaped actuator disc. xDrive is also connected to the ABS and DSC systems, so in the case that wheel spin or directional instability still occurs while xDrive is or has been modulating the torque split, DSC will brake independent wheels to regain traction and improve directional stability without driver intervention.
The front and rear differentials in xDrive equipped vehicles are typically an open differential design, thus relying on brake application by the DSC system to transfer power from the slipping wheel to the wheel with traction.
Audi's system is also a 40 percent front-wheel drive, 60 percent rear-wheel drive split. If one axle loses grip, different rotational speeds arise inside the differential, which result in an increase in axial forces that force the clutch plates to close. Once closed, the output shaft is locked, resulting in the diversion of the majority of the torque to the axle achieving better traction. In most models, up to 85 percent of torque can flow to the rear, and up to 70 percent of torque can be diverted to the front axle. Note that the BMW system details power to "axles and wheels" while Audi's system details power to "axles." Both systems are excellent, but I was impressed with the BMW's ability to traverse icy roads.
Once the roads were cleared so that just a few inches remained, I ventured out in the 640i to see what xDrive was all about. At first, things did not seem to go well, as those few inches were pretty much an ice pack, and the 640i's driveline seemed to shudder a bit as if it was seeking traction. What I did not realize is that it performed exactly as it should have. The xDrive system, reading inputs from the anti-lock brakes and dynamic stability control systems, pulsed the brakes at each wheel while the computer determined which had optimum traction. After xDrive sorted out the parameters, I was smoothly on my way. And this was on ice. xDrive performed flawlessly on snow too, with no noticeable input from driveline computers as I traversed roads that were still in pretty poor condition. And all of this was accomplished on performance tires. So if you own any vehicle that you plan to use in icy, snowy weather, invest in the proper winter tires so you can maximize the safety that AWD and 4WD systems offer. The only drawback to the 640i design is the inability to raise or lower the chassis via a dash switch. Mercedes offers this feature on some of its AWD models, like the S-Class. Being able to raise the car nearly two inches can be the difference between clearing poor roads or getting stuck.
Finally, near the end of my weeklong loan of the 640i Gran Coupe, I was able to drive the car on dry roads. It performed like the BMW it is. Enough said. If you don't get the "Ultimate Driving Machine" moniker that accompanies all BMWs, then boogie on down to your local dealer for a test drive. Superior driving dynamics coupled with BMW's free scheduled maintenance program, and you will likely become a convert.
On road performance is powered by BMW's 3.0-liter twin scroll turbocharged six cylinder with Double-VANOS and Valvetronic variable valve control and high precision direct fuel injection. Power output is 315 horsepower. Not enough? Then go upscale with the 650i Gran Coupe with its 445 horsepower V8 engine. Both the 640i and 650i are available in RWD guise for lighter weight and increased performance. All are part of the impressive "6" family that also includes the Uber performance M6 and Alpina B6. Choose from convertible, two-door coupe or sedan depending on model.
And the 640i doesn't just handle well and go like stink, it also looks great. The entire 6 Series lineup from BMW is gorgeous. And while this "coupe" is in actuality a four-door sedan, it does have gracious, curving lines like its coupe brethren, the 640i/650i.
Inside, it's all business in the 640i. No flash, but lots of luxury and convenience items are standard. From beautiful Nappa leather to available trim including metal and wood, there's much to be desired about the 640i interior. Note to tall guys: if you are over 6-foot-4 you should probably consider a different BMW model. At 6-foot-9 I actually sat behind the B-pillar with the seat fully rearward, effectively rendering the Gran Coupe a three-seater. While great for side-impact protection, getting in and out was a bit of an adventure, one well worth it if you don't mind the gawking as people watch you unwind from the door aperture.
Most convenience and entertainment functions are controlled via the iDrive rotary control knob. While justifiably lamented in some past iterations iDrive is now among the best of the rotary controller clan that all luxury manufacturers seem to employ.
The 2016 BMW 640i xDrive Gran Coupe does everything at a very high level, and even returns 20 mpg city and 29 highway, an amazing number considering its prodigious performance capabilities.
[
](2016 BMW 6 Series xDrive Gran Coupe)
Priced at $81,800 base and $89,350 as tested (including a $950 destination charge), this road burning, snow carving, leather laden Bavarian masterpiece is certainly a "buy".
Toss in BMW's standard "Ultimate Service" with four years or 50,000 miles of free factory-recommended maintenance including oil, belts, wiper blades and brake pads (excludes tires) and the purchase decision becomes a no-brainer.
The 2016 BMW 640i xDrive Gran Coupe might be built in Dingolfing, Germany, but it's an immigrant even Donald Trump would love.
Story credits: Brian Armstead, American Auto Press; Photo credits: BMW; Copyright: American Auto Press.
---