2016 Ford Mustang Ecoboost Fastback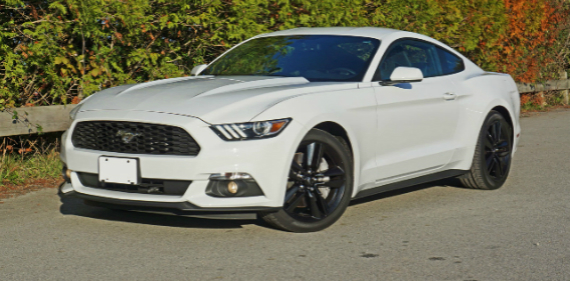 One of the best pony cars ever2016 Ford Mustang Ecoboost Fastback
Consider me a concerned Mustang citizen, but when Ford first revealed photos of this generation pony car I wasn't quite sure what to think. Had they gone too far in an attempt to modernize their classic muscle car?
Like most everyone I've now seen more than my fair share of sixth-gen Mustangs in coupe and convertible body styles, base to Shelby trims, not to mention aftermarket sport-tuned versions, and even spent a week with a GT Convertible and another seven days with this Ecoboost Fastback. I took the time to wash and dry both by hand, the best way to get a feel for a vehicle's design detail, and viewed each at length from almost every possible angle (although I still haven't had one on a hoist), and can now say that I'm fully onboard as far as styling goes.
Even this morning I was caught off guard as a Magnetic Gray GT Fastback pulled up into my sideview mirror, its road presence as catch-your-breath intimidating as any premium-badged supercar. The grille still incorporates some of the 2007 and onwards Shelby design elements that wowed me and so many others when debuting as the GT Coupe Concept at the 2003 Detroit auto show, although the new car has advanced so far beyond that more retrospective look that it's a entirely rethought entity. The current Mustang is almost as radical a changeup as how Ford's ultimately retrospective mid-engine GT40-inspired 2005 GT supercar transformed into the upcoming 2017 GT, the previous version one of best sorted sports cars I've ever had the pleasure of piloting around a racetrack.
I've had my fair share of Mustangs on favorite courses too, Mont Tremblant in the aforementioned '05 Shelby GT500 and the same track with tricked out Saleen-tuned GT that hadn't had its brakes upgraded yet; what a smoke (and flame) fest that was. I enjoyed the next-gen GT500 on Laguna Seca as well as various V6- and V8-powered Mustangs, but I must admit that each and every at-the-limit moment behind the wheel was a test of my personal skills and ultimate nerve. The car was always fully capable, but I'm the first to admit that I'm no Alex Tagliani; hot laps around the aforementioned Quebec track in a GT500 with Tags at the wheel made this very apparent. Still, a willingness to push personal limits beyond comfort levels has always been an asset in every aspect of my approach to life, especially at the wheel of a muscle car in a relatively safe environment. I can't imagine how much better this new Mustang would perform in either location, or any one of the many other racecourses I've enjoyed over the years.
This new Mustang, introduced in late 2014 as a 2015 model and now identical for 2016, breaks a number of sacrosanct pony car rules that have no doubt upset as many diehard loyalists as they've won over new fans. Gone is the live axle rear end that made previous models the bane of every other drag strip rival, replaced with a fully modern independent rear suspension. To the outgoing model's credit, Ford had perfected the live axle, or at least taken it as far as it could imaginably go. It was a superb driving car on road and track, but nevertheless I've felt the rear tires hop, skip and jump when exiting mid-corner bumps (most often this being one of many types of pavement irregularities out on the open road, albeit other times while cresting a trackside curb mid-apex) and experienced the unsettling tank-slapping results that immediately morph boys to men as more proverbial hairs infest the chest. Such moments are now ancient, antiquated history, the new suspension setup so brilliantly balanced that you'd need to be a driving neophyte to get it sideways, at least with the traction and stability control engaged. Turn that nonsense off and it'll drift its way into your dreams or nightmares depending on your experience and level of skill at applying opposite lock steering when big meaty Pirelli P Zero 255/40ZR19s break loose, its limit arriving quite predictably and once past, easily controllable. Driving this car fast is a delight.
An unexpected surprise was my tester's new 2.3 Ecoboost powerplant, not the first time Ford's stuffed a fou–banger into a 'Stang, but certainly the best attempt. Its 2.3-liter displacement has a rich history with Ford in general and the Mustang, not to mention motorsport. The 2.3 Lima four-cylinder powered the much-maligned Pinto in the '70s and also ended up in the most unloved pony car of all, the Mustang II, a model that was actually based on the infamous spotted horse's platform. The 2.3 in this model made as little as 83 horsepower in '75 and as much as 89 hp in '77; this engine actually used in the Formula Ford 2000 series. While mostly new engines got the nod, many low budget racers pulled engines from wrecked or burned Pintos (plus the Capri and Ranger in North America or Taunus, Escort, Cortina, Capri, Granada, Sierra, Scorpio, Transit Van in Europe-it was even used in the TVR Tasmin 200) and stuffed them into single-seat open-wheel Formula Ford 2000 racecars (initially new 1,498-cc Cortina engines were used in Britain) that helped groom countless professional drivers on their way up through the ranks (the list including the likes of Ayrton Senna, Nigel Mansell, Emerson Fittipaldi, Damon Hill, Mika Häkkinen, Michael Schumacher, David Coulthard, Mark Webber, Craig Lowndes, Scott Dixon, Danica Patrick, Kimi Räikkönen, Jenson Button, Will Power, Daniel Ricciardo and Kevin Magnussen; just a handful from hundreds). A much-improved 2.3 powered the first '79 "Fox body" Mustang Turbo with a total of 132 horsepower (almost as much as the V8 of the era) plus 142 lb-ft of torque, and the '83 Turbo GT producing an even more satisfying 145 hp plus a whopping 180 lb-ft, whereas the '84 SVO actually made 175 hp plus 210 lb-ft of twist thanks to an air-to-air intercooler, making it quicker than the V8-powered GT (it was a lot pricier too); by '86 that 2-3 SVO engine would be capable of 200 hp. Of course, nobody except RS200 Group B rallycross racing radicals from the same era could have ever imagined the power available from today's 2.3-liter Ecoboost Mustang.
Now filled with tech that wasn't available back then, such as direct injection, the latest four-cylinder Mustang is capable of 310 horsepower and 320 lb-ft of torque for a great deal more usable performance than the base 300 horsepower 3.7-liter V6 that only musters 280 lb-ft, both engines zero to 60 mph sprint conservatively estimated at about five and half seconds in stock trim albeit the 2.3L reduced to 5-2 with the Performance Package upgrade, whereas the 2.3L's quarter mile blasts past in just 13.8 seconds (13.6 with the Performance Pack) compared to 14.1 with the 3.7L. There's also less weight over the front wheels, improving handling.
Overall it feels like the bantamweight European of the bunch (although most German-made premium coupes are now heavyweight pigs in comparison, so the analogy doesn't work anymore), the V8-powered GTs and Shelby models all-American bruisers in comparison (albeit no longer unwieldy ones); my Ecoboost Fastback weighed in at 3,532 lbs compared to a daunting 4,250 lbs for the comparatively sized BMW M6 Coupe I drove recently; a Fastback GT weighs 3,705 lbs whereas the similarly powerful Shelby GT350/R hits the scales at 3,759/3,648 lbs (and without a carbon-fiber roof no less). The 2.3's engine note is rorty and sporty, not the stuff of Trans Am legend like those V8 models, but with a little exhaust work you could probably get it to reproduce a good aural impression of the WRC killer-B glory days.
After experiencing the rush of rear-wheel push available it's hard to believe this powerful four gets the best mileage of the Mustang lineup, its EPA rating good for 22 mpg city, 31 highway and 26 combined as-tested or 21 city, 32 highway and 25 combined with its optional paddle-actuated six-speed auto, which is even lighter by the way. It's a classic have your cake and eat it too moment.
Ford got all the details right inside as well. From the brilliant cloth-covered Recaro sport buckets with racing harness holes behind each shoulder, metal-trimmed pedals, red-ringed and white-centered "Engine Start/Stop" button on the dash, engine-turned metallic instrument panel inlay, oil pressure and boost gauges between the HVAC vents at center that mimic the simple chrome-rimmed primary gauges ahead of the driver, thick padded leather-wrapped sport steering wheel with satin-silver metallic adorned spokes, metal and leather trimmed short-throw six-speed shifter; it's all there. Like past Mustangs, the car fits all body types, my five-foot-eight chassis comfortably contained within those fabulously supportive sport seats with all controls falling easily to hands and feet.
I could go on about quality too, the dash now soft-touch synthetic, yet more soft surfacing leatherette for the lower inserts and side armrests while the upper inserts get a similar padded black cloth covering to the seats, white stitching adding a little trendy style to go along with the car's aforementioned Euro feel. Ford doesn't pamper elbows with soft-touch door uppers in this mid-grade model, such niceties left to the GT and above (I see a trip to the wrecker for upgrades in order after a few years of these on the road).
Speaking of upgrades, you might want to ask Ralph behind the used parts counter how much he wants for the GT's much more appealing center stack with its full-color high-resolution infotainment display, dual-zone auto HVAC system and slick row of metallic toggles just next to the aforementioned ignition button, because my tester's 4.0-inch infotainment screen was a turn-off. It's oddly small in such a big screen world, making me wonder if it might have been better for Ford to forgo display audio altogether and instead install a classic radio design with big pushbutton presets. OK, maybe I'm being too nostalgic, but Mustangs do that to a guy my age. While the abbreviated screen and unorthodox four-arrow button controls might look out of place in a brand new design, as did the big telephone keypad to the right, it did the job, the audio system plenty capable of cranking out classic rock, let alone Euro techno dance tracks and all genres to each side and in between, its large rotating volume and tuner knobs ringed with etched-metal rims just like the slightly smaller fan and temp HVAC knobs below. The various uniquely shaped, surfaced and colored buttons, knobs and toggles fit together tightly with impressive damping and a quality feel as well, the latest Mustang a wholesale improvement over every predecessor.
I suppose this brings us to the all-important features list, the Ecoboost Fastback more about performance than luxe yet still well equipped with standard 18-inch magnetic-painted machined-aluminum alloys on 235/50R18 rubber, auto on/off HID headlamps with signature LEDs, DRLs, LED front fogs, sequential LED taillights, proximity-sensing keyless access with pushbutton start, MyKey, Track Apps that include a digital accelerometer, acceleration timer, brake performance, line lock, launch control, etcetera, an auto-dimming rearview mirror, six-speaker AM/FM/CD audio, Sync phone connectivity, a rearview camera, two smart-charging USB ports, active noise cancellation, a tilt and telescopic leather-wrapped multifunction steering wheel plus leather-wrapped shifter and parking brake handle, six-way powered front seats with powered lumbar adjustment for the driver's seat, reasonably accommodating rear seats that fold 50/50 to expanding on the largish (for a coupe) 13.5 cubic-foot trunk, a perimeter alarm, individual tire pressure monitoring, four-wheel vented discs (12-5-inch front and rear with dual/single front/rear piston calipers) with ABS, AdvanceTrac with Electronic Stability Control (ESC), SOS Post-Crash Alert and all the usual airbags plus a blocker for the driver's knees, a lot of kit for $25,645 plus freight and dealer fees.
My Oxford White tester was dressed up with the very complete $1,995 EcoBoost Performance package that adds the engine-turned aluminum dash inlay and gorgeous Ebony Black-painted 19-inch alloys on the 255/40R19 summer tires noted earlier, as well as the oil pressure and boost gauges mentioned before, while adding a low key gloss black steel strut tower brace under the hood, an even less visible upsized rad, heavier duty front springs, larger rear sway bars, performance chassis tuning, larger brake rotors with beefier four-piston front calipers, a 3.55 limited-slip rear axle, uniquely calibrated electric powered steering (EPAS), ABS and ESC, and the removal of the rear spoiler for a cleaner look. The Recaros added $1,595 (money well spent) while an even smarter addition was a $395 Enhanced Security package that keeps felons from stealing those seats (they won't be yanking the stereo), the wheels or the entire car, which includes an active anti-theft system, wheel locking kit, electronic steering column lock, and an electronic locking center console. My loaner also included rear parking sonar for $295, plus $95 worth of all-weather floor mats for a total of $30,020 before freight.
One stint behind the wheel and you'll probably agree the price required is small for a sports coupe that looks so amazing, performs so well and is certainly finished to a higher standard than ever before. Yah, you could say I'm fully on the new-era Mustang bandwagon. Unlike those in the mid-'70s, the current team of designers, engineers and corporate suits haven't lost sight of what makes the Mustang great, but rather have made this newest version one of the best pony cars ever.
Story credits: Trevor Hofmann, American Auto Press; Photo credits: Karen Tuggay, American Auto Press; Copyright: American Auto Press.
---