2016 Honda Civic Sedan Touring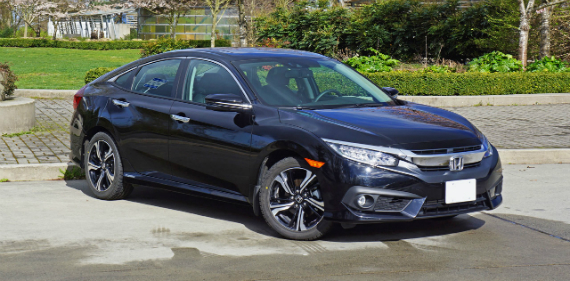 One of the best small cars ever created2016 Honda Civic Sedan Touring
Has the new Civic caught your attention yet? It certainly doesn't fly under the radar like previous generations, the latest redesign making a high-tech visual statement that definitely carries over to the interior when optioned out in top-line Touring trim.
That's the way Honda provided my latest Civic Sedan tester, but before we jump inside I should point out this particular model's full low and high beam LED headlamps and LED front turn signals, the combination arguably more jewel-like than the more upscale Acura ILX's distinctive lighting clusters. Together with chrome surrounding trim that seems to seamlessly meld into the bold brightwork grille they glitter in sunlight like brilliant cut diamonds, a fitting analogy considering it'll require the better part of a reasonably respectable engagement ring to ante up for this near premium compact.
The base Civic Sedan LX starts at a very approachable $18,640 plus freight and dealer fees, whereas this Touring will need $26,500 on the hood (ok, a $7,860 engagement ring is more than just reasonably respectable). For that you also get de rigueur LED turn signals on the side mirrors, although to be clear there's more than just dazzling exterior lights included. Upwardly mobile Civic Sedan Touring owners will also enjoy rain-sensing wipers, leather upholstery, a four-way powered front passenger's seat, heatable front and rear outboard seats, navigation, voice recognition, plus a 450-watt 10-speaker audio upgrade with the addition of satellite and HD radio plus a subwoofer, and let me tell you that stereo might just be worth the price of admission. Honda also added a $305 wireless device charging from the accessories catalog to make smartphone charging easier, although would've needed to upgrade in order to take advantage.
Of course, every other feature you might expect a top-line compact to offer has been pulled up from lower trims, some highlights including auto on/off headlights, fog lamps, LED taillights, remote start, proximity-sensing access with pushbutton ignition, walk-away powered locks, heatable powered side mirrors, an auto-dimming rearview mirror, one-touch turn signals, Bluetooth phone and audio streaming, multiple USB ports, an eight-way powered driver's seat, a powered moonroof, and the list goes on and on, so suffice to say you'll be well taken care of with respect to convenience and comfort.
On that note the Touring's full soft touch dash top, rubberized bolster ahead of the front passenger, and pliable composite front door uppers are plenty pampering while also pulled up from lesser Civics, although its soft padded leatherette door inserts and armrests, with light gray contrast stitching no less, match the leather upholstery and therefore are exclusive to top-line trim, while the center armrest, finished just like those on the side, wraps all the way around the front cupholder and includes a middle section that slides rearward to uncover a second cupholder if needed. If all this sounds nicer than most compact models, it is, but Honda doesn't stop there.
Rather, its electronic interfaces are some of the slickest in the industry, its primary gauge package easily the stuff of the luxury class with a seven-inch TFT multi-information display at center that's surrounded by a large semicircular analog-style tachometer/multi-digit speedo. Again, neither this colorful digital lightshow nor the wonderfully large and beautifully detailed infotainment touchscreen overtop the center stack, also improved upon by touch sensitive controls, are exclusive to the Touring, my previous EX tester featuring both.
The former is actuated by near perfectly fitted, well damped steering wheel controls that even include a touch-sensitive audio volume slider that curves to follow the left thumb's natural rotation, just one more item that's unexpected in the Civic's compact class, while the latter is a crystal clear display infused with HondaLink, Apple CarPlay and Android Auto (my Samsung phone connected to the latter very well, but I no longer have an iPhone to test the former), SMS text message and email functionality, Wi-Fi tethering, dynamic guidelines for the multi-angle rearview camera, the aforementioned 450-watt audio system, an additional USB port, HondaLink Assist automatic emergency response, and more. It's a tablet style display that seems to float slightly above the instrument panel as it sticks up out of the dash, a stylish brushed aluminum-look inlay underneath, while the dual-zone auto HVAC interface that's positioned lower down the center stack is a prime example of good, simple design.
A big rectangular "CLIMATE" button at center changes the infotainment screen to a useful set of HVAC graphics when applie, a smart way to ease access to oft used controls. At the base of the center stack, almost hidden in a separate bin that's large enough for my gargantuan Note 4 is the wireless charger I spoke of earlier, somewhat useless to me without an updated phone case but worth investing in for my next mobile upgrade.
The brushed metal inlay mentioned a moment ago visually stretches across the entire instrument panel and then over to the doors, its lower edge bordered in satin-silver, while the smoother silver treatment also highlights other key areas around the cabin. There's some piano black lacquered plastic too, but this is limited to an extension of the gearshift surround, so nothing to get excited about if you're into this slowly ebbing trend. Additional interior highlights include a leather-wrapped and padded ergonomically-shape sport steering wheel with more light gray stitching to complement the seats and door panels, plus a leather-wrapped shift knob and boot, gray thread also enhancing this latter item. And incidentally, the Civic's high quality switchgear goes beyond the steering wheel controls, the new Econ button and electromechanical parking brake toggle down by the shifter especially nice. Three-way front seat heaters warm to therapeutic levels when set to their topmost temperature, and the two-way elements in back will truly be appreciated by cold kids, arthritis inflicted parents, or anyone else you regularly shuttle around.
The leather-clad Civic Touring seats are absolutely wonderful, their inserts done out in perforated leather with a stylish textured leather strip extending from the top and bottom. There's no driver-side powered lumbar support, normally found in top trims and helpful to many during long-distance travel, but the seats are already very supportive due to inherently good design so this shouldn't pose a problem for most drivers. Likewise, those in back should find the outboard positions comfortable and legroom is very good for the compact segment, while even though the Civic Sedan now wears a four-door coupe-like roofline, which makes it appear more like a sporty hatchback, there's a lot of headroom in all seating positions.
As long as we're talking capacities, those rear seats fold in the usual 60/40-split to expand the already spacious cargo compartment beyond its 15-1 cubic-foot volume, that number actually 2-6 cubic feet greater than last year's trunk.
Yes, it's all things bigger and better for 2016 Civic Sedan, the new model almost 3 inches longer at 182.3 inches with a 1.2-inch longer wheelbase now measuring 106.3 inches from axle to axle, plus 1.8 inches greater width at 70.8 inches, albeit 0.7 inches less height resulting in 55.7 inches and a leaner profile. To think Honda could get away with upping the Civic to near mid-size dimensions without any weight gain would be optimistic at best, but I must admit to being surprised when learning that only 30 lbs was added to the 2,742-lb base LX model, whereas the top-line Touring model tested actually lost about 15 lbs, that car now weighing in at 2,923 lbs. This has everything to do with a 59-percent increase in high-strength steel and 14 percent more ultra-high-strength steel (which are up 55- and one-percent respectively), this not only reducing the mass needed for a structurally rigid body shell, but also making for even more strength that aids quietness, handling and crash test results.
With respect to the latter the Civic achieves a best-in-class five-star NHTSA rating, although by that I'm referring to five stars in all three categories (a car can earn five stars overall and still be only rated with four when it comes to side or rollover tests), while Civics with optional front crash prevention upgrades, which come standard with the Touring, earn a coveted IIHS Top Safety Pick + rating.
Those active safety upgrades are part of the Honda Sensing system that includes forward collision warning with collision mitigation braking, plus lane departure warning, lane keeping assist and road departure mitigation, as well as adaptive cruise control with low-speed follow, which as you may have guessed is most of the electronic equipment needed for an autonomous car, although the Civic is not set up to self-drive just yet.
I'd be remiss if I didn't include one of my favorite active driving aids in this review, Honda's exclusive LaneWatch blindspot display that shows a passenger-side rearward view on the infotainment screen when flicking the turn signal to the right, while other safety kit includes the HondaLink Assist automatic emergency response system, hill start assist, four-wheel discs with ABS, plus all the class-average electronic aids and usual count of airbags.
Also notable, all Civics improve their driving experience via Agile Handling Assist (AHA) that provides torque vectoring capability to improve responsiveness while increasing road-holding through the stability assist system. Basically AHA applies light unnoticeable braking force to the inside wheels when the steering wheel is turned, and then the same to the outside wheels when steering is returned. Added to this is Straight Driving Assist that reduces steering effort when on a sloped or crowned road surface.
As you might expect the Civic's ride quality is very good despite my tester's upgraded 17-inch alloys on sportier 215/50R17 rubber, and while my particular car was still outfitted with winter-ready Bridgestone Blizzaks, which don't come standard but would've come in handy during ski season, it still handled wonderfully. All Civics benefit from a fully independent suspension that includes a multi-link rear setup along with front and rear stabilizer bars, while the steering is an electrically assisted rack-and-pinion design with fairly direct response and reasonably good feedback for the front-drive compact class. You'll experience some lean when pushing it hard through sharp curves, but there's no way to maintain an ideally flat cornering stance in a car this compliant over bumps and potholes, the Civic Touring's balance of comfort and sport probably spot on for most peoples' tastes.
Civic Nation performance fans no doubt were excited when "TURBO" was first seen on the sides of the new car, and while it's certainly more energetic than the naturally aspirated base 2.0-liter engine's 158 horsepower and 138 lb-ft of torque, its 1.5-liter displacement depletes some wind from the sails of those looking for a Jetta GLI fighter. Of course, the Honda faithful will look to the upcoming 2017 Civic Si for serious performance, not to mention the even sportier Civic R, but such may only be available in two-door coupe and new five-door hatchback body styles. As it is the smaller four-cylinder produces 174 horsepower and 162 lb-ft of torque, the latter number most noticeable when comparing the base engine with its optional continuously variable automatic, the CVT standard in the Touring. It gets a Sport mode that allows revs to spin higher between shifts, but due to the CVT it doesn't feel all that performance-oriented, causing me to leave it in Eco mode more often than not, which certainly paid off when it came time to refuel.
As you may have guessed the little turbocharged mill allows a fractional improvement in fuel economy over the base engine/CVT combination at 31 mpg city, 42 highway and 35 combined compared to 31 city, 41 highway and 35 combined, which is absolutely nothing to write home about until factoring in the performance gains.
Once again the new Civic Sedan Touring is more about finding an ideal balance than being the fastest, edgiest car in its segment, and I'm just fine with that. After all, in order to maintain its second spot in sales the Civic needs to appeal to the masses, and to that end Americans have spoken loudly with deliveries up more than 30 percent through the first quarter of 2016 to the point that it passed right by the normally first-place Toyota Corolla. If Civic's numbers continue like this it won't only become the top-selling model within its class but could break 400,000 units over the calendar year for the first time ever, all within a compact car segment that some automakers are now pulling out of due to a lack of buyer interest compared to compact SUVs. Honda has proven there's no lack of interest in this class at all, as long as you come to market with something compelling, and they've done just that with one of, if not the best small car ever created. The new Civic is that good.
Story credits: Trevor Hofmann, American Auto Press; Photo credits: Trevor Hofmann, American Auto Press; Copyright: American Auto Press.
---