2016 Volkswagen CC 2.0 TSI R-Line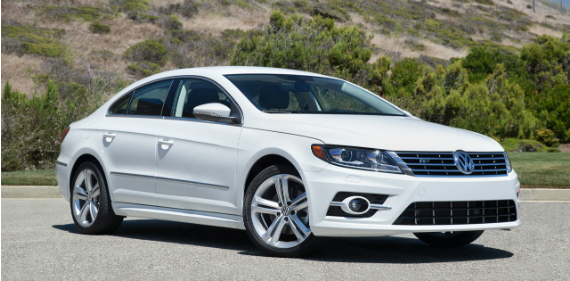 Still a unique, stylish and particularly rare four-door coupeIf you bring the name Volkswagen up in conversation these days it can cause quite a stir. Some will immediately comment on the number one auto news story of 2015, Dieselgate, while others will excitedly want to talk about one of the brand's new or significantly updated models, such as the 292 horsepower all-wheel drive Golf R, the redesigned Passat, or the long awaited seven-passenger crossover that is expected later in 2016. One thing's for sure, VW is never boring.
Take the CC. When it arrived on the scene in 2008 it was the first ever four-door coupe in the mainstream volume sector and today, seven years later, it arguably remains as the only four-door coupe in the mainstream volume sector, although some rivals are now encroaching on its territory without using the class moniker. It received a mid-cycle makeover for the 2013 model year that replaced its deeper U-shaped grille design with the more uniform horizontal strakes that now permeate the entire VW lineup, the new version modernized and certainly clean and uncluttered looking, a minimalist's dream car. I wouldn't say the redesign has been a hit, however, with sales having dramatically declined over the last couple of years.
When initially introduced the CC was a fairly strong seller for a niche market model, its first full calendar year of 2009 resulting in 23,872 sales, followed up by an even stronger 2010 resulting in 27,987 deliveries, even better results in 2011 with 29,502 CCs down the road, and a year of tapering off in 2012 with just 21,646 units sold. Calendar year 2013 was the first full year of the new design and despite overall auto sector growth its sales fell to 15,672 units, not at all what you expect from a refreshed model, while 2014 resulted in a mere 9,995 deliveries and year to date sales as of November 2015 are even less worthy of celebration at just 5,643 sold. Even if Volkswagen duplicates its best month of the year for December its CC sales will just eclipse 6,000 units. That's a steep downhill trajectory from a high of almost 30,000 units only four years ago.
I'm going to guess that the CC's loss of momentum isn't only about styling, because to me at least its neatly pressed new suit still looks good. It's not an eye-arresting, neck-snapping, "Did you see that?" type of design, but it's still a respectable looking daily driver that would add an air of sophistication to anyone's upwardly mobile lifestyle. These now very limited sales give it an exclusive cachet, at least compared to the larger and more utile Passat. VW dressed up my tester with a curving row of signature LEDs winding their way through combination HID headlamps, fog lamps hidden within stylish oval bezels below, LED turn signals embedded within the mirror housings, chrome trim around the side windows and mouldings, gorgeous twinned five-spoke alloy wheels at each corner, a trunk lid that forms into an integrated spoiler at back, more of that chrome body moulding wrapping around the rear bumper, and a set of stylish LED taillights that look dazzling at night.
If it's not styling driving the sales down, could it be the CC's redesigned interior? True, while VW arguably made the instrument panel more appealing from a design perspective some of its materials quality disappeared, with more hard plastics added that weren't there before the 2013 refresh. It's still a beautiful cabin, however, the CC living up to its flagship model status as far as design goes. A unique floating soft-touch dash top seems to hover over gorgeous brushed aluminum inlay that spans the entire width of the instrument panel, expanding to encompass the primary instruments ahead of the driver and at its midsection diving downward to surface the entire center stack. A thin strip of the same metallic trim highlights each door panel too, their uppers covered in identical high quality soft synthetic as the dash top for an experience that bridges the gap between mainstream and premium.
That extra soft synthetic benefits the door inserts and armrests too, but these are done in a light tan thanks to my tester's two-tone black and beige interior color theme. It's an especially attractive look, the rib-stitched perforated leather sport seats on my upgraded model downright rich. As noted, the CC falls short from its extensive use of cheaper feeling hard plastics. These stretch across the lower half of the instrument panel (all of the beige stuff in my tester) and underneath including the glove box lid, the former something that higher trims of volume compact and mid-size family sedans don't allow anymore. The latter, however, is acceptable in the mainstream volume class, as are the hard plastic lower door panels and center console's top and sides, but those of us who've lived with VWs of the past expect more, especially at the CC's lofty price point. Ditto for switchgear that mostly feels hollow and cheap compared to the majority of mainstream rivals. In what appears to have been an effort to separate VW from Audi, the namesake brand has gone too far down market while its competitors are shooting for the stars. I'm not going to peg the CC's lagging sales to interior refinement issues, but losing sight of what used to seem like core brand principles certainly doesn't help. At least the CC hasn't abandoned VW's penchant for fabric wrapped pillars, which can be found all-round.
As noted, its interior design and especially the car's finer details won't be turning anyone away. Its primary dials are a lesson in simplicity that I wish others would emulate. The metal-rimmed white on black dials with spinning red needles are classic analog done to perfection, which I think suits VW's clientele well, plus a de rigueur high-resolution color multi-information display vies for attention at center stage, and while VW could do more to spice up the latter item's graphical show it was certainly functional.
All said, the big news for this model is what sits overtop the center stack, an all-new MIB II infotainment system with a new 6.3-inch touchscreen display. It boasts new VW Car-Net with intuitive App-Connect integrating Android Auto, Apple CarPlay and MirrorLink, while the screen includes proximity-sensing technology that expands links as your hand approaches. It's all impressive kit that works extremely well, especially when it comes to connecting your smartphone and accessing a variety of apps via this larger and more importantly, legal user interface (at least holding your phone while driving is against the law where I live), and looks much better than Volkswagen's previous interface. At least as good if not better is VW's choice to finally embrace the lowly USB, this being the first CC to offer standard USB connectivity and VW being the last holdout brand to do so.
The Car-Net portion of the system, which is really the feature VW wants you to buy into, is a subscription-based service that offers security features, remote vehicle access, advanced telematics and enhanced navigation.
The 620-watt 10-speaker Dynaudio stereo upgrade is an awesome sounding option that comes in top-line trims. Feeling in a classic rock sort of mood I swapped stations to land on Aerosmith's Sweet Emotion, at which point I couldn't help but crank it for all it was worth, and believe me this four-door yuppie coupe can rock.
The CC doesn't rock on the road, however, at least not back and forth or from side to side. Rather, its highly responsive electromechanical powered rack and pinion steering and fully independent MacPherson strut front and four-link rear setup with stabilizer bars at both ends, provides total stability at high speeds, whether pitching it into a fast-paced corner or just cruising autobahn-style along the freeway, the CC builds confidence in typical Teutonic fashion. It's a comfortable ride too, no matter the road surface below, VW once again managing to provide a pampering chassis with a very capable one, a balance that so many other manufacturers can't seem to achieve.
Ditto for the powertrain, that combines impressive go-power with the efficient use of fuel. As you may already know there's a silky smooth and highly energetic 3.6-liter V6 at the top of the CC range, capable of 280 horsepower and 265 lb-ft of torque while putting power down to all four wheels via 4Motion AWD for a step up the performance and refinement ladder in top-tier CCs, but just in case you were looking at VW's retail site and couldn't find one to configure, take heart that it's on the way for the 2016 model year, albeit a bit late. Like so many other CC buyers, however, I'd opt for the base 2.0-liter four if it were my money on the line, for initial as well as ongoing running costs. First off it's a powerful little direct-injected, turbocharged and intercooled mill, producing 200 horsepower and 207 lb-ft of torque, the latter number from only 1,700 rpm, while the six-speed automatic it came mated to in my upgraded tester might be a bit down on gears compared to more recently introduced eight- and nine-speed transmissions, but it's one of VW's fabulous dual-clutch DSG units complete with an engaging Sport mode as well as paddles, and delivers such fabulously quick action yet stingy efficiency that any top gear shortcomings can be overlooked.
The CC scores very well when it comes to fuel economy with a claimed EPA rating of 22 mpg city, 31 highway and 25 combined for the DSG, or a 21 city, 32 highway and 25 combined rating for the six-speed manual, while the V6 gets a 17 mpg city, 25 highway and 20 combined rating.
Efficiency is certainly not at fault for the CC's diminishing returns, and I doubt performance plays into it either, leaving price. Rather than just hope that things get better Volkswagen has introduced a new entry-level trim dubbed Trend that starts $1,425 less than last year's base model at $32,435 plus freight and dealer fees. For that money it's still a well-equipped model with features such as HID headlamps, DRLs, LED taillights, a leather-wrapped tilt and telescopic multifunction steering wheel with audio, trip computer, Bluetooth hands-free, and cruise controls (the latter with an active display), a leather-covered shift knob, the same 6.3-inch infotainment system and rearview camera as noted earlier, 12-way powered and heatable front seats, V-Tex leatherette upholstery that looks a lot like the real deal, and much more.
On top of that, 2.0T Sport and R-Line trims add proximity-sensing keyless access with pushbutton ignition and the list goes on, while the R-Line Executive adds 18-inch Montauk alloys, glossy black window moldings, mirror caps and grille accents, ambient lighting, a panoramic sunroof and leather seats. Finally, the Executive with Carbon model includes unique carbon-patterned leather seats along with carbon interior trim, while removing the ambient lighting.
As for the top-line 3.6L VR6 4Motion Executive model, it receives new 18-inch Shanghai alloy wheels, adaptive cruise control, forward collision warning and autonomous emergency braking, plus lane departure warning.
While a new lower price may attract some additional buyers that last year's CC wasn't able to, the 2016 model is up against new challengers vying for four-door coupe status, the redesigned Nissan Maxima coming immediately to mind, and while that Japanese model excels in interior refinement and off-the-line power, from an overall driving perspective the CC remains in the lead. Of course, this Nissan won't be a big seller either, so just like the CC it's a case of bragging rights and building brand image. As with the VW, once again it's hard to pinpoint exactly why sales have been falling over the past few years, but on the positive this only makes it more exclusive for those who appreciate its many merits.
So if you're looking for a unique, stylish and particularly rare four-door coupe, Volkswagen still has the answer in its very likable CC.
Story credits: Trevor Hofmann, American Auto Press Photo credits: Volkswagen Copyright: American Auto Press
---