2016 Kia Sorento Limited 2.0 T-GDI AWD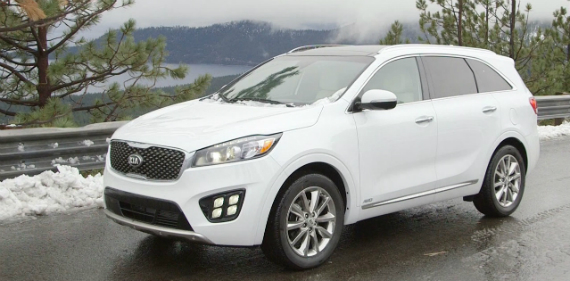 The new class leader in mid-size SUVs You know how some companies just have a thing for good design? Apple has long been noted for its style leadership, as has Jawbone, Bang & Olufsen, Dyson, Braun, and the list goes on. We can now add Kia to this list, but to be perfectly candid with respect to this South Korean brand, style wasn't an inherent trait. A look back to some of their previous models is all that's needed to remind anyone of that fact, although the Sorento has been one of their more appealing products since it arrived in 2003.
I dubbed the 2003 Sorento "great looking" in a review that followed its initial launch program, and even recommended it to my brother and his wife who purchased a fully loaded one and enjoyed it for more than a decade without problem. After testing the second-generation 2011 model I called it an "extremely stylish design." True, not my most creative literary work in either case, but at least straight to the point and notably positive. My notes for this all-new third-generation model are similarly clear and concise albeit a much bolder claim, stating that, "From front to back it's as pleasing as mid-size crossover SUVs get."
I doubt many would argue against the redesigned Sorento's styling, which is well proportioned from all angles, elegantly shaped with just the right amount of curvaceous muscle albeit not so much as to offend those who appreciate equal doses of feminine grace, while it's not overdone when it comes to details. Certainly it doesn't fall short of impressive bling, but it somehow delivers a level of confidently understated design that's normally the stuff of pricey premium players.
Premium in mind, Kia actually offers a rear-wheel drive full-size luxury sedan named K900, which does a fairly good job of targeting luxury-branded four-door models like the Audi A8, BMW 7 Series, Lexus LS, and Mercedes-Benz S-Class, not to mention its own familial Hyundai Equus, while posing a much more alluring prospect than large luxury car wannabes like the Acura RLX, Buick LaCrosse, Cadillac XTS and Volvo S80, but the true litmus test for Kia luxury is this Sorento, being that only a comparable handful of K900s (2,362 during the first 11 months of 2015) and not many more front-wheel drive Cadenzas (6,745, this model going up against Toyota Avalons and the like) have been sold across the U.S.
Comparatively, Kia attracted 103,377 Sorento buyers throughout that same 11-month period, which would put it relatively close to the U.S.-market record if as-yet undisclosed December sales continued at the model's most recent 9,000-unit average monthly pace. The old 130k-plus record was set in 2011, the first year of full sales for the previous model, so who's to say what 2016 will bring as we haven't yet seen a full year of third-gen sales, this model having arrived only partway through last year.
Even if Sorento sales grow by 25 percent its numbers won't be anywhere near as large as General Motors' 256,074 combined mid-size CUV sales during the same 11 months, the Chevrolet Traverse leading its Lambda-based relatives with 110,802 units sold, the GMC Acadia next with 89,127 deliveries, and Buick Enclave last with 56,145, whereas Toyota is also a clear leader with an impressive tally of 142,815 Highlander sales. Ford manages combined five- and seven-passenger Edge and Flex sales of 113,857 and 17,835 respectively resulted in 131,692 mid-size models sold, whereas Nissan's 55,824 Murano and 73,675 Pathfinder result in 129,499 deliveries, and the Honda Pilot managed 122,868 sales, which are also strong showings well ahead of the Sorento, but it certainly could edge past Hyundai's 108,616 Santa Fe sales, while the Sorento clearly leads Dodge Journey numbers of 96,718 units sold from January through November, and decimates Mazda's paltry 16,846 CX-9s and Volkswagen's minuscule tally of 6,551 Touaregs.
While not yet a class leader in sales the Sorento is nevertheless a critically important vehicle for Kia. It might not be the biggest seller in the brand's U.S. lineup, that title going to the mid-size Optima sedan that managed 145,732 sales through the first 11 months of 2015, seconded by the Soul with an impressive 134,974 unit tally, but sales numbers aside the mid-size SUV's price point allows for decent profits. The 2016 Sorento with FWD starts at $24,900, which makes it one of the more affordable crossover SUVs in its class but still a great deal more lucrative than a Soul or even the Optima, while when optioned out like my tester it quickly escalates towards $40k territory. This is par for the course in this class, my $39,900 Sorento Limited T-GDI AWD still a steal compared to most similarly equipped rivals, and you can still add a V6 plus packages.
The Limited is a cut above. Gloss black surfacing gets added to the bumper cap, lower grille and this model's distinctive quad LED fog lamp surrounds, while genuine stainless steel undertrays enhance both front and rear valances, plus a similar treatment makes the bumper-top and exposed lip of the load floor appear more Audi-like than Korean budget brand. Back up front, the LED-infused twin HID headlights look impressive too, as do the opposing LED lightbar taillights that are particularly attractive at night, whereas the wheel arches and door garnishes are body-colored, and metal brightwork surrounds Kia's trademark grille while covering the door handles, window surrounds, roof rails and sweet looking dual oval tailpipes. The Limited is finished off with stylish Y-shaped five-spoke alloys with gray painted pockets, the same gray used to embellish the uniquely detailed front grille insert, incidentally. A set of 235/55R19 all-seasons round out the package, framing unique black-painted brake calipers no less, the entire SUV looking as good as, if not better than anything in the mid-size class, including most premium players.
Get ready to be impressed with this near-premium crossover SUV's interior too, because it will leave you wondering why all automakers don't do as good a job with design or materials quality. The SX gets filled with upscale detailing such as a French-stitched leather-look dash top and a full soft-touch instrument panel, only the glove box lid done out in harder plastic, but Buick and others don't go any farther to embellish their glove box lids either, plus they don't add the soft padded synthetic to the sides of the lower console, which Kia does liberally with the Sorento. The Sorento also covers the door uppers with the same high quality pliable plastic, all the way down past the armrest grips, which I might add are finished in the same stylish high-quality French-stitched leatherette as the dash top, while each pillar is fabric-wrapped just like the luxury brands. Even nicer, all the satin-finish aluminum-look trim throughout the cabin appears authentic and some of it even feels real too, particularly the big chunky glove box handle.
Kia uses piano black lacquered plastic to add richness to the cabin, and I must say it's really done nicely in this model, only highlighting trim pieces you're not likely to touch all that often including a thin strip that circles around the entire front portion of the dash below the windscreen before melding into the door panels, where it immediately grows in size before tapering to a point before reaching each door's two-third's point, plus another thin strip that runs across the instrument panel ahead of the front passenger. The only glossy black panels I tended to smudge up a bit were the ones surrounding the power window and lock switches, but these looked nice and glossy most of the time.
Ahead of the driver, a well organized primary gauge package doesn't try to wow with sensational graphics even though it's fully digital at center, but rather provides clear, highly legible readouts of critical info, whereas a neat and tidy array of redundant buttons on the leather-wrapped steering wheel's spokes provides easy access to features most often used. My tester's large full-color high-resolution infotainment touchscreen was even more impressive and filled with features such as a backup camera, navigation plus the usual audio, climate, phone and vehicle settings, and it performed flawlessly throughout my weeklong test, but I must say its touchscreen and array of flanking buttons weren't the first place my hands went when entering the car.
The weather was cold and therefore the leather was equally icy, or at least it felt that way, so I reached for a row a toggles on the same center stack albeit under the dual-zone auto HVAC interface, making sure to press the two heatable seat buttons first, as well as the one for the heatable steering wheel, the two switches with the fan pictographs required for seat ventilation, certainly the wrong time of the year for that bit of kit, although without doubt a feature I'd appreciate in the summer months. They heated up quickly and offered therapeutic relief from the cold.
All of that switchgear fits together extremely well with nice damping for an upscale feel, while much of it is large enough to use with thick winter gloves. This same theme permeated the rest of the cabin, with amply large buttons for the interior dimmer switch, blind spot detection, 115-volt household socket on/off button and stability control off switch found on the dash panel to the left of the steering column, or just below that the gas cap and power liftgate buttons. Only the infotainment and audio controls back on that center stack are on the smaller side, but these are very nicely done and quite sleek looking.
The SUV itself is very spacious in its front and middle rows, the second one also being the final rear row of my tester as seven-seat occupancy isn't available other than with V6-powered models, except for the near base LX that offers the third row optionally. Instead five-seat models get a removable cargo floor with a large compartmentalized stowage area below, something I'd have a great deal more use for than an extra row of seats. This said reporting on the Sorento's third-row roominess will have to wait for another test vehicle.
The rear seats, which split 40/20/40 for added convenience, fold via robust feeling handles on the sides of each lower cushion, and while it's a fairly basic mechanical setup compared to others in the class they seem very well made, clamping down into place when fully flat. Each does likewise when being raised, although the seatbacks don't have a memory to go back where they were prior to folding, stopping early and therefore requiring more manual adjustment than some others in the class.
There's 38.8 cubic feet of cargo space behind those rear seats, incidentally, 0.7 cubic feet more than in the seven-passenger version, while a maximum of 73.5 cubic feet opens up when the second row is folded flat, which is 0.5 cubic feet more than the seven-seater's total cargo capacity. On the subject of hauling, the base model is good for the usual 2,000 lbs, whereas my turbocharged four-cylinder can manage up to 3,500 lbs of trailer weight and the aforementioned V6 can tow up to 5,000 lbs.
Yes, there are three different engines on offer. All Sorentos get direct injection and dual-cam variable valve timing (D-CVVT) with the base model utilizing a 16-valve, DOHC 2.4-liter four-cylinder capable of 185 horsepower and 178 lb-ft of torque, whereas my tester received a 2.0-liter variant boosted by a twin-scroll turbocharger for V6-like levels of performance equaling 240 horsepower and 260 lb-ft of torque. The 24-valve, DOHC, direct-injected V6 displaces 3.3 liters and is good for 290 horsepower and 252 lb-ft of torque. All engines are mated to a smooth shifting six-speed automatic transmission with manual mode, and are available with either FWD or AWD depending on trim.
As for trim levels, Kia offers five including L, LX, EX, SX and Limited. Standard with the L is the 2.4-liter engine, FWD, 17-inch alloys on 235/65R17s, a black grille insert, bar-type LED positioning lights, integrated turn signals within the side mirror housings, a rear rooftop spoiler, remote keyless entry, powered heatable side mirrors, a tilt and telescopic multifunction steering wheel, cruise control, variable intermittent front wipers, a trip computer, a felt-lined and padded sunglasses holder housed within an overhead console that's nicely finished in dark plastic, illuminated vanity mirrors, filtered air conditioning, six-speaker AM/FM/CD/MP3/AUX/USB audio with satellite radio, Bluetooth hands-free phone connectivity, YES Essentials stain-resistant cloth upholstery, all the usual active and passive safety equipment, plus more.
For $26,200 with FWD, $28,000 with AWD, $28,500 with the V6 and FWD, or $30,300 with the V6 and AWD, both V6 models also getting seven seats, LX trim adds auto on/off headlamps, roof rails, a de-icer for the front wipers, a laminated windshield, a rearview camera, a USB charging port, and more, while an additional $1,800 adds AWD.
The move up to EX trim starts at $31,100 and includes the 2.0-liter turbo engine standard, while again AWD can be added for $1,800 for a total of $32,900, or you can opt for the seven-seat V6 version for $31,900 or that model with AWD for $33,700, the EX building on LX features with 18-inch machine finished alloys on 235/60R18s, a glossy black grille insert, bulb-type fog lamps, silver painted skid plates, noise reducing front door glass for an even quieter interior, a leather-wrapped steering wheel and shifter knob, an auto-dimming rearview mirror, rear parking sensors, dual-zone auto HVAC with a cluster ionizer and auto de-fog, a UVO infotainment system, leather upholstery, and heatable eight-way powered front seats.
The SX can only be had with the V6 and either FWD for $38,100 or AWD for $39,990, while adding those gorgeous 19-inch polished alloys on 235/55R19s, the dark metallic grille insert, jewel-type positioning lights, stainless steel skid plates, chromed roof rails, and LED light bar taillights I commented on earlier, whereas other features included power folding side mirrors that automatically unfold as you approach the door and tilt down when reversing, proximity-sensing access with pushbutton ignition, illuminated stainless steel front doorsill scuff plates, LED interior lighting, auto up/down powered windows all-round, a seven-inch Supervision TFT LCD primary gauge cluster, an upgraded eight-inch infotainment system with voice-activated navigation that worked perfectly throughout my test week, a fabulous sounding 10-speaker Infinity audio system with HD radio, a 110-volt household-style power socket, a 14-way powered driver's seat including four-way powered lumbar support and memory, a HomeLink universal garage door opener, second-row side window sunshades, a panoramic sunroof, and a Smart powered liftgate that only requires you to stand next to the bumper for three seconds before it automatically opens, so long as the proximity-sensing key fob is in your pocket or purse. Additionally, the SX gets blind spot detection with rear cross-traffic alert.
Lastly, the Limited starts at $39,900 with FWD or $41,700 with as-tested AWD, or you can opt for the V6 that starts at $41,300 with FWD or $43,100 with AWD, and adds the quad LED fog lamps, heated steering wheel and those ventilated front seats with the softer perforated Nappa leather upholstery that I mentioned earlier, which I must say made for an incredibly comfortable week, with good lower back support enhanced by the aforementioned four-way powered lumbar support that was capable of locating the ideal pressure spot on my lower backside. Additional SX features include a cool looking set of alloy pedals, deluxe interior trim, and heatable second-row outboard seats, while my tester also included a $2,500 Technology package that added the HID headlights with auto-leveling I commented on before, an electronic parking brake that removes the antiquated foot-operated one, a 360-degree four-camera Surround View monitor, adaptive cruise control, plus front collision warning and lane departure warning.
Out on the road my 2.0-liter turbo AWD tester felt pretty tame in normal mode and thoroughly sedate in Eco mode, but Sport mode made it come alive, the engine responding with snappy acceleration and surprisingly strong all-round performance for such a large, substantive vehicle. And yes it is substantive, with doors that close with a premium-like thud and an overall solidity that feels miles more expensive than its price point. It doesn't feel overly weighty, however, with lithe and athletic handling that makes it seem sportier than most in its class. On that note you'll never know the AWD system is working away in the background until you need it, although Kia includes an all-wheel drive lock feature that will help get you out of deep snow and other slippery situations that a less equipped SUV might otherwise get hung up in. The Sorento is also wonderful on the highway, its ride comfortable albeit on the firmer side, which lends a more Teutonic feel than the majority of Japanese rivals, more like an Audi Q7 thanks to its feeling of being rooted to the road. All round I like the way it performs. Really, as far as mainstream volume SUVs go it's fast become a favorite, having as much to do with the way it drives as its fuel economy.
To that end you can expect something similar to its claimed EPA rating of 19 mpg in the city, 25 on the highway and 22 combined, as-tested. The Sorento efficiency leader is the base model, however, capable of 21 mpg city, 29 highway and 24 combined, while the V6 AWD is rated at a still reasonable 18 city, 26 highway and 21 combined, whereas it only requires regular unleaded no matter the engine.
If you're at all concerned about the Sorento's quality or the reliability of the Kia brand, take confidence in knowing this 2016 Sorento was given the highest ranking for a mid-size SUV in Initial Quality by J.D. Power and Associates in its most recent IQS, while Kia scored second out of 33 brands in that same study, only bested by Porsche, which puts it ahead of all other premium and mainstream brands including vaunted Lexus. This is a very good sign for future dependability too, being that this IQS surveys buyers who only recently purchased their vehicles, which is often times when problems occur. The same third-party analytical firm's Vehicle Dependability Study (VDS), which surveys owners of three-year old vehicles, places Kia slightly below average, but now with such a high IQS score the Kia's future VDS ranking should improve a lot.
Also notable, the 2016 Sorento scored five stars with the NHTSA in recent crash tests, while models with the optional front crash prevention system earned a Top Safety Pick rating from the IIHS.
There's really nothing I don't like about the Sorento, but if you want me to get picky it could be made better if the power lock switch on the driver's door would illuminate upon opening. When I had the lock set so that only the driver's side would open automatically, for safety's sake, my partner was forced to wait outside in the cold while I fumbled around to find it. Of course, if I'd been a gentleman and opened her door first there would've been no issue; how familiarity can affect chivalry. Add that one to the New Year's resolution list.
Lists in mind, if I were in the market for a mid-size crossover SUV I'd add the Sorento to the top of my shortlist. From its arguably class-leading style, to the impeccable way the interior is finished, it's amazing load of features and excellent overall performance the Sorento is a clear winner that should find many more buyers.
Story credits: Trevor Hofmann, American Auto Press Photo credits: Karen Tuggay, American Auto Press Copyright: American Auto Press Inc.
---