2017 Acura ILX Premium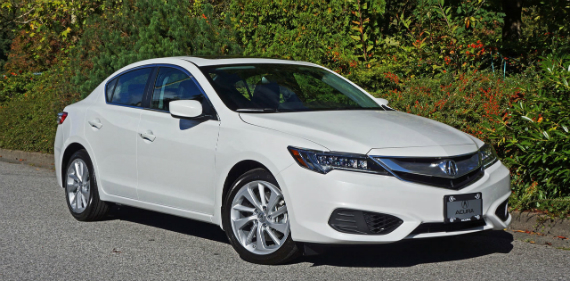 Strong value from a great little luxury sedanIronically, Acura's compact ILX sedan's biggest competitor might just be the all-new Honda Civic that debuted last year. Certainly the premium-branded model offers more upscale styling, some nicer finishing inside and the performance benefits of a real eight-speed automatic transmission, but the new Civic delivers arguably more advanced styling that also includes full LED headlights in top-line Touring trim, pretty impressive interior detailing, more advanced electronic interfaces, and a more modern ambiance overall. Still, I'd opt for the Acura.
Before justifying my personal bias, the ILX' true compact luxury competitors include Audi's A3 sedan, Buick's Verano, and Mercedes' CLA sedan, the latter of which is more of a four-door coupe albeit still reasonably accommodating in back. Of course, there are others vying for your entry-level premium dollar too, including Mercedes' B-Class and Lexus' CT five-doors, plus BMW's two-door 2 Series, although this coupe and convertible duo doesn't really target the same type of buyer so they're only worth mentioning in case you'd prefer something sportier.
From a market acceptability standpoint, Audi leads the charge with 24,863 year-to-date A3/S3 sales as of September 2016, but it takes four body styles to do so, one of which is a hybrid. The CLA isn't too far behind with 19,551 CLA deliveries, while BMW places a respectable third with 12,470 2 Series units down the road, and Acura is close behind with 11,747 ILX models sold. This is in sharp contrast to Lexus meager CT deliveries of just 6,821 units, while Mercedes has only managed to sell 468 of its B-Class electrics, but it's a niche product so they probably didn't expect to match CLA sales. All of these numbers are significant until we factor in Buick, which is arguably the segment leader thanks to 25,368 Verano sales over this year's first three quarters, although some might not consider the General Motors' brand to be a true premium player, plus it's getting cancelled after 2017 anyway.
Considering Acura is relatively new to this compact market, the ILX has done fairly well, and while you might have your heart on a new A3 I'd like to show you a few reasons why you may want to reconsider. First some details: the ILX is slightly longer than its most obvious A3 sedan competitor, although it's almost identical when it comes to width, height and wheelbase. The ILX has a clear advantage in curb weight, with the base model weighing 104 pounds less, something to consider when comparing straight-line performance as it's not just about the entry-level Audi 2.0 TFSI Premium model's 41 lb-ft of additional torque. The ILX' sole engine, a direct-injection 16-valve, DOHC 2.4-liter four-cylinder, makes a spirited 201 horsepower and 180 lb-ft of torque, that horsepower figure 17 ponies stronger than the base front-wheel drive A3, and then we need to factor in the ILX' standard eight-speed automatic that gives it an additional forward gear to play with, which aids performance and efficiency.
The Acura eight-speed, first introduced in the larger TLX, is a dual-clutch automated gearbox just like Audi's seven-speed S Tronic, so it gives up nothing in the way of performance and even more so comes standard with steering wheel paddles, but unlike the A3 it also incorporates a torque converter for much smoother shifts resulting in a more refined driving experience. This transmission, incidentally, is the key reason I'd take an ILX over a similarly equipped Civic.
I could go on comparing the two throughout this review, the ILX coming standard with Acura's trademark "Jewel Eye" LED headlamps, proximity-sensing keyless access, a color TFT multi-information display, a multi-angle rearview camera, such features only available in higher, much pricier A3 trims. To be completely fair the A3 gets a few standard items that will cause you to pay more in an ILX, such as powered heatable front seats, leather upholstery, and satellite radio, all of which can be had in loftier ILX trims, but here's the crux: this well equipped ILX starts at only $27,990 plus freight and dealer fees, whereas the A3 needs another $3,210 before you start adding options.
For $29,290 the ILX can be upgraded with a slew of AcuraWatch active safety features such as Collision Mitigation Braking, Forward Collision Warning, Lane Departure Warning, Lane Keeping Assist, Road Departure Mitigation, and adaptive cruise control, which gives it an IIHS Top Safety Pick Plus stamp of approval for much less than you'll need to invest in the A3.
On the positive for Audi, you can up the A3's engine performance while adding all-wheel drive, albeit at a starting price of $34,200, whereas my mid-range ILX Premium tester hit the road running at $29,990, still considerably less than the base A3 yet including the leather upholstery missing from the base model, with two-way driver-side memory no less, the driver's side getting eight-way adjustment and the passenger four-way, while additional upgrades include a larger 8.0-inch backlit color VGA top display controlled by a rotating knob and various buttons on the center stack, a second 7.0-inch multi-use color touchscreen display below that, AcuraLink connectivity with SMS text messaging capability, a higher-grade seven-speaker and subwoofer enhanced audio system with satellite radio, a HomeLink garage door remote, and blind spot monitoring with rear cross-traffic alert.
I should also mention the ILX comes standard with a lot of the same types of features you'll find from most cars in this class, such as auto on/off control for those LED headlamps, 17-inch alloy wheels, heated power-adjustable side mirrors, ambient interior lighting, pushbutton ignition, an auto-dimming rearview mirror, a leather-wrapped multifunction steering wheel, a leather-wrapped shift knob, filtered dual-zone automatic climate control, AM/FM/CD/MP3/WMA audio with Bluetooth streaming and hands-free connectivity, Siri Eyes Free, a powered moonroof, and more, while tire pressure monitoring, hill start assist, and all the usual active and passive safety features help all ILX trims achieve a five-star crash test rating from the NHTSA.
You can add many more features such as GPS-linked, solar-sensing climate control, voice recognition, 10-speaker ELS surround-sound audio with Dolby Pro Logic, Song By Voice, a note function for SiriusXM satellite radio, a Phone-book Exchange for the Bluetooth system, next-gen AcuraLink, real-time traffic, full navigation, fog lamps, an aero body kit including side skirts and a rear spoiler, metal sport pedals, Lux-Suede upholstery, a black headliner, etcetera, but I must admit the ILX Premium tested came with everything I needed and more.
It all comes inside a car that easily meets this premium segment's expectations. The dash top and most of the instrument panel gets finished in a very high quality soft synthetic that continues across the tops of both front doors and into the back, while the padded leatherette door inserts are even plusher and feature a stylish French-stitched seam down the middle. The thick, padded sport steering wheel feels good in the fingers, as does the shift knob and leather-wrapped parking brake handle, this latter item particularly well made. Acura doesn't go so far as to finish off the lower half of the instrument panel, glove box lid, sides of the center stack and lower console, or the lower door panels in premium plastics, but the matte finished harder stuff doesn't glare and appears plenty durable. Such is also normal for this class, including the A3, but Acura pulled a premium faux pas by not wrapping any of the roof pillars in fabric, while it's also inexcusable that the rear windows don't power up and down automatically.
Likewise there are still carryover items from the Civic this model is based upon, including the rocker switches for the two-way heatable seats, the push or pull fuel door and trunk release lever at the base of the driver's seat, etcetera. I can't say how much such shortcuts have hampered ILX sales, or at least it's difficult to quantify any specific negative impact, but it's not great for the luxury brand's image.
Fortunately the ILX drives really well, the aforementioned i-VTEC-enhanced four-cylinder is sourced from the Civic Si and therefore wonderfully free revving, albeit tuned specifically for the new autobox so there's even more torque on hand. The transmission is a fabulous bit of advanced kit, its shifts very quick yet as smooth as any performance-oriented conventional automatic, while ILX' front strut and rear multi-link suspension is very well sorted. It delivers good compliant comfort around town and on the highway, yet open the car up on a fast-paced two-laner and it responds with sharp, precise agility and near unflappable composure over mid-corner dips and bumps, standard amplitude reactive dampers helping in this respect. Braking is strong as well, the ILX' amply powerful four-wheel discs capable of confident controlled stops no matter the speed attained or how fully they're engaged.
The ILX is certainly a car I could live with day in and day out, its interior more accommodating than the majority of cars in this class. I had plenty of room up front, which is usually the case as I'm just five-foot-eight and medium in build, but rear seating space isn't always optimal among the ILX' peers. Still, the little Acura managed four inches ahead of my knees when the driver's seat was set to my height, plus around three inches above my head and another four to five between my shoulder and the window. A flip-down armrest is included at center, which capped off a really comfortable rear compartment.
Of note, the trunk is a bit smaller than the A3 and some others in the class, especially the hatchbacks and wagons, measuring just 12.3 cubic feet, plus its folding rear seatback is just that, a seatback and not seatbacks, meaning it doesn't offer a 60/40 or 40/20/40 split to facilitate a rear passenger and longer cargo, such as skis. It's not finished to quite the same standard as some of its peers either, with no metal tie-down hooks or protector plate, the sill protector finished in durable plastic instead.
I know I'm getting picky, because most of these issues can easily be overlooked by ILX owners that get a lot more car for their money, as detailed above. Even its claimed fuel economy is better than average at 25 mpg city, 35 highway and 29 combined, while Acura enjoys an above average dependability rating from J.D. Power, the ILX actually tied for third in the 2016 VDS Compact Premium Car category with the A4, which it doesn't compete with, both of which are beaten by the two-door BMW 1 Series in second (now the 2 Series, although this study rates the reliability of three-year old models), while the first-place Lexus ES doesn't compete with the ILX one iota as it's not compact in the slightest (think about it: the ES is based on the near full-size Toyota Avalon). This makes the ILX best among actual compact four-door sedans, or so (kind of) says J.D. Power.
Yes, the ILX has a lot going for it, so it's clear you shouldn't always follow the crowd when it comes to purchasing a car. To once again be fair to the A3, I drove a 2017 model recently and was once again impressed, so it's an excellent choice too. It's just more expensive, especially when filled up with features. Even if you opt for a full load 2017 ILX A-Spec it will only cost you 36,680 plus freight and fees, whereas a front-drive lower powered A3 with similar options to the top-line ILX will set you back $39,875, and you still won't get full LED headlamps (although you can get them for another $1,050).
No matter how you configure it the ILX delivers excellent value in a sporty looking, nicely finished, well made, strong performing premium package. It's hard not to appreciate that kind of logic.
Story credits: Trevor Hofmann, American Auto Press Photo credits: Karen Tuggay, American Auto Press Copyright: American Auto Press
---