2017 Volkswagen Beetle Convertible Classic
Driving back to yesteryear
Those who grew up with VW Beetles in their lives can't expect everyone to appreciate their unabashed affection for the unusually shaped conveyance, but luckily there are still enough of us out there to continue its production. Word has it the Beetle's days are numbered, but fortunately it has some life in it yet.
My most recent Beetle tester was a smart little Convertible in Classic trim, painted a lovely Dark Bronze Metallic that was more of a chocolate brown, with an ideally matched almond Beige soft-top. The color reminded me of my dad's personally repainted '66 Beetle that started metallic brown yet ended up a strange yellow-orange we kids endearingly called puke, but that's a story for another time.
Classic trim is about to make way for new Coast trim for 2018, which comes in much fewer color options albeit retains the Beige roof and cool Classic alloys with chromed caps. The 2018 model gets a boost in engine output for its swansong too, bumped from this 2017 version's 170 horsepower and 184 lb-ft of torque to an ultra Super Beetle-like 174 horsepower and identical torque. Ok, that's probably not a lot to get excited about, although the 200-cc-larger 2.0-liter I-4 will reportedly improve fuel economy over the current 1.8-liter turbo-four's 24 mpg city, 33 highway and 28 combined rating, which is nothing to sneeze at even if the benefit is nominal.
The revised 2018 Beetle will make due with the same well-proven six-speed automatic gearbox as this 2017 model, which I must say is a lot quicker shifting and therefore sportier feeling than some of the more modern nine-speed transmissions, while utilizing its Tiptronic manual mode makes it feel more like a true classic Beetle than merely leaving it in drive.
Beetles have always been nice riding cars, and this Convertible Classic is no different. It cruises nicely on the highway with the top up or down, the latter causing expected wind buffeting yet nothing extreme (unless in back), although I must admit that most of the time I drove with the top up. Yes, VW gave me this convertible as September ended and October began, which isn't exactly drop-top weather despite our willingness to power it down for our photo session. We drove around with the heater cranked for a little fun, but I was quickly put in place by my better half and the top went up to provide coupe-like silence and warmth for the rest of our weeklong test.
Of note, the usual S, SE and SEL trims can be had, as can the unorthodox Dune, although SEL will be dropped next year and a new "S with Style and Comfort" trim slotted between S and SE. The 2017 Beetle Convertible, which starts at $24,725 plus freight and fees, needs a mere $274 bump for $24,999 Classic trim, and like next year's Coast gets more of a vintage look that I happen to like, this included the aforementioned steel wheel-like 17-inch Heritage alloys with chrome plated hubcaps (although a sportier set of alloys is standard), '50s-era "Volkswagen" script badging at the back, plus a body-color painted instrument panel, steering wheel spokes and door uppers along with two-tone black and camel beige upholstery with cool light beige and cream checkered seat inserts. If only they'd added a matching picnic basket.
Additional Classic upgrades include an alarm system, auto on/off headlamps, metal doorsill plates, chrome interior trim, ambient lighting, a monochromatic multifunction trip computer, a leather-wrapped and contrast-stitched flat-bottom multifunction sport steering wheel, a contrast-stitched leather shifter boot and handbrake lever, rain-sensing wipers, an auto-dimming rearview mirror, plus VW's 6.33-inch Composition Media proximity-sensing high-resolution colour touchscreen infotainment display with a rearview camera, App-Connect smartphone integration for Android Auto, Apple CarPlay and MirrorLink, Bluetooth with audio streaming, eight-speaker AM/FM/CD audio with satellite radio, an SD card slot, and USB and aux plugs.
My tester also included HID headlights with LED accents, fog lights, LED taillights, proximity keyless access with pushbutton ignition, dual-zone auto climate control, and upgraded Fender audio, which provided ample sound even with the top down.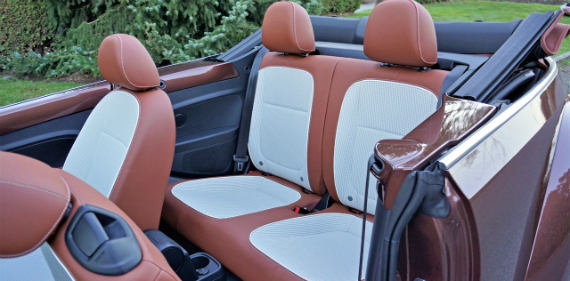 That top is powered, quickly lowering or raising back up again at the touch of a button, but I wouldn't recommend wrestling with the awkward tonneau cover that requires serious muscle to click into place. I left it in the trunk, but if this were my personal ride I'd stow it in the garage, as there's not a whole lot of cargo capacity available. At least the rear seatbacks flip down 50/50 for longer cargo like skis, making the most of a compact situation.
I should also mention that all 2017 Beetles receive the sportier R-Line front-end treatment as well as a standard rear spoiler, which honestly don't work quite as well with the Classic look as the older rounded styling did. Still, it's a minor point considering this car is enjoying its last kick of the can, so to speak. Fortunately it appears an electrified retrospective Microbus will replace it, but that won't be here until 2022 according to the interweb rumor mill. Will the slightly revised new Beetle soldier on until then? That's hard to say, but as long as it remains popular enough there's no reason for VW to kill it off. I, for one, will enjoy each new modification and special edition as they arrive.
*Story credits: Trevor Hofmann, American Auto Press Photo credits: Trevor Hofmann and Karen Tuggay, American Auto Press Copyright: American Auto Press *
---