2017 Lexus RC 300 F Sport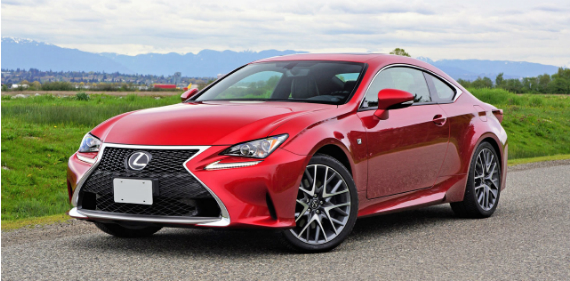 High style and decent performance from a well-made sports coupe
Where would you slot Lexus into the premium manufacturer matrix? Are they in the same league as the Germans, more desirable than their British, Swedish and American counterparts, or ahead of their Japanese peers?
Lexus is considered a Tier 1 luxury brand, along with Mercedes-Benz, BMW and Audi. Strong sales numbers have a lot to do with their top-tier placement, but it also comes down to their near full range of models. For a relatively new brand, such a wide assortment of models and body styles means that some don't sell well enough to make much if any money, but instead provide important branding that trickles down to enhance higher volume cars and SUVs.
The comfort-oriented ES series was Lexus' bestselling car last year with more than 39,000 deliveries, which was the polar opposite of other Lexus markets that see greater success from the sportier IS. Nevertheless, Lexus' strength in the U.S. market makes the sporty RC coupe a better success story than it is elsewhere.
The stylish two-door hardtop managed to pull in 11,165 luxury buyers last year, which while more positive than the 5,514 flagship LS luxury sedans sold during the same 12 months, is a far cry from the 35,763 BMW 4 Series delivered through 2016. Granted, BMW makes three different 4 Series body styles to the lone RC coupe, one of them being a four-door coupe that comes pretty close to matching the 3 Series for size and style. Likewise Mercedes provides two body styles for this class, but lumps their sales in with the C-Class sedan so it's impossible for us to compare its coupe to the RC, but it's likely much stronger as well.
A similar scenario is playing out for 2017, with only 6,677 RCs down the road after 11 months of availability compared to 36,223 4 Series models, while Audi's redesigned A5 has catapulted from a mere 8,354 deliveries in 2016 to 18,343 thus far in 2017, and Lexus archrival Infiniti pushed Q60 sales up from just 3,970 units last year to 9,882 by the end of November this year thanks to an effective redesign. Does Lexus need to rethink its RC to find the same kind of success? Maybe.
They might try advertising it a bit more. After inundating us with poetic Kit Harington (a.k.a. Game of Thrones' Jon Snow) ads throughout 2016, Infiniti's Q60 Red Sport 400 can now be regularly seen blowing away the RC 350 F Sport in a 15-second YouTube short, but the RC might simply need more time on the market in order to build up a following.
Lexus' has been spending more time and money in the SUV arena, with its RX and NX benefiting. In fact, the RX led sales for the Japanese brand as well as America's entire mid-size SUV segment last year with 109,435 deliveries, whereas the fresher NX was already number one in its class with 54,884 deliveries. Even the long-in-tooth seven-passenger GX SUV more than doubled RC sales with 25,148 unit sales throughout 2016. That trend has been exacerbated during 2017, with 23,865 examples of the GX sold over the first 11 months (which should comfortably allow it to surpass last year's sales), while the RX is down slightly with 94,356 units sold by November's close, and the NX should have a record year with 51,931 sold so far this year and a continued first-place likely. With SUV numbers like these, Lexus is probably ok with the RC's slow progress.
Just the same, we can't discount the importance of sports models like the RC when it comes to brand image as noted earlier, and the beautiful Infrared painted 2017 RC 300 F Sport on this page pulls eyeballs almost as effectively as the same spec car did in Molten Pearl orange last year.
The base rear-wheel drive RC Turbo uses a 241 horsepower 2.0-liter turbocharged four-cylinder and starts at $40,155 plus freight and fees. Of note, its name becomes RC 300 RWD for 2018, but nothing under the skin actually changes. If you want all-wheel drive you'll need to step up to my tester's 3.5-liter V6 that starts at $49,750 and will continue to wear an RC 300 nameplate into 2018 despite getting a 5 horsepower bump, whereas both RWD and AWD RC 350 models continue forward into 2018, as does the top-tier RC F.
No matter the trim (this side of the RC F), the RC is arguably better looking with its as-tested $3,700 F Sport package that adds a new front fascia with a larger, bolder grille and unique lower fascia detailing with integrated fog lamps, as well as other exterior styling upgrades, plus unique 19-inch alloys wrapped in 235/40 performance tires (although my tester was fitted with winters), an adaptive sport suspension, high-performance brakes, a heatable powered tilt and telescopic sport steering wheel with paddle shifters, auto-dimming side mirrors, aluminum sport pedals, front sport seats, NuLuxe pleather upholstery with contrast stitching, memory for the driver's seat, heated and ventilated front seats, a fully configurable LFA-style TFT instrument cluster, silver inlays, a black headliner, and blindspot monitoring with rear cross-traffic alert.
Lexus also added a separate Navigation package featuring route guidance with detailed mapping, of course, plus the brand's touchpad Remote Touch Interface for the infotainment system, Lexus' Enform App Suite and Enform Destinations, voice control, and more, plus an All-Weather package incorporating headlamp washers, a windshield wiper de-icer, water-repellant front-door glass, and a high-intensity interior heater.
Items of note not yet mentioned include proximity-sensing access, pushbutton ignition, illuminated metal doorsills, rain-sensing wipers, dual-zone auto climate control, active sound control, intuitive parking assist, and a powered moonroof.
Despite its considerable 3.5 liters of displacement, the base V6 makes just 255 horsepower and 236 lb-ft of torque for fairly relaxed performance due to the coupe's considerable 3,891-lb curb weight (it's actually a bit heavier with the F Sport gear). Making it feel even more comfort-biased is a six-speed autobox in a segment filled with snappier eight-speed auto and dual-clutch alternatives.
So how does it feel? Better than you might expect. Its base powertrain gets the RC off the line effortlessly and its gearbox operates as smoothly as the big V6, plus includes steering wheel paddles in F Sport guise. It makes a nice rasp at full throttle too, especially in Sport or S+ mode, sounding much more convincing than any of the four-cylinders on offer, and there's something intangible about a V6 when it comes to delivering premium feel. That engine note likely makes it seem faster than it really is, but in reality its 6.1-second jog to 60 mph is merely ok in comparison to its peers.
The problem is weight. Yes, the RC is hefty, but not when lined up against the Q60. Its closest competitor weighs in at 3,857 lbs in base trim, which is almost identical to the base RC 300 AWD despite only packing a four-cylinder engine, but the aforementioned Germans are comparative lightweights with the A5 starting out at 3,549 lbs, the 430i Coupe at 3,574 lbs, and the C300 Coupe hitting the scales at 3,638 lbs.
This can really be felt in the handling, the RC a tad lethargic when attempting to flick it through tight fast-paced corners. It doesn't deliver the same level of "tossability" as the Germans, and comes up short on road surface connectivity as well, the steering not as direct and somewhat numb. It rides comfortably, however, even in edgier F Sport trim, that extra weight smoothing out bumps and dips impressively, unless such pavement imperfections arrive mid-corner at high speed, when all of its weight can hammer the front struts into their towers and potentially get the car out of shape. The RC 350 F Sport is a better car for such practices, or better yet an RC F.
Instead, I recommend the RC 300 AWD for those less interested in canyon carving and more into high-speed cruising, not to mention looking good while tooling through town. It's ideal for both situations, as it provides plenty of comfort from a very impressive cabin. All the expected soft surfaces and high quality switchgear are present, as is a superbly designed mostly digital gauge cluster and an excellent infotainment display, while a stylish analog clock reminds that premium coupes are supposed to be as much about luxury as performance. The leather-wrapped steering wheel looks all business, mind you, as do the nicely contoured sport seats, but the former gets filled with a bevy of convenient switches and the latter are inherently comfortable, a good thing as they're not the most adjustable.
The rear seats were an afterthought, as is the case with most cars in this class. They suffice for smaller adults in a pinch, and are plenty useful for younger kids, but 2+2 seems an appropriate term in the RC's case. This said the trunk is a disappointment, with just 10.4 cubic feet of space and only 60/40-split seatbacks for stowing longer gear, most of its competitors offering the convenience of a 40/20/40-split pass-through.
Of course, its V6 and lower gear count result in the poorest fuel economy among base luxury coupes, but most buying into this class should find its 19 mpg city, 26 highway and 21 combined EPA rating livable, and like I noted earlier the bigger engine has its merits.
I don't have specific intel regarding the RC, but this drivetrain has served Lexus reliably for more than a decade, while the brand rates higher than most rivals overall when it comes to dependability. I know I'm arguing pragmatism in a class that normally sells on passion, but let's not forget that even the dreamiest of sports cars can turn into a nightmare if always in the shop. That shouldn't be an issue with the RC.
Still, I can't guarantee that purchasing an RC is the smartest move. In order to maintain strong resale values there needs to be ready buyers in the used market, and with such low sales it's not able to pull from as large a pre-owned pool as its competitors. As for best bang for the buck, and RC 200t was the highest rated Luxury Coupe in Vincentric's 2017 Best Value in America awards.
In the end it's a tough call, so buy the car you want. The RC 300 AWD has a lot going for it, unique, sharp styling being one of its strongest suits. I certainly would understand why someone might choose this car over its competitors, even if only for its exclusivity. You won't be seeing one of these coming around every other corner, and there's something to be said for unique appeal in luxury circles. It's like showing up at a Christmas party wearing a Grand Seiko, albeit with ten times the flash.
*Story credits: Trevor Hofmann, American Auto Press Photo credits: Karen Tuggay, American Auto Press Copyright: American Auto Press *
---