2017 Genesis G80 5.0 Ultimate
More than just a great value proposition
New year predictions anyone? I've got one. The new Genesis luxury brand will do very well.
I've realized this for some time. Ever since testing the second-generation 2015 Genesis Sedan in the fall of 2014 I knew it would find favor among a select group of upwardly mobile luxury buyers, and like many of my auto pundit colleagues I've been proved correct. That car wore Hyundai's stylized "H" on its rear deck lid with a "GENESIS" insignia to the bottom left. The proper name of this model was Hyundai Genesis Sedan 5.0 Ultimate, whereas this new Genesis-branded model merely drops the words "Hyundai" and "Sedan" while adding "G80" to the mix.
Yes, this is either the smoothest transition from mainstream volume-branded near-premium sport-luxury sedan to premium-branded sport-luxury sedan ever, or the most uncomfortably obvious metamorphosis possible. To the South Korean automaker's credit, the only other reference to Hyundai in the outgoing model was under the hood where a chromed H greeted anyone looking to gaze upon the formidable Tau V8, whereas the car's most prominent front fascia badging and steering wheel hub insignia was identical to the new brand's logo, so this mid-cycle brand reshuffling was always part of the plan. Still, all automakers that previously stepped up from the mainstream mass market to premium territory made sure to modify their first-gen luxury models amply so as to differentiate them from their predecessors. The 2017 G80, however, is a carbon copy of the Hyundai Genesis Sedan.
Bad thing? It's hard to complain when Hyundai did such a great job with "their" version. The G80 arrives on the market as a credible competitor to mid-size luxury sedans from Mercedes-Benz, BMW, Audi, Cadillac, Lincoln, Volvo, Lexus, Infiniti, Jaguar, and Acura, with the models it targets (organized by 2017 calendar year sales success) being E/CLS-Class, 5/6 Series, A6/A7, CTS/CT6, Continental, S90, GS, Q70, XF, and RLX.
So how did it do? Extremely well, considering they're sold out of run-of-the-mill Hyundai dealerships. Genesis found 14,672 G80 buyers throughout 2017, which means that this upstart brand outsold some of the much more established luxury marques in this mid-size sedan segment, including Lincoln with 12,012 deliveries, Volvo with 7,823, Lexus with 7,773, Infiniti with 5,772, and Acura with 1,231. As good as this seems, Genesis will want to reconsider its sales strategy when its model lineup grows (read: adds SUVs) and franchisees become willing to invest in separate dealerships that can offer a more premium experience.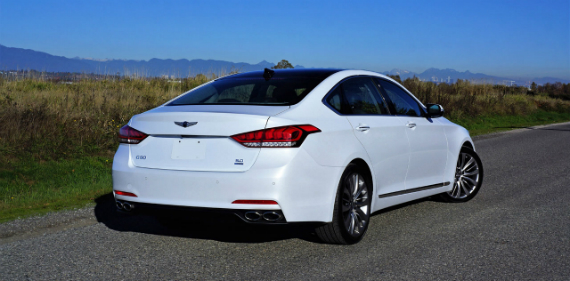 The fact that Genesis has mostly held pricing despite adding the cost of marketing a new brand is impressive, although it would've been difficult for them to simply tack on $10k without anyone complaining. The 2015 Genesis Sedan 5.0 I drove back in 2014 came in at $55,700, while the identically optioned G80 5.0 Ultimate arrives at just $55,500 today, excluding freight and fees. And I haven't even compared its features and pricing against key competitors. Before delving into its value proposition I'd better comment on all that makes it worth owning.
I received my 2017 Genesis G80 test car extremely late in the year, which is why you're reading about it now. And just in case you'd like to buy a 2017 G80 after reading this review, there appear to a number available depending on where you live. Also, changes affecting this top-line 5.0 Ultimate in the 2018 model year are so minor that most of what you read here can be attributed to its replacement.
I'm not going to spend too much time covering styling, so suffice to say that anybody who liked the second generation Hyundai Genesis Sedan should still have a soft spot for the new Genesis G80. The deeply arced quadrangle grille looks as strong and masculine as ever, the headlamps still rounded with fashionable LEDs, the slender line of LED fog lamps continue to meld fluidly into the simple, horizontally shaped lower front fascia, its long, low, almost four-door coupe-like profile remains elegantly sleek, the sharp set of LED taillights still dazzlingly attractive, and its quad of oval tailpipes menacingly purposeful. Really, the only criticism I can give it argues against the many design elements still shared with the Hyundai lineup, especially when comparing the grille and taillight designs to the very mainstream Sonata.
Inside, however, both the old Genesis Sedan and this new Genesis G80 are in an entirely different league. In fact, some of the finishing is better than the old school major players in the class just mentioned. From the roofliner and pillars, swathed in plush microsuede, to the dense open-pore hardwood and genuine metal inlays across the dash and doors, to the quality of soft-touch synthetic surfaces that cover most every other panel, the G80 impresses. Even the leather upholstery is better than many in this class.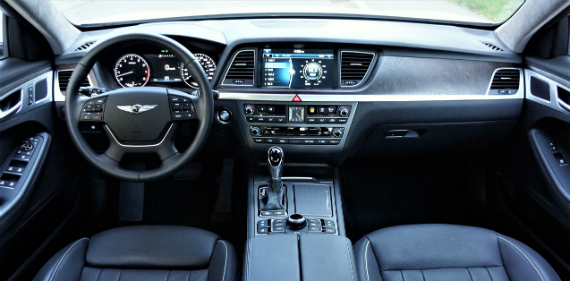 If you want me to nitpick, the G80's removable carpeted floor mats are slightly thinner and not as plush as most others in the segment, while its steering wheel switchgear is too much like others in the Hyundai range, which can be said about other features as well. Even the ignition button is right out of more common Hyundais, these being details that Genesis will likely transform in the G80's next generation, following the lead of the larger G90 sedan that does a better job of separating past from future.
The only real letdown was a wiggly power window lock button on the driver's door, while the door lock buttons weren't much better. Still, most other switchgear was tightly fitted, plus all were well damped and made from high quality composites with nice soft-touch paint for an upscale feel. Then again, some manufacturers are going to touch-sensitive controls, especially for the center stack interface, which makes the G80's mostly analog design seem a bit behind. I'm guessing the types of buyers who purchase into this class, which are mostly a maturing group, will appreciate the simplicity and ease of operation that analog dials allow for.
Genesis does include a climate button on the very far side of the interface that shows an attractive graphic of the G80's interior plus in-depth digital capability, such as the temperatures of each front occupant. There's no default panel to show multiple infotainment functions at once, however, the home button letting you scroll through key functions and the menu button popping out a sliding side panel with features like navigation highlighted, but I'd rather the system defaulted to a multi-information screen that showed half of the navigation screen, some audio info, additional phone details, etcetera. The navigation mapping is superbly detailed and route guidance very accurate, while the display is clear with attractive graphics, but I was a bit disappointed the parking camera wasn't a 360-degree surround design. Its dynamic guidelines worked well, however, and it did include something I'd never seen before, an overhead view pointing directly behind the car to warn of problems a regular rearview camera might not catch, such as a skateboard, bicycle, or child below. In the end, the G80's digital interfaces are probably good enough for now, but they'll need to improve to match the segment leaders.
For instance, if you just stepped out of a 2017 E-Class with its optional fully configurable primary gauge cluster that flows seamlessly into the infotainment display for what appears like the world's longest widescreen tablet, you might feel like the G80 is a step backward. I'm not saying that the G80's very comprehensive and sizable wrap-around colored TFT multi-information display is in some way outdated, but it's not the type of full digital display that's en vogue right now. Still, it's filled with useful functions, even showing the wiper speed and position when tapping the wiper stalk. My tester also featured a head-up display that projected vital info on the windshield, a handy feature that I referred to most often as it even warns of vehicles in your blindspot and to which side.
As far as connectivity goes, the G80 gets two 12-volt chargers, a USB slot, and an aux input under a sliding tray in the front portion of the lower console, but oddly there were no other electronics connectors within the velvet lined bin under the armrest (the 2018 gets another USB here). The lower console also features a rotating dial and various quick access buttons for controlling the infotainment system, flanked by two rows of buttons for the heated and cooled front seats, heatable steering wheel and parking sensors. Being the time of year I didn't check out the seat ventilation, but the seat and steering wheel warmers heat up quickly and get quite hot in their highest temperature settings.
The G80 is incredibly comfortable and wonderfully roomy front to back, the driver's seat sporting power squab extensions to cup under the knees as well as power-pinching side bolsters, albeit its adjustability is nothing quite as extensive as Lincoln's Continental. A four-way powered lumbar support is always appreciated, while the rear seats offer plenty of lower back support as well, plus heated cushions in the outboard positions and control of the powered rear sunshade, the switchgear for all of the above found atop the folding center armrest. I had about eight inches ahead of my knees and a lot of space for the feet when the driver's seat was set to my five-foot-eight height, while at least three inches of air space was available above my crown and side-to-side roominess was excellent too. Along with the rear sunshade Genesis also includes manual side shades, plus very upscale pullout magazine storage on the beautifully finished backsides of both front seats. A panoramic sunroof hovers overhead with a sunscreen made from the same psuede as the roofliner, so even those in back will feel pampered. Lastly, rear passengers can adjust airflow and temperature settings via a scrolling dial next to the rear vents.
The trunk lid powers open to a cargo compartment that's very nicely finished, with carpeting throughout and the usual chromed tie-down hooks at each corner. Genesis has included a center pass-through for loading longer items such as skis, making all-wheel drive versions ideal ski shuttles, but take heed the rear seats don't fold down in this model.
What you do get in this top-line 5.0 Ultimate trim is a wonderfully responsive 5.0-liter V8 with 420 horsepower and 383 lb-ft of torque, plus a stunning set of 19-inch alloys on 245/40 front and 275/35 rear all-seasons, headlight washers, quad exhaust tips, a Continuous Damping Control (CDC) suspension, a card-type proximity-sensing key, the aforementioned microsuede pillars and headliner, a powered rear sunshade, and more.
Items pulled up from lesser trims include auto on/off HID headlights with auto-leveling and high beam assist, the open-pore natural hardwood trim and premium Nappa leather I mentioned before, plus the previously noted 7.0-inch TFT LCD instrument cluster display, head-up display, a heatable steering wheel, heated and ventilated front seats plus heated rear outboard seats, powered front seats with memory, adaptive cruise control with stop-and-go capability, a CO2 sensor control system for the dual-mode auto climate control, 9.2-inch 720p touchscreen infotainment system with Android Auto and Apple CarPlay smartphone connectivity, a rearview camera with a parking guide system, navigation, and Driver Information System (DIS) with multimedia controller on the lower console, 900-watt Lexicon audio with 17 speakers, 7.1 surround sound audio and Logic 7 sound processing, a panoramic sunroof, a powered trunk lid with proximity-activated automatic opening you only need to stand behind for a few seconds to implement, autonomous emergency braking with a pre-safety seatbelt, blindspot monitoring with rear cross-traffic alert and lane change and keeping assist, driver attention alert, and more.
Of note, next year's G80 gets the 1.2-inch larger infotainment display that's currently found with Technology and Ultimate trims as standard equipment, while Genesis has a multi-view backup camera, complete with a 360-degree bird's-eye view, available above base, plus full LED headlights with adaptive cornering, as well as new alloy wheels and most significantly a new shift lever that completely changes the drive experience, moving away from the current PRND layout in exchange of a tap system that selects reverse when pushed forward and drive when tugged rearward, whereas park is found by pressing a button just in front. You can't shift via the lever either, with the newer model only providing paddle shifters. I suppose that's how most of us like it anyway.
I could comment on the new 2018 G80 Sport model too, but suffice to say it bridges the gap between the 311 horsepower base engine and aforementioned V8 with 365 horsepower of its own, plus some sporty styling and finishing details from the outside in, etc. This said the V8-powered car in question utilizes the outgoing transmission yet delivers brilliantly. Switch the "DRIVE MODE" button from its default auto setting or most efficient Eco position to Sport, and its takeoff from standstill and unrelenting acceleration to highway speeds and beyond is thrilling. Its eight-speed auto is wonderfully smooth yet fully engaging thanks to those paddles I mentioned a moment ago, while the car's overall balance is very good considering there's a heavy eight-cylinder over the front wheels.
This should hardly be news as the previous Hyundai-badged Genesis Sedan was quite the athlete as well, still one should not overlook the G80 was first design for luxury and comfort, a job it fulfills with continual grace and composure. It's truly one of the easier large sedans to live with day in and day out, providing a comfortable ride no matter the roughness of pavement below and impressive highway cruising capability.
Fuel economy? Not so good at a claimed 15 mpg city, 23 highway and 18 combined, the powertrain not assisted by an auto start/stop system or regenerative braking that help V8-powered mid-size German competitors meet the various global fuel economy and emissions regulations. The V6 does considerably better at 18 city, 28 highway and 22 combined in RWD trim or 16 city, 25 highway and 19 combined with AWD, but this said most six-cylinder powered rivals make use of the aforementioned efficiency technologies and more in order to minimize consumption and therefore improve on the G80's rating.
I hate to leave such an impressive foray into the luxury class on a sour note, but to be fair to Genesis you can buy a lot of premium unleaded for the $10k-plus savings this car provides. No doubt Genesis will engineer more efficiencies into its future product, and there's a lot of it coming. In fact, the entirely new 2018 G70 becomes the most affordable Genesis this year, set to duke it out with BMW's 3 Series, Mercedes' C-Class, and Audi's A4, although probably more directly with Lexus' IS, Infiniti's Q50 and the like, while the new brand is promising six models by 2021, including a sports coupe and sport utilities. We can't be sure if the four-door coupe-like Genesis hybrid sports sedan concept, introduced at last year's New York auto show, will join the lineup, but considering the state of today's auto market they'd better focus more on the compact and mid-size luxury SUV segments.
As for the G80's mid-size sport-luxury sedan class, it's difficult not to recommend Genesis' addition when factoring in all you get for the price, but that said it's a lot more than just a great value proposition.
*Story credits: Trevor Hofmann, American Auto Press Photo credits: Karen Tuggay, American Auto Press Copyright: American Auto Press *
---