2018 Jaguar F-Type R Coupe
Coventry makes a very good thing even better
There's no more iconic modern-day Jaguar than the F-Type. It's the heart and soul of the famed British brand, just like the sensational XK, elegant XJ-S, legendary E-Type, and revered XK150/140/120 were in decades' past. For good reason the F-Type has become one of the best-selling sports cars in the premium sector, and likewise it goes without saying that any opportunity afforded me within its cockpit is met with enthusiasm.
I was especially excited to get my hands on this 2018 model, as it represents the F-Type's first-ever mid-cycle refresh. Premium sports cars don't get made over as often as volume-branded alternatives, this being the fifth model year of its availability, so its changes were welcome even if ultimately subtle in application. Look closely and you'll see the new standard LED headlights that add a premium-level, high-tech appearance and better nighttime visibility no matter the trim, while the front bumper and lower fascia design features new air intakes with horizontal strakes that make the front of the car look wider, instead of the vertical curving elements fronting last year's model, or at least this is true when comparing my old and new 2017 and 2018 F-Type R Coupe testers.
Yes, I reviewed this exact same trim level last year, and I must say there's considerably more model-to-model differentiation throughout the 2018 F-Type range, with pricier, more potent F-Type trims featuring more aggressive, sportier front fascia designs. That not only helps onlookers distinguish between higher end models, but also allows those who want a classier, more elegant ride to opt for something with a bit more country club flare.
Then again no one should complain when pulling up to the club in this F-Type R, or for that matter mock your choice when its darker taillight lenses become evident as the valet drives away. Still, Jaguar's ability to please varied tastes is important, as not everyone is moved by such brazen masculinity.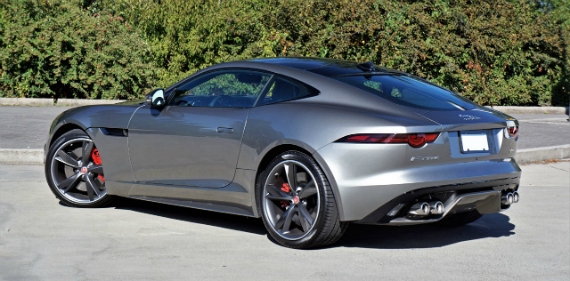 Hence why the 2018 F-Type is now motivated by the widest array of powerplants in Jaguar sports car history. No less than three engines in six states of tune are available, the new base direct-injected and turbocharged 2.0-liter Ingenium mill marking the brand's first foray into four-cylinder sports car propulsion since before the aforementioned XK120 went into production in 1948, that being the stillborn 2.0-liter XK100. In other words, this is the first four-cylinder production Jaguar sports car ever. Even the 1935 SS Jaguar 90 and 1936–1940 100 were powered by straight-six engines, but this said no one should concern themselves about performance as the new base engine makes a very healthy 296 horsepower and 295 lb-ft of torque, which when combined with its standard eight-speed Quickshift automatic transmission results in a very spirited 5.4-second sprint to mph before attaining a limited top speed of 155 mph.
The turbo-four should provide more than enough performance for many sports car enthusiasts, especially when considering key competitors Audi, Mercedes-Benz, BMW, and Alfa Romeo don't offer anywhere near as much output from their entry-level four-cylinder sports models, with 220 horsepower for the TT, 241 for the SLC, 241 for the Z4, and 237 for the 4C, while the aforementioned numbers line up right alongside Porsche's dynamic duo, the 718 Cayman and Boxster that are good for 300 horsepower and 280 lb-ft of torque apiece. What's more, the thriftiest 2018 F-Type gets a city/highway combined EPA rating of 26 mpg, which stacks up well against its competitors too.
In case you're thinking the F-Type is more of a 911 fighter, or for that matter a good match for the R8, SL/AMG GT, i8, etcetera, you're right in one respect. It can match or beat all of the above when powered by one of its more formidable supercharged V6 or V8 engines, the new for 2018 F-Type 400 Sport special edition capable of 400 horsepower and a 4.8-second sprint to 60 mph, and top-tier F-Type SVR putting a cool 575 horsepower down to all four wheels for a 3.5-second dash to 60 mph, but more importantly the F-Type's new $59,900 starting point, which is $2.5k less than last year's base Coupe, makes it more affordable than all of the above except the little Audi when each competitor is upgraded to match the Jag's standard features.
A Porsche 911, on the other hand, starts at $91,100, which is $31,200 more than the entry-level F-Type. Again, Jaguar has a full range of F-Type trims to go head-to-head with that 911 and almost any sports car currently available, which is a highly efficient way of taking on larger, less exclusive brands and simultaneously delivering big value to its clientele.
Driving the value equation higher at the lower end, yet easily keeping up to and even surpassing many of its pricier rivals as trim levels rise, the F-Type delivers handcrafted, bespoke-like interior finishings that would make any hailer of Britannia proud. The cabin of my F-Type R was once again filled with beautiful soft leather surfacing, highlighted by lovely contrast white stitching for a sporty look. Even the dash-top, center stack surround and door uppers benefited from the upscale treatment, this matching the center and side armrests as well as the seat bolsters, whereas the seat insert leather included perforations. Piano black lacquered hardwood tastefully graced the instrument panel, console and other key areas, while beautifully finished aluminum brightened all-round.
Some of those surface treatments are new, and truly give the car a more exotic ambience, while even those purchasing an entry-level F-Type should be pleased to hear the brand's 8.0-inch InControl Touch Pro infotainment system is now standard, its large screen, faster processing speeds and tablet-style tap, pinch and swipe gesture controls making most in-car functions work smoother, while those just noted seats are of Jaguar's new slimline design, featuring pressure diecast magnesium alloy frames that reduce their weight by 17 lbs, and improve ergonomics for a more comfortable fit. I couldn't find fault with last year's seats, but must admit these new ones are superb.
Part of the F-Type's value equation comes down to everything you get for your money, a shortlist of standard F-Type features including LED headlights with signature J-Blade DRLs, 18-inch alloy wheels, proximity-sensing keyless access with pushbutton ignition, power-folding heatable side mirrors with memory, rain-sensing wipers, an auto-dimming rearview mirror, a color multi-information display, a power-adjustable steering column with memory, 12-way powered sport seats with memory, leather and Suedecloth upholstery, auto climate control, 8.0-inch touchscreen infotainment with a rearview camera, navigation, InControl apps (Spotify, Stitcher, Audiobooks, Accuweather, Tile, Glympse, and more, including new Jaguar ReRun developed with GoPro for creating your own video content with real-time on-board telemetry overlays such as speed, throttle position, gear selection, braking force, and g-force data, downloadable to your smartphone and therefore sharable on social media—beware of self-incrimination) and Pro Services (real-time traffic, door-to-door routing, etc), 380-watt 10-speaker Meridian audio, satellite and HD radio, rear parking sensors, an electromechanical parking brake, a performance-tuned eight-speed Quickshift automatic transmission with paddles, brake-sourced torque vectoring, auto engine start/stop, an active sport exhaust system, lane departure warning, and much more.
To be totally fair to those aforementioned competitors, most include heatable seats and dual-zone auto climate control, both of which will cost F-Type buyers an extra $1,380 for the Climate package that also includes a heatable steering wheel and heated windshield (or $1,635 for one that adds ventilated seats), while a universal garage door opener is on the standard list of some rivals too, a $255 standalone option with the F-Type. Even with these upgrades it's a better deal than average, however, while the ability to add auto high beams for $225 as well as lane keep assist, blindspot monitoring with rear cross-traffic alert, traffic sign recognition, an adaptive speed limiter (a.k.a. dynamic cruise control), and a driver condition monitor for just $850 when upgrading to the Drive Pack is excellent value in this class or any.
Of note, Jaguar offers a number of other option groups and features with the base F-Type and upper trims too, including a $1,120 Black Exterior package that replaces chrome and body-color exterior elements with glossy black; a $310 Interior Black package that adds a flat-bottom sport steering wheel with black spokes, gloss black instrument cluster dial rings, and black vent surrounds; a $2,245 Extended Leather Package that adds leather-clad sunvisors and a leather headliner (the stitched leather dash top and instrument panel others charge you more for is already standard); $870 770-watt 12-speaker Meridian surround audio; $185 auto-dimming side mirrors; $255 configurable multi-colour ambient lighting; an $80 air quality sensor; $460 illuminated aluminum treadplates with "JAGUAR" script; a $410 powered liftgate; $285 front parking sensors; and $225 switchable active exhaust; while some of the otherwise packaged features can alternatively be purchased as standalone items.
The larger 380-mm front and 376-mm rear rotors and red brake caliper upgrade comes standard in $99,900 F-Type R trim, although if red's not your thing you can change them to black for $510, while you can also get yellow calipers that clamp down on even larger 398-mm front and 380-mm rear carbon ceramic discs (which also includes a unique set of forged black alloys for $12,240), although my car's carbon-fiber and satin dark gray diamond-turned 20-inch alloys were $2,040 extra, and stunning, especially when matched to Corris Gray paintwork. The F-Type comes with a retractable rear spoiler or you can add a fixed spoiler in its place for no extra charge, while choosing between my tester's $1,175 panoramic sunroof and the $2,040 carbon-fiber roof panel would be difficult. Much of the glossy black detailing comes as part the special $255 Black Package, which is less expensive than that on the base car due to more standard gloss black trim on this F-Type R model.
Now that we're talking extras, the aforementioned Interior Black Package is reduced to $310 in F-Type R trim for the same reasons as the exterior's Black Package, but this wasn't included in my test car anyway, while instead of the Extended Leather Package, which is still available, you can have the sunvisors and roofliner wrapped in Suedecloth for $970. Of course, plenty of the options mentioned earlier are standard in this near top-line trim, plus I've hardly covered all the available features or colorways available, but hopefully you get the gist, the F-Type is opulently attired.
Like the rest of the cabin, the F-Type's switchgear is exquisitely crafted and made from the best quality composites and metals. The three-dial dual-zone auto HVAC interface is downright gorgeous and works flawlessly, while the row of toggles just underneath pay tribute to Jaguars of yore. An ignition button is nothing new these days, but press it and you'll enjoy the staged choreography of air vents powering upward from their otherwise flush settings.
On that note, the F-Type is one of just two Jaguars to use a traditional shift lever, which makes it nicely suited to performance enthusiasts who'd rather put their entire arm into swapping cogs, while placed right beside is a wonderful bit of automotive kit, the F-Type's sharply angled drive mode rocker switch. Pull it back toward the checkered flag (opposite the snowflake) and it immediately engages Dynamic sport mode as well as the sport exhaust system. So set, all systems are ready for optimal performance, and the sound emanating from the tailpipes intoxicates the auditory cortex.
A quick blip of the throttle provides a chainsaw-through-metal-like rasp, the kind of sound that causes car people to rubberneck as you pass by, and then when getting hard on the throttle and letting the revs soar the blown V8 produces a soundtrack like few others. Really, the only thing that comes close to this is the outgoing 2017 Aston Martin Vantage V8, because both use massaged versions of the same Ford-sourced V8 with different tuning, although this Jag makes a helluvalot more power.
The magic numbers are 550 horsepower at 6,500 rpm and 502 lb-ft of torque from 2,500 to 5,500 rpm, while power goes down to all four wheels via a lickety-quick shifting eight-speed automatic with aluminum steering wheel paddles. It's the stuff of supercars, albeit in a much more refined, easier-to-drive package. That means driving around town won't wear you out. Instead, the F-Type's relatively upright stance (for a sports car) and reasonably good outward visibility (again, for a sports car) make it a joy to drive no matter the traffic conditions, while the suspension setup is ideally suited to the patchwork pavement of inner-city streets and alleys plus the mixture of smooth highways and crumbling back road byways of suburbia and outlying rural areas.
The F-Type's impressive ride quality can partially be attributed to its ultra-rigid bonded and riveted aluminum framework and body panels, this stiff structure allowing greater wheel travel together with a more compliant suspension setup, while its at-the-limit handling capability doesn't suffer one iota. It's brilliant fun no matter the road below, whether zigging through sharply carved S-turns or zagging around long, fast, sweeping highway benders. Rest assured that the F-Type's stiff structure also enhances crash worthiness, while reducing noise, vibration and harshness levels so as to enjoy the delectable sound of the exhaust more easily, or for that matter one of its superb audio systems.
Before I do you a disservice and leave you wondering whether the F-Type can or can't be had with a classic six-speed manual, take heart that 340 and 380 horsepower versions of its supercharged V6 can indeed be purchased with a DIY gearbox mated to a rear-wheel drivetrain. You can also get the eight-speed auto with this setup, but take note all-wheel drive can only be had with the 380 horsepower engine. On the contrary, the base four-cylinder only comes with the eight-speed auto and rear-drive setup. If you're not confused yet, the new Sport 400 is automatic-only and can be had with either rear- or all-wheel drive, and the top-line SVR is configured just like my R tester, with an auto and all-wheel drive, while those not as comfortable backing up as going forward can order their automatic-equipped F-Type with semi-autonomous self-parking. Lastly, all of the above configurations can be had in two-door Coupe or Convertible body styles.
With the renewed 2018 F-Type, Jaguar has covered most every want and need, if the latter word can be used for this admittedly self-indulgent luxury sports car class. Let's face it, none of us need a brilliantly quick two-seat road car, but if every decision were judged on practicalities alone, life would become abominably dull. The F-Type is anything but dull.
*Story credits: Trevor Hofmann, American Auto Press Photo credits: Karen Tuggay, American Auto Press Copyright: American Auto Press *
---