2018 Audi A5 2.0 TFSI Quattro Premium Plus S Line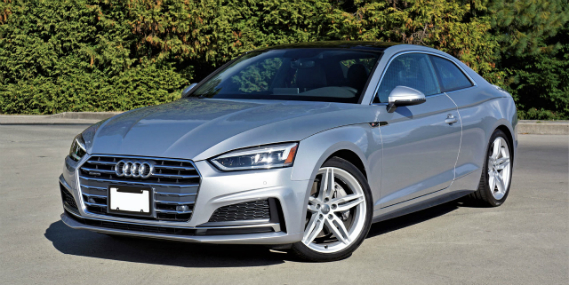 Ingolstadt hits the sports coupe sweet spot once again
Confirm with any European car enthusiast, the outgoing A5 was one of the most beautiful two-door sports models available during its almost decade-long first generation. Certainly, this would've made the development of its second-gen redesign a rather daunting task, but fortunately its near ten-year tenure ended exactly when Audi was introducing its current sharply edged, more industrial-inspired design language brand-wide, allowing the all-new 2018 A5 an ideal entry point.
Feast your eyes upon a car with few equals despite having many competitors. Being A4-based and therefore fitting directly into the compact D-segment, the A5 technically goes up against BMW's 4 Series, Mercedes' C-Class Coupe, Infiniti's Q60, Lexus' RC, and Cadillac's ATS Coupe, but it really stands out among this bunch thanks to an arguably more elegant approach to styling. How Audi managed to do this, while simultaneously making it one of the more modern looking two-door hardtops available is beyond me, but I certainly like what I see.
I should probably rephrase that last sentence, because unlike some of its peers Audi provides the A5 in three unique body styles, the lineup also including a two-door drop-top dubbed A5 Cabriolet and a four-door coupe that goes by A5 Sportback. The only competitor to offer such a comprehensive range of D-segment sport models is BMW with its similarly full 4 Series lineup, but I'll refrain from comparing Bavaria's best to Ingolstadt's finest for the same reason I won't go head-to-head against the five two-door hardtops noted earlier, I don't have enough space and you don't have enough time to go over the infinite differences. Suffice to say they all have something to offer, and if you're reading this you're likely already loyal to Audi's camp.
Rather than go over all the styling details you can clearly see for yourself, it's probably more important to talk about what goes unseen. First off the new A5 rides on the ninth generation of Volkswagen group's MLB platform architecture (codenamed MLBevo) that also underpins the new A4 and Q5, plus believe it or not the larger A8, Q7 and Bentley Bentayga, among others. It's slightly larger than its predecessor, albeit lighter and stiffer, for improvements in passenger spaciousness, noise, vibration and harshness (NVH) levels, crash worthiness, emissions, fuel-efficiency, plus handling and ride quality. This last point is helped out further by a new suspension design, all combining for a very thorough ground-up sport-luxury coupe redesign.
Along with the new sheetmetal and reformed composites outside, Audi has completely redesigned the interior. The result is artful asymmetry from a brand more known for Bauhaus-like proportional alignment, yet the instrument panel design is hardly busy. There's a horizontal flow overall, with the expected primary gauge hood ahead of the driver and fixed tablet-style infotainment display overtop the center stack, although it's not exactly a stack anymore, but rather an assortment of well-placed control clusters for the HVAC system, various driving functions, infotainment switchgear, and shifter. It's all exquisitely crafted eye candy that's just as tactilely satisfying as visually, the satin metals, composites, and leathers used of the highest quality.
Available in base Premium and as-tested Premium Plus trims, and standard with the top-line Prestige is Audi's dazzling new 12.3-inch TFT Virtual Cockpit instrument cluster, an upgrade I highly recommend if within your budget, but then again the standard analog dials are plenty stylish and highly visible in all lighting conditions, while my tester sported a large, highly useful center-mounted color TFT multi-information display of its own.
To be clear, the A5 comes in three trim levels including $42,800 Premium, $45,800 Premium Plus and $50,000 Prestige, while all can be had with either the standard six-speed manual gearbox or Audi's advanced seven-speed S tronic dual-clutch automatic for no extra charge.
Yes, the A5 is not only newest on the block, and arguably most alluring, but it also drives good value, that base Premium model showing up with beautiful 18-inch alloys, convenient pushbutton ignition, an electromechanical parking brake, three selectable driving modes including Dynamic sport, a sharp looking three-spoke leather-wrapped sport steering wheel, rain-sensing wipers, aluminum inlays and interior accents, knurled aluminum edges on some of the switchgear, real leather upholstery instead of the pleather used by those other guys, powered front seats, ambient LED cabin lighting, tri-zone auto climate control rather than the usual two-way HVAC, a 7.0-inch MMI infotainment display with Apple CarPlay and Android Auto, Bluetooth phone and streaming audio, a garage door opener, an auto-dimming rear-view mirror, a panoramic glass roof, all the usual active and passive safety features plus front knee airbags, and much more.
My Premium Plus tester included LED headlights, proximity keyless access that includes a foot-activated trunk release, driver's seat and mirror memory, heatable front seats, heatable front seats, power-folding and auto-dimming side mirrors, plus front and rear parking sensors that use the usual audible beeping alerts as well as showing an overview graphic on the center display when getting close to an object, etcetera.
Lastly, Prestige trim adds 360-degree parking camera, 755-watt 19-speaker Bang & Olufsen audio, blindspot monitoring with rear cross-traffic alert, pre sense rear safety system, Audi connect telematics, and plenty more.
Astute four-ring fans will note my tester's stunning twinned five-spoke 19-inch alloys on 255/35 performance rubber, which are actually an $800 upgrade on top of the $1,250 S line Sport package, also available with the other trims. Along with special S line badging outside and in the package also adds a sport suspension, unique exterior bodywork, S line stainless steel doorsills, stainless pedals, brushed aluminum inlays, a set of front sport seats with four-way powered lumbar, and normally a unique set of 18-inch alloys.
My A5 Premium Plus was upgraded further with a heatable steering wheel, a larger 8.3-inch MMI infotainment display with navigation, 10 gigs of memory, and a touch controller capable of finger gesture inputs, not to mention classic Florett Silver metallic paint, while plenty more options are available including adaptive cruise control with stop and go, traffic sign recognition, and emergency autonomous braking, but I'll leave the rest for you to discover.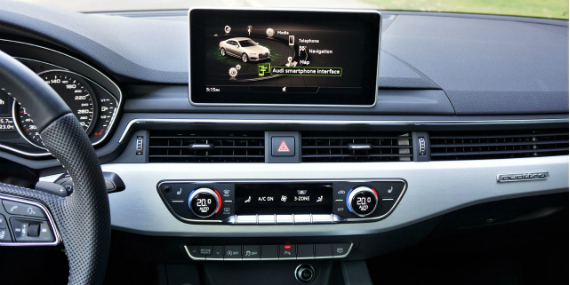 What matters more is this impressive load of features and montage of brilliantly crafted high-grade materials come in an A5 that's more accommodating than before, providing plenty of comfortable space up front for all sizes and shapes, plus noticeably more passenger room in back. With the driver's seat set for my five-foot-eight medium-build frame I had about four to five inches left over in front of my knees, plus more than enough for my feet, at least four inches beside my hips and shoulders, and another inch over my head. So it's definitely useful for two average size couples to go out on a date or someone with younger teenage kids.
The rear seats aren't bolstered quite as well as those up front, so take heed your kids might be bouncing around in the backseat while you're having fun, plus there's only room for four because Audi added a divided console bin with removable rubber bottoms in the middle.
At least you won't be forced to oust the rear center passenger when stuffing skis into the pass-through, Audi splitting the rear seatback into a 40/20/40 configuration for better versatility than most 60/40-divided rivals plus adding nifty sidewall handles to lay them flat without need to walk around to the side doors, while the trunk is quite large for the two-door coupe class at 11.6 cubic feet.
This is a good time to fill you in on the new-to-us albeit totally redesigned 2018 A5 Sportback, a true five-seater that hauls from 21.8 to 35.0 cubic feet of gear in its shapely liftback-equipped four-door coupe-style body, while Audi also offers the gorgeous A5 Cabriolet noted earlier, plus 354 horsepower S5 versions of each as well as a top-tier 450 horsepower RS 5 Coupe.
While 3.7 seconds to 60 mph and a top speed of 174 mph would no doubt be outrageous fun, the standard A5's 2.0-liter turbocharged four is a bit more down to earth with 252-horsepower, 273 lb-ft of torque, a 5.7-second sprint from standstill to 60 mph, and a 130- mph top speed. Most should find this level of performance more than adequate, while thanks to its wonderfully quick-shifting paddle-shift actuated transmission, that provided blips on downshifts prompting a sonorous soundtrack from the exhaust, and its superbly sorted suspension I had no trouble finding opportunities to smile.
Aiding this end is Audi' standard Drive Select noted earlier, which lets you choose the appropriate steering and suspension setup, with Dynamic mode best for getting sporty. Comfort is probably optimal for scooting around town, but the system defaults to Auto which does a good job of balancing handling and ride quality, the latter an Audi trait that makes long drives less straining, especially when rough pavement makes up part of the journey. Audi also includes an Individual mode for tailoring the car to your exact demands.
Four-corner grip is enhanced by Audi's latest Quattro all-wheel drive, dubbed "ultra", which incorporates a clutch for engaging the rear axle to counteract back end slippage and disengaging it when no longer required, thus saving on fuel. Also thanks to standard auto start/stop, which shuts down the engine when it would otherwise be idling and instantly restarts it when ready to go, the new model is EPA rated at just 24 mpg in the city, 33 on the highway and 27 combined with the manual, or 24 city, 34 highway and the same 27 combined with the automated gearbox.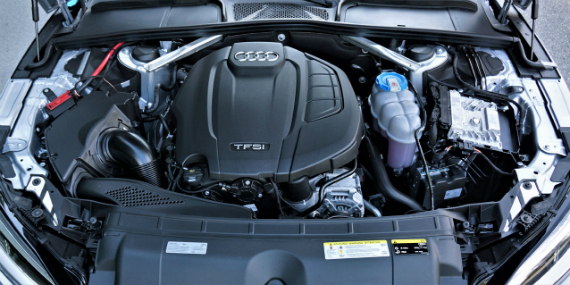 After time well spent with the impressive new 2018 Audi A5 I wouldn't bet against its continued success in our luxury coupe market. It's one of the most elegantly beautiful two-door hardtops in the industry, comes fitted out with an equally stimulating interior, delivers more than enough performance to match its sporty shape, not to mention commendable efficiency, enviable comfort, loads of relevant features, and the list goes on. Audi appears to have hit the sports coupe sweet spot once again.
*Story credits: Trevor Hofmann, American Auto Press Photo credits: Karen Tuggay, American Auto Press Copyright: American Auto Press *
---