2018 Subaru Crosstrek 2.0i Limited
Redesigned subcompact crossover makes big gains in refinement
Figuring out how the Crosstrek fits within America's compact SUV segment isn't entirely clear, but appreciating how important it is within Subaru's sharply focused model lineup is all too obvious.
The Crosstrek found nearly 100,000 buyers across the country last year, or 95,677 to be exact, which means that it's starting to enter the fray of the alternative Japanese brand's more popular models such as its Outback that sold 182,898 units during the same 12 months, as well as the next bestselling Forester with 178,593 examples down the road in 2016, plus the all-important Impreza that found a grand total of 88,517 buyers last year. The rest of the line includes the Legacy mid-size sedan with 65,306 deliveries, the WRX/STI compact performance sedan with a total of 33,279 sales, and the BRZ sports coupe with 4,141 buyers.
It could be argued that the Crosstrek is most critical to Subaru's bottom line because it's more or less an Impreza hatchback with a lift kit, a beefier set of alloy rims, and some rugged looking exterior body cladding that gets produced in the same Lafayette, Indiana manufacturing plant, resulting in reduced development and production costs. Together with the compact four-door Impreza sedan and its five-door hatch sibling, the Impreza/Crosstrek trio managed 184,194 units last year, making this family of small cars Subaru of America's bestselling combination.
The Impreza was totally redesigned for the 2017 model year and has grown in popularity since debuting the year before, its total sales over the first six months of 2017 already at 59,211 units, which could result in nearly 120,000 sales if growth remained consistent throughout the rest of the year. Will the redesigned 2018 Crosstrek's fate prove similar?
Everything that made the 2017 Impreza an altogether better car than its predecessor is now part of the 2018 Crosstrek package, so it would make sense if the new Crosstrek achieved a similar sales growth trajectory. Of course, being a compact SUV it's priced higher than its lower-slung sibling, despite the Impreza coming standard with Subaru's highly regarded full-time Symmetrical all-wheel drive. In fact, you can get into an Impreza sedan for only $18,495, or $18,995 for the hatchback, whereas the Crosstrek will set you back $21,795, which is still great value for a compact crossover SUV, but a bit further from the entry-level consumer's reach.
To be clear, Subaru sees the Crosstrek as more of a subcompact SUV than a tall wagon in the compact car class, or at least that's the market segment the brand is trying to attract. After all, its $22,795 to $29,395 Forester is already making steadily stronger inroads within the ruthlessly competitive compact SUV segment, dueling it out with the Honda CR-V, Toyota RAV4, Nissan Rogue, Ford Escape and multitude of alternatives totaling 15 altogether, whereas the entry-level subcompact SUV segment has fewer challengers (currently 12 and growing) as well as an entirely new crop of first-time and fixed-income buyers that are critical for growing the brand over the short and long haul.
Of course, a larger Crosstrek will be seen as a better value than most subcompact SUV competitors that are priced similarly yet don't deliver the same bang for the buck, at least size-for-size. When compared side-by-side within the subcompact SUV class, the Crosstrek becomes the second-bestselling model next to the 106,606-unit strong Jeep Renegade. Yes, the Crosstrek's 95,677 2016 sales topped the Jeep Compass' 94,061 deliveries, the Honda HR-V's 82,041 sales, the Chevy Trax's 79,016, and the Buick Encore's 78,565, although the recently released Toyota CH-R and the soon to be released Nissan Rogue Sport could eventually get in the way of the Subaru's second-bestselling status.
In the 2018 Crosstrek's corner is the same new Subaru Global Platform that helped transform the Impreza from a competent compact car into one of the Honda Civic's more convincing competitors, its stiffer more capable underpinnings resulting in the normally juxtaposed qualities of better handling and a smoother ride, plus greater refinement and an all-round quieter interior.
What's more, along with its sharper looking exterior design the Impreza, and now the new Crosstrek, benefit from a much-improved interior featuring more premium-like soft-touch surfaces than the majority of rivals, higher quality switchgear than its predecessor throughout, and some truly impressive digital interfaces, the center stack-mounted infotainment touchscreen now incorporating Apple CarPlay and Android Auto smartphone connectivity, just for starters.
Along with the nicer soft and hard points, the new Crosstrek gets a more appealing interior design with nicer materials choices, some of which are downright rich looking, raising Subaru further into the near-luxury class that its exclusive brand characteristics warrant, some of which include the class-leading all-wheel drive system mentioned a moment ago, now with Active Torque Vectoring that was first introduced for the WRX and WRX STI, plus its unique lineup of horizontally-opposed four- and six-cylinder "boxer" engines, legendary off-road-capable five-door hatchbacks and wagons, World Rally Championship winning pedigree, overall build quality and reliability, and enviable brand loyalty.
The new 2018 Crosstrek comes in base 2.0i, 2.0i Premium and 2.0i Limited trims, the latter two also available with the brand's EyeSight advanced driver-assistance systems. If you're not familiar with EyeSight, the package includes adaptive cruise control, pre-collision warning and autonomous emergency braking, lead vehicle start alert, lane departure warning, lane change assist lane sway warning, and new for 2018, lane keep assist, which is another way of saying autonomous corrective steering.
Additionally, Limited models upgraded with EyeSight also get auto high beams and reverse automatic braking, but these two features aren't technically part of the EyeSight upgrade, if that makes sense, while even standard Limited trim also receives blindspot monitoring with rear cross-traffic alert.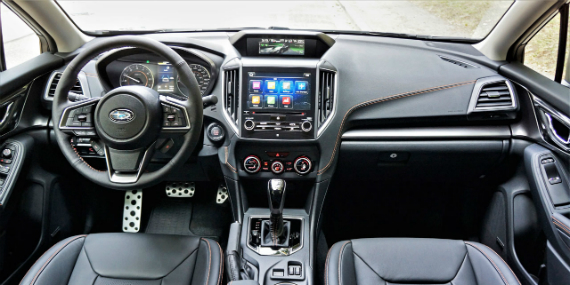 If you think that's impressive, consider that Limited trim also features steering-responsive full low- and high-beam LED headlights, while all 2018 Crosstrek trims come standard with helpful dynamic guidelines for the rearview camera. I certainly can't think of a safer compact crossover in either the mainstream or premium sector, and we've only touched on the benefits of Symmetrical all-wheel drive that add another element of active safety to this impressive little five-door.
It's too early to tell if these upgrades will qualify the 2018 Crosstrek for the IIHS' most coveted Top Safety Pick Plus rating, but the 2017 Impreza was honored with this distinction when outfitted with its optional front crash prevention and upgraded headlights, so it's pretty safe to say the new Crosstrek will follow suit. After all, even before these improvements arrived for 2018, similarly equipped versions of the old model managed Top Safety Pick status for six consecutive years, so with the new stronger, 70-percent stiffer platform architecture, which is claimed to improve crash energy absorption by a considerable 40 percent, earning the IIHS "Plus" suffix should be a cakewalk.
As noted, the new Crosstrek starts at $21,795 plus freight and fees, which puts it at a disadvantage compared to the bestselling Renegade that starts at $17,995, as well as the $19,465 HR-V, $19,795 Outlander Sport, $19,960 CX-3, $19,995 500X, $20,250 Juke, $20,995 redesigned Compass, $21,000 Trax, and even the $21,420 Rogue Sport, but then again it's priced better than the new C-HR's $22,500 MSRP, or the Buick Encore that sells for $22,990. Of course, we need to compare apples to apples as the saying goes, all of the above competitive prices reflecting a base front-wheel drive SUV, and many with fewer standard features than the Crosstrek.
The fully loaded 2018 Crosstrek Limited with EyeSight seen on these pages was priced quite a bit higher yet at $30,655 before freight and fees, but this is still a superb deal when compared to some of the SUVs on the above list. The Compass Limited, for instance, will set you back a premium-like $34,750 when outfitted with similar features.
I realize the rocky road a complete comparison between all of these subcompact SUVs could lead us down, so without further differentiation I bestow the mantle of good value upon the new 2018 Crosstrek no matter the trim, although a relatively quick rundown on features should help you agree with my summation.
To that end, base Crosstrek 2.0i trim includes AWD, sharp looking 17-inch machine-finish alloys, a rooftop spoiler, roof rails, power-adjustable side mirrors, remote access, tilt and telescopic steering, a trip computer, variable intermittent wipers, cruise control, filtered air conditioning, the previously mentioned high-resolution color 6.5-inch Starlink infotainment touchscreen with a rearview camera with dynamic guidelines, Android Auto and Apple CarPlay, Bluetooth phone and audio streaming (with Near Field Communication that really improves pairing), aux and USB ports, four-wheel discs with ABS, electronic brake-force distribution and brake assist, traction and stability control, all the usual airbags including one for the driver's knees, and much more.
Move up to $22,595 Premium trim and the equipment list grows to include auto on/off headlamps, fog lights, a windshield wiper de-icer, heated side mirrors, illuminated vanity mirrors, a leather-wrapped steering wheel with orange stitching, six-speaker audio (instead of four), heatable front seats, premium cloth upholstery with orange stitching, a retractable cargo cover, and more.
Lastly, $26,295 Limited trim adds a standard Lineartronic CVT with X-Mode and hill descent control, stylish 18-inch machine-finished alloys, some additional chrome exterior trim, turn signals on the side mirror housings, proximity-sensing access with pushbutton ignition, some nice satin-silver interior detailing, charcoal gray perforated leather upholstery with orange stitching for a truly upscale look and feel, unique orange double stitching on the instrument panel, shift knob, door armrests, and seats that really adds to its sporty demeanor, a powered driver's seat, a 6.3-inch color LCD multifunction display over the center stack on the dash top, always welcome auto climate control, larger 8.0-inch touchscreen infotainment, satellite radio, two more USB ports, a folding rear center armrest with integrated cupholders, the steering-responsive LED headlamps and blindspot monitoring mentioned earlier, and more.
Lastly, the EyeSight features mentioned earlier can be had in two packages, the first a $2,095 grouping that also includes a powered moonroof, while the $3,445 version adds the same moonroof along with precise navigation and great sounding 432-watt eight-speaker Harman/Kardon premium audio.
All Crosstreks boast Subaru's well-proven DOHC, 16-valve 2.0-liter horizontally opposed four-cylinder engine tuned to produce 152 horsepower and 145 lb-ft of torque thanks to new direct fuel injection. It's joined up to a hill-holder assisted six-speed manual gearbox in 2.0i and Premium trims, with the CVT optional in each if desired, and standard with the Limited. The autobox includes seven pseudo gears that can be modulated via paddle shifters in Premium EyeSight models and above, these adding a bit more performance to a powertrain that's probably the only thing lacking in this little SUV.
I'm not saying the Crosstrek feels slow, but it's not exactly exhilarating off the line either. Fortunately it's quite efficient with a claimed EPA fuel economy rating of 23 mpg in the city, 29 on the highway and 25 combined with the manual, or an even more agreeable 27 city, 33 highway and 29 with the CVT, while all variables qualify for ultra-clean Partial Zero Emission Vehicle (PZEV) status.
Where the Crosstrek outshines many of those competitors mentioned earlier is in driving dynamics, both when it comes to performance handling and ride quality. While all of its rivals feature MacPherson front struts to maintain control and iron out road imperfections, the Crosstrek's fully independent suspension setup also boasts double-wishbones in back plus stabilizer bars at both ends, the result being excellent road-holding through fast-paced corners and near unflappable stability, even when dips or bumps arrive mid-turn. Of course the old Crosstrek benefited from a fully independent suspension too, but real gains have been made from the new more rigid platform, the improvements obvious as soon as the car gets underway. Most noticeable was its newfound refinement, the Crosstrek now one of the quietest subcompact SUVs on the market.
That new platform is responsible for more interior room too, the new 104.9-inch wheelbase increased by 1.2 inches over the previous version, yet the 2018 Crosstrek's length is only extended by 0.6 inches and width by 0.8 inches. I noticed more rear seat room than the previous version, now having approximately eight inches in front of my knees plus plenty of foot room when the driver's seat was set for my five-foot-eight medium-build frame, plus about four inches above my head, the same four inches beside my shoulders and at least five next to my hips. The folding leather-covered armrest at center was perfectly placed for ideal comfort too.
The rear seatbacks once again fold 60/40 into a very functional flat load floor. Subaru claims there's a wider rear gate too, which means that its overall passenger/cargo capability has improved. By the numbers the new Crosstrek can haul 20.8 cubic feet of gear in the very back and 55.3 cubic feet with rear passengers removed and the seats lowered, the latter number a significant 5.7 cubic feet more than last year's model.
Ground clearance is 8.7 inches, by the way, which together with its better-than-average AWD system makes the Crosstrek a lot more useful for trudging through snowy ski hill parking lots than most challengers, or for that matter tackling light- and even some medium-duty off-road trails.
On that note, Subaru's full-time Symmetrical AWD is ideally lined up down the center of the vehicle for the best possible weight distribution and power delivery. What's more, it's built into a platform architecture that was designed from the outset to work solely with AWD. On top of this is the X-Mode terrain response just mentioned, designed for tackling rougher off-road trails that most of its challengers wouldn't dare venture onto.
I've yet to say much about the new Crosstrek's styling, and rather than delve into all the details you can clearly see for yourself, I'm just going to give it two thumbs up for not deviating from the original model's design too much. I really liked the previous generation and continue to like this one a lot too, the new one adding a touch of sophistication to the funky five-door shape, especially when the LED headlights are added.
The new model wowed me more inside as mentioned previously, with a level of materials quality, fit, finish, and refinement that puts some premium-branded models to shame. I'm also a sucker for most anything orange, owning a couple of orange-trimmed watches with orange-stitched black leather straps, not to mention plenty of orange colored clothing items. Hell, my significant other and I even painted our bedroom and bathroom orange, so the Crosstrek Limited had us both at hello.
This, together with ergonomics that fit my body to a T (not the case with many Toyota models), the 2018 Crosstrek is a car that I could get very used to having in my personal long-term fleet. I certainly have no qualms recommending you check one out for yourself.
*Story credits: Trevor Hofmann, American Auto Press Photo credits: Karen Tuggay, American Auto Press Copyright: American Auto Press Inc. *
---