2018 Mercedes-Benz E400 4Matic Coupe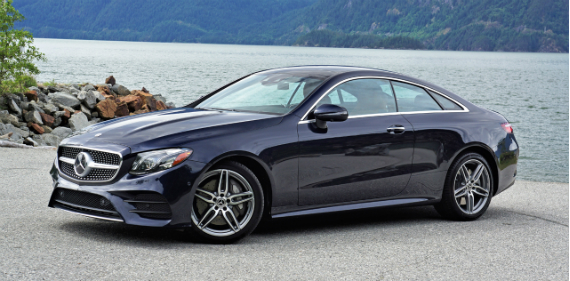 Longer, wider and better in every way
The personal luxury coupe sector is a tricky market to get right. I won't even attempt to count the number of brands that have entirely given up on two-door hardtops, this especially true of mid- and full-size E- and F-segment participants.
In fact, with the admission that BMW ended production of its 6 Series Coupe in February (and no confirmation of the much anticipated 8 Series), Lexus and Mercedes-Benz are the only premium brands that dare go up against ultra-luxury players such as Rolls-Royce, Bentley, Ferrari, Aston Martin, and Maserati with premium coupes of their own. The Japanese brand has just introduced the daring new LC, its first foray into these dangerous waters since the 1991–2000 SC, whereas Mercedes' E-Class Coupe (previously CLK, CE) and S-Class Coupe (previously CL, SEC, and SLC) have experienced relatively smooth sailing for decades.
Way back when I was emulating Alex P. Keaton as an up and coming '80s-era yuppie, I unabashedly lusted after the 500 SEC. It was and still is a beautiful car of unquestionable quality, stunning craftsmanship, class-leading luxury, and superb performance. Before that, as a child, I had a thing for first-generation 114 model series CE coupes (summering in Europe at the influential age of eight made an impression). This was the E-Class progenitor, a redesigned version of the 114 produced until 1976 when the 123 model series coupes replaced them. This elegant model set new standards for active and passive safety, not to mention luxury and performance, but was replaced in 1985 by the 124 series that made significant inroads in comfort, refinement and environmental protection. This model was renamed E-Class Coupe in 1993, and the rest, as they say is history.
Of course, there were a couple of CLK stints that ran from 1997 through 2002 (the 208) and 2002 to 2009 (209), and as well received and impressive as these cars were it was the 2010 E-Class Coupe that caught me short of breath, filled me with butterflies, and generally got me all flustered over M-B two-doors once again. I still can't take my eyes off this car when one drives by. It's truly as beautiful today as it was seven years ago, hardly aging a bit, and while Mercedes redesigned it for the 2014 model year, adding some F1 dominance to its nose, I was only glad they didn't touch the beautiful rear quarter glass, by far my favorite design element. All I can say is thank you again Mercedes, because the entirely new 2018 E-Class Coupe keeps all that I loved about its predecessors and improves on everything else.
That comment goes more than just skin deep, although the new E Coupe's styling is as elegant as anything in its four-place luxury coupe class while arguably as sporty as its smaller predecessor. The most notable frontal change is the "Diamond" grille, Mercedes now harmonizing the appearance of nearly all performance models from the four-door CLA up to the grand S Coupe. The grille's rounded edges flow around new standard LED headlamp clusters before passing over smoother fender swells and finalizing in curvaceous rear quarters that are more enticing with each long drawn out gaze—Mercedes design chief Gorden Wagener and team have done a splendid job creating a car that's at once modern and vital yet undeniably set in its ways, a future classic that will likely age very well.
From a distance it's an exercise in minimalism, but Mercedes has the details down to perfection too. The Diamond grille's chromed pin brightwork is literally brilliant, while the unique complexity within my testers' upgraded active cornering Multibeam LED headlamps, complete with 84 individual elements apiece, is dazzling, as is the granular detail within the "crystal" taillight lenses, or for that matter the fine visual lightness to the optional 19-inch twinned five-spoke AMG alloys, and that's all before taking in the cabin via its pillarless side glass.
The Stuttgart automaker has been making its big autobahn-born coupes with frameless doors sans B-pillars for as long as I can remember, and together with a standard panoramic sunroof that slides back atop the rear portion of the hardtop, the E Coupe presents a Targa-like open airiness, which is all the better for shedding light on its impressive interior.
Truly, upon opening the door of the first of two E400 Coupe testers available to me during its national press launch I was in awe. The current E-Class experience wasn't totally new to me being that I recently reviewed an E 300 Sedan, so I was prepared for its near complete transformation to the digital world, at least in higher spec trims, but the rich color combinations, finely crafted metalwork, and exquisitely detailed hardwood inlays caused me to take pause. Rarely does a car's interior surprise, but the way Mercedes is now blending cutting edge and traditional design cues with the best possible materials puts them at the forefront of the premium car industry, not that this is the first time they've been there.
Just take a look at the photos in this story or go see firsthand for yourself at your local Mercedes-Benz dealer, this E400 Coupe is a cut above all competitors, nearing and in some ways surpassing ultra-premium brands like Bentley. Even Merc's larger analog clock is considerably nicer than the British marque's diminutive Breitling, with a crystal so clear it seems like sapphire and a three-pointed star at center that reminds even Rolex paid tribute to the German brand by adapting "Mercedes" hour hands to its Submariner and Air-King, and where the new turbine-look air vents might lack metal organ stops they're more efficient in operation, distribute air better, and are to-die-for gorgeous.
And I haven't even mentioned digital interfaces. With its optional 12.3-inch configurable gauge cluster that offers up classic, sport and progressive graphic interfaces, the screen fully combining with the standard 12.3-inch center stack electronics for one ultra-sized dual-tablet-style "Widescreen Cockpit" display, Mercedes fully embraces the digital age.
Traditionalists can opt for a set of analog gauges surrounding a 7.0-inch color TFT multi-information display if they'd rather cling to the past or simply save money, because the only way to get this window into the modern world is via the $6,600 Premium 2 package which also adds dynamic cornering-enhanced Multibeam LED headlamps with Mercedes' Intelligent Light System and Adaptive Highbeam Assist, plus the Air Balance cabin-air purification and fragrance systems, and a powered rear-window sunshade to the Premium 1 package that already includes proximity-sensing keyless entry with pushbutton ignition, foot actuated hands-free trunk access for the upgraded powered trunk lid, heated front seats, a 590-watt 13-speaker Burmester surround sound system, satellite radio, Near-Field Communication (NFC) technology, inductive wireless charging with NFC pairing, Active Parking Assist, Blind Spot Assist, Rear Cross-Traffic Alert, (and this isn't even the awesome one). Mercedes expects most buyers will opt for this package, which basically means Merc dealers will be ordering most E400 4Matic Coupes this way. Once you experience it, you'll understand why.
I'd opt for the Burmester stereo upgrade just to get the fabulous aluminum speaker grates, although the audio is even better than the visual, while Keyless-Go forever relegates fumbling through purse or pocket for wayward keys to the dark ages, a technology worth its weight in gold.
I suppose Bitcoin, Ethereum, or some other cryptocurrency is more apropos for analogizing this ultra-advanced car (although I prefer Goldmoney that uses blockchain technology yet is backed by less volatile Au reality), the just noted digital gauge cluster being a massive swath of high-resolution, fully-configurable, bright, rich, graphically stimulating color TFT nirvana atop contrasting black Gorilla glass that stretches from the left side of the steering wheel to the rightmost point of the center stack, leaving all competitors looking stale and dated in the process.
So much technology might sound overwhelming to some, but believe me it's anything but. It's clean, clear and easy to sort out via thumb swipes on two steering wheel-mounted Touch Control buttons, the left side for the configurable gauges and right side for the infotainment system, plus the usual touchpad and rotating controller on the center console for the latter, this system also recognizing handwriting and the usual tablet/smartphone-like gestures, not to mention Linguatronic voice control. Once acclimatized the entire process simplifies the art of driving, and while some manufacturers somehow mismanage the integration of a rudimentary six-inch touchscreen to the point it looks like a clumsy aftermarket addition, Mercedes' holistic approach makes this scenic digital vista look as if it was always meant to be. It's digital done right, with equal parts future tech and finesse, enhanced further by an available head-up display that projects navigation, real-time traffic updates, car-to-X communication, and more onto the windscreen via a fast internet connection.
The rest of the interior is sensory bliss, from the leathers, metals and hardwoods used to surface its complex yet fluid lines, to the combination of handcrafted and machine precision in doing so. I could only find one point of contention: hard shell black plastic door pockets placed down below where most probably won't notice. I did, but I get paid to be annoyingly critical. Still, it's a shame to mar near perfection. I suppose those who want more should shut up and buck up for an S-Class Coupe, which brings up the point of price.
The 2018 E400 4Matic Coupe starts at just $58,900 plus freight and fees, which when placed beside its only competitors seems very reasonable. If you can still find a 6 Series Coupe (you probably can as BMW could hardly sell them anymore, hence its cancellation last year) you'll need to fork over somewhere in the neighborhood of its $86,000 asking price (if you find a base model), whereas that aforementioned Lexus will cost you even more at $92,000. It's not fair to compare these cars directly, but even my near fully loaded E Coupe testers seemed like bargains.
Both my cars also came with $950 Multicontour front seats with a massage feature that's been upgraded from previous systems and works brilliantly; a $2,500 AMG Line sport package with staggered-width 18-inch AMG alloys (although mine were upgraded with those aforementioned $500 19-inch AMG twinned five-spoke alloys), an AMG styling package, AMG interior styling, a sport steering wheel, brushed aluminum pedals, and a black headliner; while on top of the Premium 2 package they included the Premium 3 package (which at $10,200 adds $3,600 more to the Premium 2 package) featuring a head-up display, a 360-degree parking monitor, and a slew of advanced driving assistance systems that first warn of a potential accident and then, if necessary, take over to avoid via autonomous braking thanks to long-range stereo cameras that can see up to 1,640 feet ahead and operate at an angle of 50 degrees at speeds up to 130 mph, or steering assist that'll nudge you back into your lane if you wander astray, etcetera.
My testers also included semi-autonomous Drive Pilot, which is essentially autonomous driving over short distances. To be clear, Drive Pilot could go further without any driver involvement, but Mercedes is smartly a more conservative company than some upstarts and therefore is taking baby steps into the world of fully automated mobility. For instance, with the Distronic adaptive cruise control set to 60 mph I drove down a stretch of freeway in the rightmost lane, gradually creeping up behind a slower moving vehicle. Before getting too close, which would normally cause the automated brakes to slow us down to match the speed of the car ahead, I flicked the left turn signal at which point my E400 "looked" for a safe opening, changed lanes on its own, and proceeded to pass the slowpoke. It doesn't automatically change back to the outside lane yet, but that would simply be a software tweak. Then again, another flick of the signal in the opposite direction performs the function, resulting in a little bit of modern-day magic as well as a keen eye into the future of motoring. Of course it'll park itself too, this feature fairly common, but Mercedes' Active Parking Assist also pulls you back out from said parking spot.
Another cut above feature is Evasive Steering Assist that adds additional steering torque to help you deal with sudden unforeseen circumstances, such as a pedestrian unexpectedly walking across the street while staring at their cellphone, or a car that runs a stop sign. All you need to do is initiate the steering maneuver after which the E Coupe takes you safely around what could've otherwise been a life changing accident, and then sets you back on course, no harm done.
In the event such systems can't save you from trouble the E Coupe's Pre-Safe system will instantly and automatically close all windows and the sunroof, pull the seats upright, cinch the seatbelts and more while doing its best to stop and steer you away from the critical path as quickly as possible. Even more amazing, milliseconds before a crash Mercedes' new Pre-Safe Sound deploys a high-volume blast of pink noise through the audio system to limit hearing damage from the types of high-pressure noises that occur during an accident. Mercedes said it's "not designed to protect your life, but designed to protect the quality of your life." That sounds good to me. Of note, the E-Class sedan gets a best-possible Top Safety Pick Plus rating from the IIHS in standard trim, so it's likely this new E-Class Coupe will be just as safe.
Whether left to its own autonomous devices or kept in complete driver control the E400 4Matic Coupe is one ultimately smooth and wonderfully swift machine. The E400's twin-turbocharged direct-injection 3.0-liter V6 (a less potent version of the 396 horsepower AMG E43's powerplant) produces 329 soulful horsepower and 354 lb-ft of near immediate torque for a brisk 5.0-second sprint to 60 mph (0.9 seconds quicker than the outgoing model) and a top speed of 130 mph, while its new lighter nine-speed 9G-TRONIC longitudinal automatic is as quick and smooth an operator as anything in the class, plus another notch up on most competitors' eight-speed boxes.
Unlike most challengers, Mercedes maintains quality control by manufacturing its own transmissions, so rest assured the same care and attention that goes into its outward craftsmanship backs up sights unseen as well. Aluminum paddles are included, but as silky as these feel to the fingers and as quick to react as they are, the transmission's ability to automatically downshift under braking in Sport and Sport+ modes made them irrelevant in all but extreme situations, although it should be noted the sharpness of shifts under Sport+ mode had me slotting the drive selector into Sport mode more often than not. It's a grand touring car after all, and while capable of chewing up miles and miles of fast-paced asphalt without complaint, it's even better at tasking long sweeping freeway curves at yet faster speeds. While I chose Sport mode for most duties, Comfort and Eco were also quite capable no matter the speed or terrain.
When set to either of its more docile settings the E400 4Matic Coupe manages fuel well thanks to plenty of built in efficiencies, a particularly notable one dubbed "sailing" mode that shifts the gearbox to neutral when coasting. Highway fuel economy is therefore excellent at 26 mpg with either standard rear-wheel drive or optional 4Matic, whereas a smooth operating standard auto start/stop system that shuts the engine off when it would otherwise be idling helps both drivetrains earn a 20 mpg rating in the city and 22 combined.
As you might guess this E Coupe was thoroughly comfortable and plenty easy to drive around town, but when pushed hard through the distant hills that made up much of the aforementioned route it was every bit the sport coupe its lean lines promise. The car is near unflappable in fact, erring to predictably controllable understeer during intensely quick cornering with very little body roll, its confident prowess aided by a 0.6-inch lower ride height than the already rock-steady E-Class sedan. Of course, as-tested 4Matic all-wheel drive improves road holding in dry conditions as we experienced during the launch program, as it no doubt would in the wet or after even slipperier snowfall.
On that note the base Dynamic Body Control suspension, which features adaptive dampers filled with two different sized chambers up front and three in back to vary ride firmness, delivers a wonderfully compliant ride no matter the road surface. We hit some frost heaved bumps, unexpected potholes and impromptu roadwork on the various backcountry highways, and nothing unsettled the car at speed. It's really a dual-personality performer, with equal parts sports car and luxury saloon. If you want even more high-speed comfort Mercedes offers its optional $1,900 Air Body Control suspension, but unfortunately the system wasn't available to test during the program.
Those aforementioned missing B-pillars, along with the gently canted windshield, forced Mercedes to thicken the A-pillars in order to increase the car's structural rigidity, this slightly limiting forward visibility around corners. I got used to it quickly enough thanks to excellent sightlines in every other direction, but I remained grateful the car's many electronic eyes were keeping watch where mine couldn't see, not to mention its superb 360-degree parking camera that made for easy maneuverability in small spaces. That sweptback windshield enhances aerodynamics resulting in a svelte 0.25 drag coefficient, which is plenty slippery for a large car with such a grand grille.
Grand in mind, unlike the previous C207 E-Class Coupe that was based on a modified version of smaller C-Class (W204) underpinnings in an attempt to improve its athleticism, just like its CLK predecessors, this new seventh-generation two-door is a true mid-size E-segment model that shares Mercedes' new W213 E-Class architecture. This allows for significantly more outward size and interior space than its predecessor, the former measuring 4.8 inches longer overall with a 4.4-inch increase in wheelbase, while it's also 2.9 inches wider and 1.3 inches taller. This newfound size is a better fit within Mercedes' lineup, its 190.0 inches slotting right between the 184.5-inch C-Class Coupe and 197.9-inch S-Class Coupe.
Oddly, despite the increased size its trunk space is slightly down in volume, from 15.9 to 15.0 cubic feet. Of course this is still generous by coupe standards, while it can also be expanded via 40/20/40-split rear seatbacks.
On that note, I wouldn't be calling the new E-Class Coupe a 2+2. It's really a classic two-door sedan, in that real adults can comfortably sit in all four positions. Climbing in back is easy thanks to a lever on the front seatback that automatically slides it forward to make an amply wide entry. When seated in one of its nicely sculpted rear seats, the front seat automatically returns to its previous position, with no additional adjustment required. My admittedly smaller than average five-foot-eight medium-build frame felt adequately pampered, with more than enough knee and foot room despite 2.6 inches cut from the E sedan's wheelbase, plus enough headroom for a fully extended neck, although with only a couple of finger's widths from the top of my crown to the sloping rear glass I could understand grumbles overheard from those in the six-foot-plus crowd. All could appreciate the car's increased shoulder and hip room mind you, which was felt up front as well. That's where it's a whole 1.4 inches wider at the shoulders, whereas those in back get 0.6 inches more from side-to-side.
Driver's seat ergonomics are spot on too, and what's not inherently ideal for your unique needs can be adjusted to the nth degree. The aforementioned steering wheel is Nappa leather-wrapped, and even flat-bottomed, while available in a multitude of colors just like the rest of the interior. On that note you can alternatively opt for a regular round steering wheel.
Now that we're on about standard kit, the seats are leather-clad and 16-way powered with memory, while the 12.3-inch COMAND infotainment display gets navigation, Apple CarPlay, Android Auto, HD and satellite radio, a backup camera, and plenty more. Mercedes' realistic feeling Artico leatherette is stitched together atop the dash and much of the instrument panel, upgradable to legit hides of course, while ambient lighting wows with no less than 64 selectable colors. Bright lights in mind, rearview and driver's side auto-dimming mirrors ease the eyes during nighttime driving.
I've already noted the massive overhead glass, although neglected to mention the front glass can be upgraded with Magic Vision Control wipers for just $350, boasting heated blades with integrated washers, while no-cost options include beautifully sculpted slabs of open-pore light brown elm or piano black lacquered hardwood instead of the standard dark ash. Likewise the standard black roofliner is available in beige at no charge.
Of course, Mercedes provides plenty of additional upgrades, a favorite being the $5,400 Burmester 3D surround sound audio upgrade that builds on the unit found in the Premium 1 package with 1,450 watts, 15 amplifiers and 23 speakers resulting in phenomenal audio quality no matter the genre of music chosen. It features a unique 3D-Sound algorithm that even makes classic stereo-mixed tunes fill the car with a "wall of sound" reality rivaling the best audio systems I've ever heard, while a "Pure" mode breaks it all down to a natural rawness, just like it would've sounded during mastering.
Somehow the word mastering seems appropriate when summing up this new E400 Coupe. It's truly a car like no other. It harks back to the mid-size two-door hardtops of Mercedes' past, delivering a level of substance and refinement that normally requires an entry price two to three times higher, while incorporating a lightness, efficiency, and environmental stewardship to its design that such ultra-luxury coupes ignore completely. Its outward style is unquestionable, and opulently attired interior hard to fault. Those blessed with impeccable taste should seriously consider the new E-Class Coupe.
Story credits: Trevor Hofmann, American Auto Press Photo credits: Trevor Hofmann, American Auto Press Copyright: American Auto Press
---