2018 Jaguar F-Pace 25t AWD R-Sport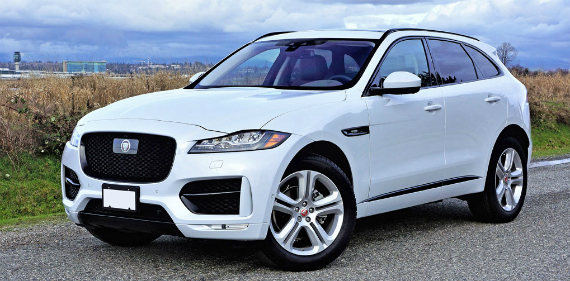 When your head spins and eyes peel to catch a glimpse of the fabulous looking new Jaguar F-Pace sport utility driving by, you can be forgiven for not knowing whether it's a 2017 or 2018 model. After all, the larger than average compact luxury SUV has only been around since the former model year, so therefore its styling remains the same. Then again, if you hear the unique sound of a performance-tuned turbocharged four-cylinder engine, take note, as you've just witnessed a brand new 2018 F-Pace 25t or 30t blast past.
The new gasoline-powered, turbocharged and direct-injected Ingenium 2.0-liter four-cylinder engine was first introduced to the 2018 Jaguar F-Type sports car last year, providing a new more affordable entry-level trim for attracting more sports car fans to the beautiful two-place coupe and convertible. Since then, both the F-Pace and the XE compact sport-luxury sedan have been given the same value-added treatment, which Jaguar hopes will make them more appealing in their respective market segments.
While more affordable than the current 20d, it's only because Jaguar has steadily increased the price of the base F-Pace, as it's gained market traction. When introduced in calendar year 2016 the freshly minted F-Pace 20d was priced at $40,990, but shortly thereafter that 2017 model's base MSRP had increased by $1,000 to $41,990. Now, the 2018 F-Pace 20d goes for $46,275 due to not being available in base no-name trim, whereas the new F-Pace 25t starts at $42,065.
Along with the slight price increase comes dramatically improved performance in base trim, the 20d being highly efficient yet not as quick as the new gasoline-powered turbo-four. By the numbers, the new F-Pace 25t AWD model's zero to 60 mph sprint time drops to just 6.4 seconds from 8.2, while its top speed increases from 129 to 135 mph.
This newfound energy is due to differences in the way gasoline and diesel engines make their power and torque, in this case the 25t good for 247 horsepower at 5,500 rpm and 269 lb-ft of torque from 1,200 to 4,500 rpm, while the 20d makes 180 horsepower at 4,000 rpm and 318 lb-ft of torque from 1,750 to 2,500 rpm.
As noted the tradeoff is fuel-efficiency, with the F-Pace 25t AWD estimated to achieve an EPA fuel economy rating of 22 mpg in the city, 27 on the highway and 24 combined, and the F-Pace 20d AWD good for a claimed 26 city, 33 highway and 29 combined, a considerable savings even before factoring in the price of diesel fuel, which is less expensive in most jurisdictions. Your choice will come down to priorities. The performance option is now standard, while a mere $1,500 bump upwards for the turbo-diesel (from the 25t in Premium trim) makes it a viable option for those wanting to eke as much distance as possible out of a tank of fuel.
The new 2.0-liter turbo-four comes standard with aforementioned base no-name trim, as well as Premium trim available from $44,775, mid-range Prestige trim that starts at $49,125, and my test model's performance-oriented R-Sport trim that can be had for $54,175.
Earlier in this review I mentioned the F-Pace 30t, which is an even more potent version of the 2.0-liter Ingenium turbo-four. It starts at $47,775 and can be had in all of the above-base trims noted, while it also becomes the new base engine for the more feature-filled $62,000 Portfolio model, this engine putting out 296 horsepower and 295 lb-ft of torque for a 5.7-second sprint from zero to 60 mph and a top speed of 145 mph. Despite the much-improved performance, fuel economy is only minimally affected at just 21 mpg city, 27 city and 23 combined.
Lastly, the F-Pace can also be had with a 3.0-liter supercharged V6 that's good for 380 horsepower and 332 lb-ft of torque, making the so-named F-Pace S AWD 0.6 seconds faster from zero to 60 than the F-Pace 30t AWD, with a quickest time of 5.1 seconds and higher terminal velocity of 155 mph.
As part of Jaguar's overall value proposition, the F-Pace receives standard all-wheel drive, while this four-season advantage is also joined up to a highly efficient, quick-shifting eight-speed ZF automatic that includes auto start/stop, which shuts the engine off when it would otherwise be idling in order to save fuel and reduce emissions. Also included is the brand's trademark space-saving rotating dial gear selector that wows passengers by powering upwards at startup, plus shift paddles on the steering wheel come standard.
Like most Jaguars, the F-Pace is built using lightweight, recyclable aluminum body panels, internal framework and chassis components, which sets it apart from the majority of its competitors. Of course, such significant mass reduction not only minimizes fuel usage, but also helps the F-Pace achieve all the straight-line acceleration numbers mentioned earlier, while benefiting braking and handling as well.
My tester's 255/50R20 Michelin Latitude Tour HPs on twinned five-spoke alloys were a notable step up from the base 18s, the wheel and tire upgrade part of R-Sport trim that also adds one-inch larger 13.8-inch front brake rotors for improved stopping power if you opt for the more formidable 30t engine, while less potent models like my loaner rely on 12.8-inch front discs that still provided strong, linear braking capability with minimal fade after repeated stomps on the pedal.
And there really is a need for better braking, as the combination of a lighter engine with stronger performance makes for a much sportier base F-Pace. When not trying to make the most of my tank of fuel by tapping the console-mounted JaguarDrive Control rocker switch into Eco mode, I kept it north of Normal in Dynamic sport mode, which stiffened the steering and energized the throttle mapping for a more exciting drive, the 25t AWD feeling even more athletically inclined than the 20d through the curves due to its ability to get more power down to the wheels mid-corner, while the note of the higher revving engine sounds more spirited as well.
Jaguar also includes a Rain/Ice/Snow mode, important for the ever colder winters we've been experiencing lately, not to mention jaunts up the ski hill during that cold season or mucking ones way out of a muddy back road after a rainy summer weekend away at the cottage. Together with the all-wheel drive system, All Surface Progress Control for even more grip in slippery conditions, plus brake-system applied torque vectoring to improve handling and stability at higher speeds, the F-Pace is one of the more confidence inspiring SUVs in its class.
Good visibility is as important a confidence builder as anything else, and to that end the R-Sport creates more day-like light at night than the base model's halogen headlights with daytime running lights (DRLs), as well as the Prestige model's bi-function Xenon headlights with signature "J" blade LED DRLs by adding full LED headlamps with adaptive corning capability and auto high beam assist, these also adding a more sophisticated look.
Along with the LED headlamps the R-Sport gains visual impact via an exclusive body styling and exterior trim kit comprised of a sportier front bumper design, satin-chrome front fender "power vents" with R-Sport badges, body-color R-Sport door claddings with grained matte black finishers, and more, which makes the addition of standard blindspot monitoring with reverse traffic detection all the more important—we wouldn't want to scratch all that sporty bodywork now, would we?
The front and rear parking sensors pulled up from Prestige trim help in this respect too, that mid-range model also providing the R-Sport with headlight power washers, a powered steering column with memory, a very accurate and easy to program navigation system, and more, while items pulled up to R-Sport trim from the Premium model include a garage door opener, auto-dimming and power-folding side mirrors with approach lights and memory, driver's seat memory, an excellent backup camera with dynamic guidelines (isn't there some sort of law that these things are supposed to be standard now?),
All F-Pace R-Sport models get the most important advanced driver assistance systems too, including collision warning with autonomous emergency braking and lane monitoring with lane keeping assist, while a driver condition monitor makes sure you're not falling asleep at the wheel.
Additionally, you'll be stepping over R-Sport branded metal treadplates to get inside, where you'll also find exclusive bright sport pedals, more adjustable 18-way front sport seats, a satin chrome console storage surround to go along with the satin chrome touchscreen surround that also gets pulled up from Prestige trim, perforated grained leather upholstery, and more.
Lastly, some highlights from base no-name trim that remain part of this R-Sport model include proximity access and ignition, an electromechanical parking brake, rain-sensing wipers, touch-sensitive JaguarSense switchgear for the LED overhead lights, an auto-dimming rearview mirror, heatable power-adjustable side mirrors, dual-zone auto climate control, a large 8.0-inch infotainment touchscreen with attractive graphics and an easy-to-use layout, great sounding 11-speaker 380-watt Meridian audio, HD radio, Bluetooth audio streaming, a massive panoramic sunroof, a powered liftgate, a reversible load floor that switches from luxury carpeting to a more washable rubberized surface, more convenient 40/20/40 split-folding rear seatbacks that allow longer items like skis down the middle while rear occupants enjoy the more comfortable window seats, a commodious 33.5 cubic-foot cargo compartment that expands to a generous 63.5 cubic feet, etcetera.
Incidentally, the fully configurable 12.3-inch HD TFT Interactive Driver Display you may have already seen in a photo as part of this review isn't standard with the F-Pace or this R-Sport trim, but rather it's an upgrade (from a regular analog gauge cluster with a 5.0-inch color multi-info display) that comes as part of the $3,265 Technology Package, which also includes an enhanced InControl Touch Pro Navigation system on a larger 10.2-inch widescreen display; InControl Pro Services featuring a door-to-door route planner companion app, the ability to share your ETA, a Commute Mode that learns your regular route and automatically advises of traffic problems and possible detours, plus an Arrival Mode that displays an interactive 360-degree street view of your destination; and a sensational Meridian surround sound system with Trifield Technology, 825 watts of power through 16 amplifier channels, 17 speakers including a sub, Advanced DSP, Audyssey MultEQ equalization, and dynamic volume control.
Jaguar also added a $385 heated front windshield, a factory-installed $665 tow hitch receiver, and finished the outer panels in no-cost Fuji White paint (one of 12 color choices), while its complete lack of exterior chrome trim meant that a $360 Black Package replaced the metal brightwork surrounding the grille, side power vents and side window surrounds with Gloss Black, while the mesh grille itself was also glossy black, as were the otherwise body-color door cladding finishers.
My tester also featured no-cost Oyster medium gray leather with cool looking light green contrast stitching (Ebony with white stitching, two-tone Ebony/Pimento with red stitching, and two-tone Ebony/Light Oyster with light gray stitching are no-cost options too), this found across the dash, down the sides of the center stack/console, on the door panels, the armrests and the seat upholstery, while the R-Sport model's standard piano black lacquered instrument and door panel inlays were replaced with $310 Etched Aluminum ($310 worth of Satin Burr Ash hardwood is also available).
While the F-Pace 25t AWD R-Sport that Jaguar loaned to me for my weeklong test was nicely outfitted, there were many more features that could have been added to this specific trim, such as an $1,020 Adaptive Dynamics Package featuring configurable electronically controlled dampers and Adaptive Surface Response (ASR); a $1,840 Comfort and Convenience Package with heated and cooled front seats, heatable rear outboard seats, power-reclining rear seatbacks, rear seat remote release levers, and a gesture liftgate; a $2,350 Luxury Interior Package with illuminated treadplates, a Suedecloth headliner, four-zone climate control, an air quality sensor, a cooled glove box, configurable mood lighting, premium carpet mats, and two 12-volt power sockets in the second row; a $3,265 Driver Assistance Package including a surround parking camera, a 360-degree Parking Aid, semi-autonomous Park Assist self-parking, traffic sign recognition, an Adaptive Speed Limiter, and Adaptive Cruise Control with Queue Assist and Intelligent Emergency Braking.
Finally, standalone features not yet mentioned include $155 cargo storage rails, a $410 waterproof Activity Key that wears like a bracelet while swimming or doing other outdoor activities, a $410 full size spare tire on a matching alloy wheel, a $1,010 head-up display, myriad wheel and tire options, plus more.
If I could find a weakness it's the use of subgrade hard plastics in unusually visual areas, such as the shroud above the primary gauge cluster. Bizarrely, the Toyota Corolla I was testing during the same week featured a much more upscale surface treatment in the same area, but like the F-Pace its glove box lid and lower door plastics were also made from hard shell plastic, something you'd never find in a competitive BMW X3. Such blatant cost cutting is obviously not an issue for the thousands of luxury buyers that have stepped up to Jaguar's largest and priciest SUV, but plenty of others may have been turned off, so the British brand may want to address this issue by upgrading key areas done better by competitors.
Speaking of market growth, before the F-Pace arrived Jaguar had zero SUV sales, but after just seven months on the market it had found 10,016 buyers, while after a full 12 months of sales ending on December 31, 2017 the F-Pace managed 18,946 deliveries, placing it 10th out of 14 competitors. What's more, the F-Pace clearly leads all other Jaguar models in sales, proving once again how important sport utilities are to a brand's bottom line.
While the F-Pace is up against some serious competitors, the market segment led by Lexus' edgy NX, Audi's all-new Q5, Acura's completely redesigned RDX, Mercedes' still fresh GLC, Buick's new-to-us Chinese-made Envision (GM had better get ready for a tariff on this one), and BMW's fully reworked X3, just to name a handful, it's easily one of the sportiest of its ilk, arguably one of the best looking, and no doubt one of the most practical due to its larger than average size. Its newfound increase in base performance and slight decrease in price should only help it gain more traction in its segment, which bodes well for a positive future. Now the question remains whether you'll be part of its success story.
Story credits: Trevor Hofmann, American Auto Press Photo credits: Karen Tuggay, American Auto Press Copyright: American Auto Press
---