2019 Kia Optima
Despite consumer trends, mid-sized sedans still yield a strong following for those who rather not want a SUV or crossover. In fact, it seems that the manufacturers that are still building family sedans have stepped up in design, engineering, technology, and comfort.
For 2016, Kia introduced a new Optima to the market. It took its sharp looks from 2011 version and made it even sharper. For 2019, a mid-cycle refresh added a few new twists to the visually stunning Optima sedan.
Our SX tester arrived as a prime example of how Kia has made the Optima even fresher than before. Do we agree that it is sill one of the most stunning sedans in its price range?
The best way to answer that is to look at the Optima pretty closely. The updates are subtle, starting with a new grille texture and a few details here and there. The shape is familiar, with its long, fastback-like roofline, wide door openings, three-glass side greenhouse, and slim light assemblies front and back.
On the SX, there are sporty 18-inch alloy wheels that expose red brake caliper covers. Kia even added a small black spoiler on the trunk lid. In all, the Optima remains the sleekest looking mid-sized sedan for the money – even in more modest trim levels.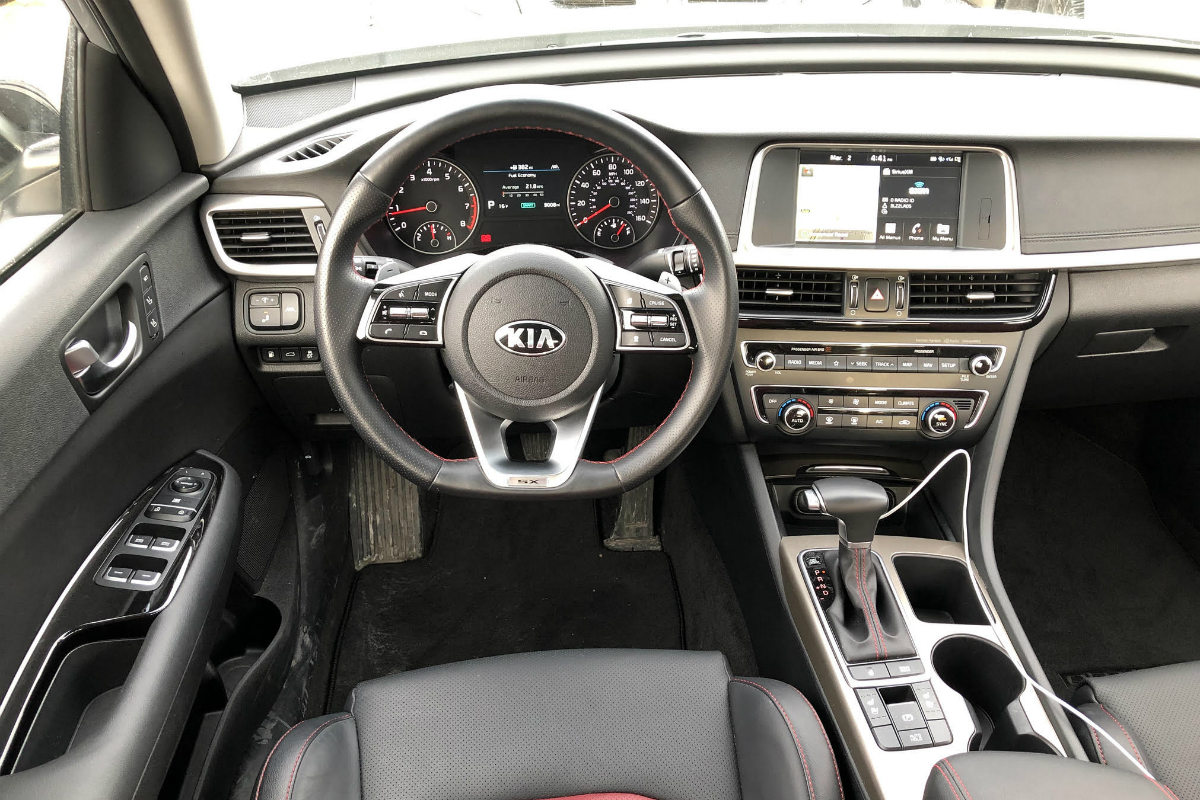 Stepping inside is an experience with an equally sleek dashboard design and the SX's available black and red leather seats on our silver tester. The front seats are large, comfortable, and lathered in soft leather. The rear seats get the same two-tone leather treatment. Four adults will find more than enough space and comfort inside of the Optima. Trunk space is also generous with 15.9 cubic feet behind the rear seat. There is a bit of a step-down from the trunk opening, although you can fold the rear seats down for longer items.
The dashboard's sleek design is crowned by a large eight-inch touchscreen with a series of audio and climate controls below it. Instrumentation is all analog, with a sizeable TFT information screen giving plenty of easy-to-read information on the Optima's status and required statistics. Controls are usually within eye sight of the driver and a small touch away.
Across the Optima lineup, there are five different power options – a standard 2.4-liter four-cylinder engine, a 1.6-liter turbocharged engine, a 2.0-liter turbocharged engine, a gasoline-electric hybrid driveline, and a plug-in hybrid driveline. Our tester had the 245-horsepower 2.0-liter turbocharged engine, which induced plenty of adrenaline-driven moments in our care. A six-speed automatic transmission sends power to the front wheels.
We also averaged 25.8 MPG in our care for fuel consumption.
The Kia Optima has always been known as a smooth riding mid-sized sedan that gives the driver a relaxed feeling. In the SX, this is as true as ever. The long wheelbase attributed to that smooth ride that allows for absorption of bumps and cracks on the road. It also takes corners very well, along with managing evasive maneuvers with ease. The steering is good with a solid turning radius. You can switch the drive mode to Sport for a heavier feel, if you like. The brakes are fine, showing solid stops in normal and panic situations.
Our Optima SX tester came with several standard driver assistance features that worked very well. These features include Forward Collision-Avoidance Assistance with Pedestrian detection, Smart Cruise Control with Stop & Go functionality, Lane Departure Warning, Lane Keeping Assist, Driver Attention Warning, and a reversing camera with cross-traffic warning.
Pricing for the Optima lineup starts at $22,990 for a LX sedan. Our SX tester came with a sticker price of $32,820. It is worth noting that the Optima EX comes in either a 1.6-liter turbocharged engine, a Hybrid, or the Plug-In Hybrid. Pricing for the Optima Hybrid EX starts at $28,090 with an estimated fuel economy rating of 41 MPG. The Optima Plug-In Hybrid EX also starts at $35,390 with an electric-only range of 29 miles.
Despite overall customer preference for SUVs and crossovers, the mid-sized sedan market is still going strong with the Kia Optima competing against some really solid competitors. These competitors include the Toyota Camry, Honda Accord, Hyundai Sonata, Subaru Legacy, Mazda6, Volkswagen Passat, Chevrolet Malibu, and Ford Fusion.
If there is one mid-sized sedan that is worth looking at, it is the Kia Optima. Its European influence, spacious interior, a wider choice of power options, its smooth ride quality and performance are more reasons to consider it above all the competition.
credit story: CarSoup Editors
---