2019 Subaru Forester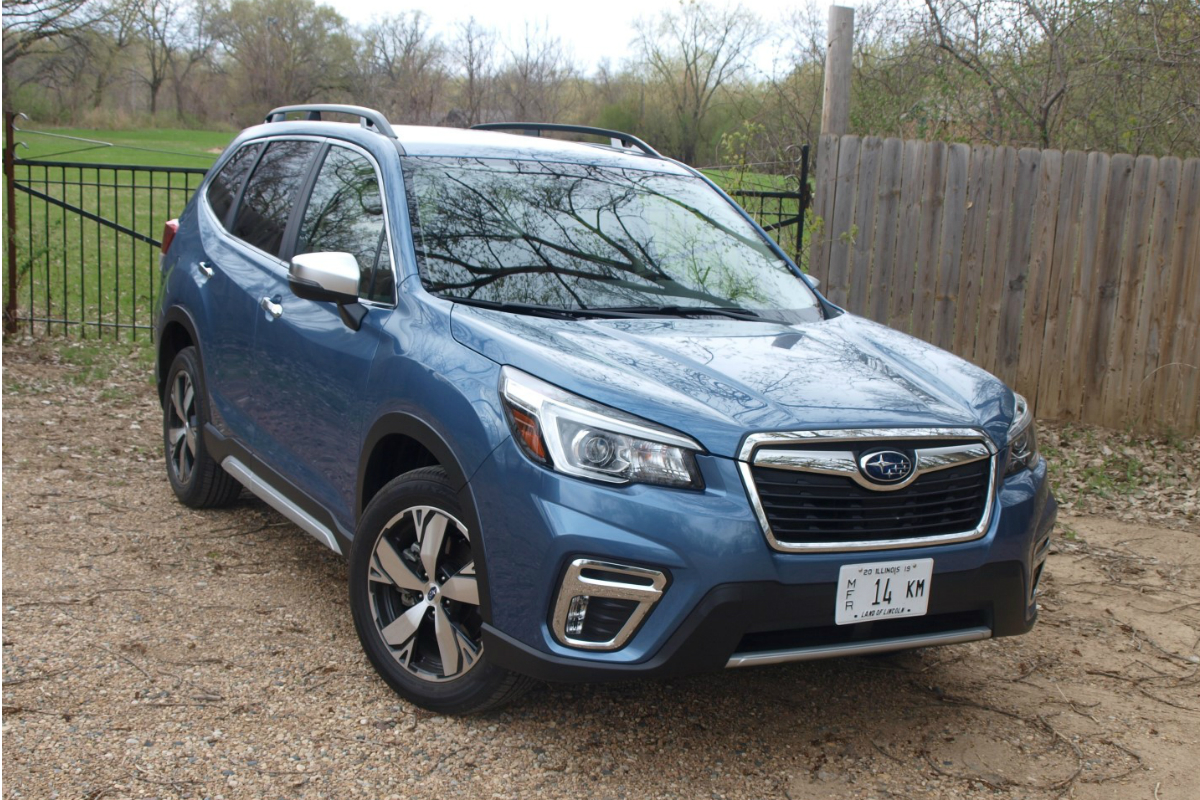 In a crowded field, Subaru will always stand out. Not because it offers standard all-wheel-drive and one of the best safety systems in the industry. They have a deep following of loyal owners who can extoll the virtues of what a Subaru can do in every climate and condition.
Lately, Subaru has been migrating their entire lineup onto a flexible new Global Platform. The newest model riding on this new platform that has arrived into showrooms is one of the top sellers at the brand – the 2019 Forester. In fact, the Forester has sold 10,000 units in the U.S.A. for the past 68 months.
We recently drove a 2019 Subaru Forester Touring to find out the secrets of why this is a popular vehicle among its loyal customers – and why you might be interested in checking one out.
Compared to the previous model, there are a few visual changes on the 2019 model that follow an evolutionary design model. These changes include a lower hood line, different headlamp and grille shapes, deeper windows, and the "lobster claw" taillights out back.
The basics remain to help customers enjoy what was familiar about the last generation Forester to this new one. It is a friendly vehicle for loyal and new customers to the brand and this model. That is where it really counts for Subaru – fostering familiarity on a new platform.
The biggest difference between the old and new Forester is its cabin. The new dashboard was adopted from all of the latest Subaru models on the new platform. For example, the instrumentation binnacle is adopted from the Impreza, Crosstrek, and Ascent, featuring cleaner dials and an excellent graphical center display offering loads of information for the driver. The upper dashboard features a series of screens ranging from a clock to a screen giving you the status of all of the Eye Sight safety features on board the Forester. Below it is the Starlink-driven infotainment screen, giving you great readout for radio and navigation, as well as an excellent interface for Apple CarPlay and Android Auto.
Our Touring tester came with a saddle-colored perforated leather upholstery, which is good to the touch. You will see this same leather finish on the door panels. The mats are a woven material using both saddle, black, and white resulting in a handsome finish. The front seats are a bit firm, but supportive. Four adults or a family of five can sit comfortable inside across two rows of seats.
Where the Forester will win fans over is in its cargo space. With the rear seat up, there is 33.0 cubic feet of volume available, especially for taller items. The cargo area is accessed through a lower entry point, with a taller cargo height than most competitors in its class.
Underneath the Forester's hood is a 2.5-liter horizontally-opposed four-cylinder engine with direct injection. Power is up to 182 horsepower compared to prior Forester models, as is the torque at 176 pound-feet. It is a very happy engine underneath the Forester's hood providing a superb power band in every situation.
Subaru's continuously variable transmission is greatly improved with solid shifts where you expect them to be. There may be the occasional long shift hold on onramps, but passing maneuvers offer shorter shifts than other CVTs out there. Plus, there's the symmetrical all-wheel-drive with X-Mode that works well on all surfaces and conditions. In all, this is great driveline – that is also efficient. We averaged 28.6 MPG in our turn with the Forester.
The ride quality of this new Forester is superb. The strut-type front set-up, along with double-wishbones in the rear offer a smooth ride that absorbs over the worst roads it has driven over. This also lent to a softer handing with some lean and roll through the corners. We found a good turning radius thanks to a quicker steering set that is precise. Braking is also good with excellent pedal feel and solid stopping power in every situation.
Two very important pieces to the Forester that should be mentioned here. First, the EyeSight driver assistance technology is among the best in the industry. Using stereo camera/sensors at the top of the windshield, EyeSight does a great job keeping the Forester from harm through various functions, including Pre-collision Braking System, Adaptive Cruise Control, Lane Departure and Sway Warning. The other safety piece worth mentioning is a new technology called DriverFocus Distraction Mitigation. This recognizes a driver who has taken his eyes off the road and sends a warning to bring focus back onto it. This feature was very helpful for us and should be taken into consideration when looking for a vehicle in its class.
The 2019 Forester lineup starts at $24,295. Our Touring tester came with a sticker price of $35,270.
The compact SUV segment is a crowded field, included the Forester. This Subaru competes with other models, such as the Toyota RAV4, Honda CR-V, Mazda CX-5, Chevrolet Equinox, Hyundai Tucson, Kia Sportage, Ford Escape, Jeep Cherokee, and Nissan Rogue.
However, loyal Subaru customers will choose the new Forester because it offers all of the good things they expect from the brand. For new customers looking for a superb compact SUV and want something proven with all-wheel-drive, choosing the Subaru Forester is indeed a good choice overall.
Story Credits: CarSoup Editors
---