2019 GMC Sierra 1500
For 2019, General Motors answered the challenge by the Ford F150 for an all-new half-ton full-sized pickup truck. The new truck saw a loss in weight, a use of mixed materials on the cab and box, along with a strengthened rolled steel frame. GM also expanded the engine lineup to include a new diesel engine, a turbocharged four-cylinder gasoline unit, and the addition of a new cylinder deactivation technology called Dynamic Fuel Management.
The result is the newest Chevrolet Silverado 1500 and GMC Sierra 1500. Our team received the latter for testing in the all-new AT4 trim with a Crew Cab and four-wheel drive. The new GMC Sierra 1500 AT4 is their off-road capable model designed for more recreational use than for work.
The big question we had with our 2019 GMC Sierra 1500 AT4 is whether GM actually made a better pickup truck overall.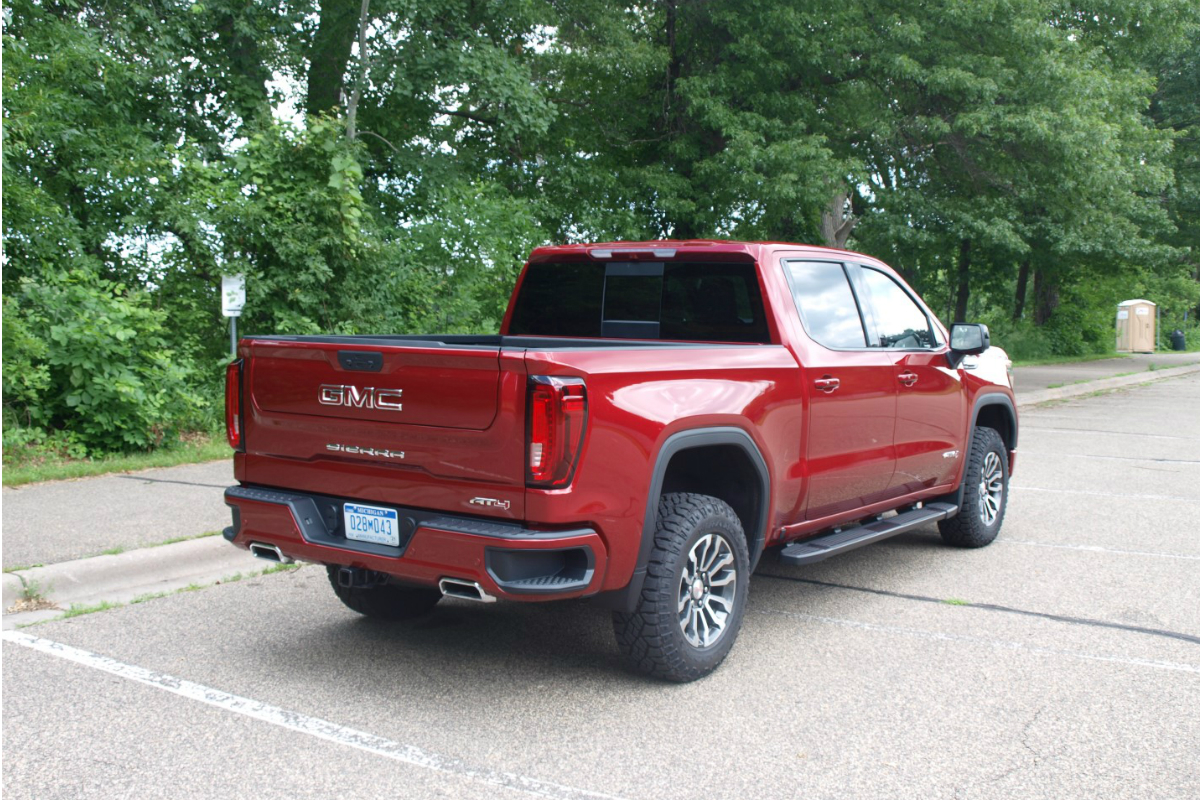 The Sierra 1500 appears taller in profile than before. The front end is bold – "professional grade," if you will – with a sculpted grille area flanked by a pair of sculpted headlamp units. Our AT4 tester had grayed-out grille inserts surrounded by chrome. A tasteful look that fits the model's intentions. The profile remains as tall as the truck itself, including the Crew Cab's glass area. Out back is an all new 5-1/2 foot box that offers more usable space inside with the new MultiPro tailgate at back.
We should explain what the MultiPro tailgate is all about. This is a six-way tailgate designed for better access to the box and overall cargo management. You can lower the tailgate with your remote fob, however everything else is by hand. You can set up some steps for easy access to the box, or a stop for longer items that cannot fit inside the five-and-a-half-foot box. The MultiPro tailgate is the Sierra's best feature so far.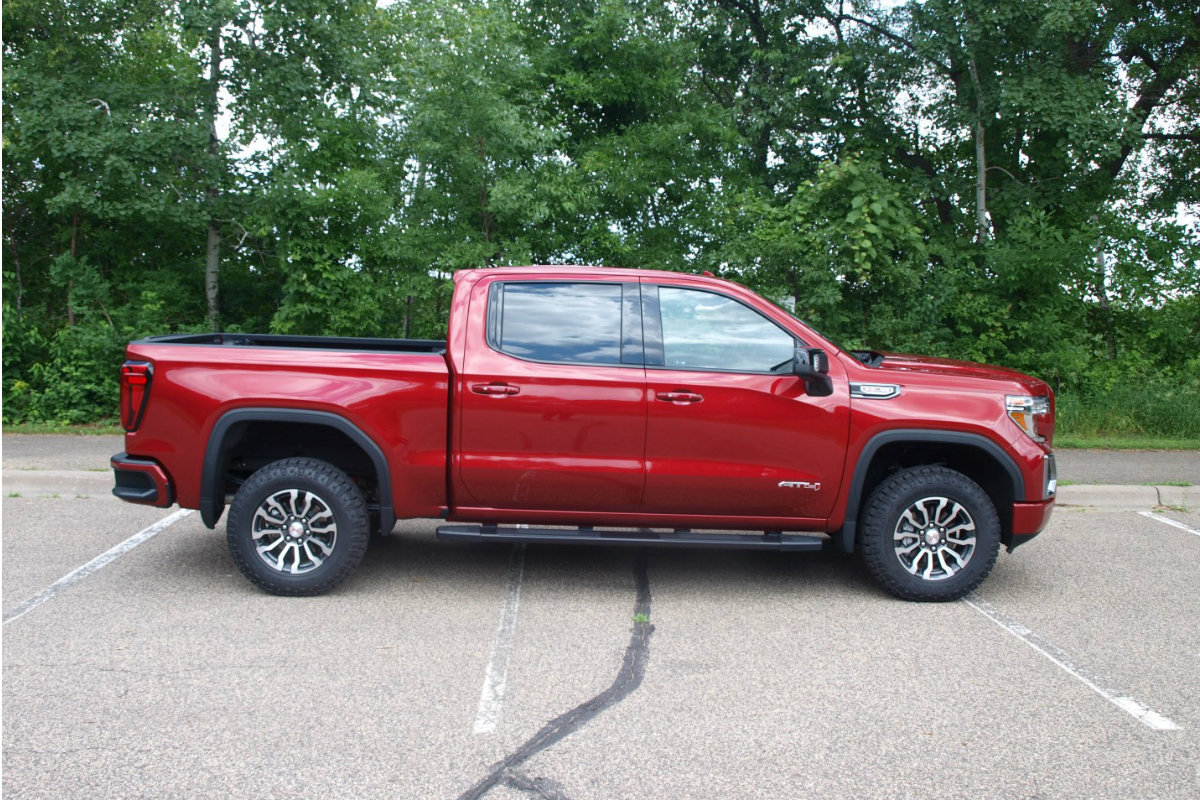 Stepping inside the cabin, there is seating for five, thanks to a pair of bucket seats up front that are split by a wide console. The console offers lots of storage from a huge armrest bin to a place to charge your phone wirelessly. Space and comfort are pretty decent, especially up front, Back seat room is good for many bodies and the seats are thick enough for comfort.
The center stack has a decent-sized infotainment screen with plenty of controls below it for the screen, climate control, and other vehicle functions. The instrument binnacle is OK, but it needs some enhancing for better reading. The head-up display actually helps in reading the speedometer. We found that some controls were out of eyesight and scattered throughout the instrument panel.
If you choose the AT4 trim, the standard engine is the 5.3-liter V8 with Dynamic Fuel Management. The enhanced cylinder-deactivation system allows for any number of cylinders turn off depending on condition and throttle response. Our tester had that larger 6.2-liter V8 with the same system. With 420 horsepower and 460 pound-feet of torque, the big V8 has the power to take the AT4 through any terrain you point it to. A 10-speed automatic transmission is paired to the 6.2-liter engine, along with a two-speed four-wheel-drive system. That translates to a maximum towing rating of 9,300 pounds with a Gross Combined Weight Ratings of up to 15,000 pounds.
In terms of fuel economy, our Sierra 1500 AT4 tester delivered an average of 17.7 MPG.
The AT4 package raises the ground clearance by just two inches for some off-highway action. A set of Rancho monotube shock absorbers are installed to make easy work of uneven surfaces and a set of Goodyear Wrangler tires wear aggressive tread for better grip. On the road, this suspension set-up lacked refinement, as the tires sent road conditions through the cabin, making those Rancho shock absorbers work harder to contain the pickup truck from bouncing even harder.
Handling is quite decent for this big pickup truck, even with the slight height increase from normal Sierra 1500 models. The steering is fine, with decent on-center feel despite a larger turning radius. Braking power id adequate for this class of pickup truck. Pedal feel is fine, and stops can be accomplished with a bit more time at the pedal.
For the AT4 trim for your 2019 Sierra 1500, you have a few configurations to choose from – one with the Double Cab, and two with the Crew Cab. This trim is priced from $50,800. Our Crew Cab, Short Box tester came with a sticker price of $66,445. The Sierra 1500 starts from $33,500 for a base model with a Regular Cab and Long Box.
Though GMC sees themselves as "Professional Grade," there is an image of them being more upscale in the truck market. However, the Sierra 1500 still matches up against the Chevrolet Silverado, Ford F-150, Ram 1500, Toyota Tundra, and Nissan Titan.
In all, shopping for a half-ton full-sized pickup is getting tougher by the month. Each one has a redeeming quality that invited both loyal and new customers to their truck. GMC brings to the table an innovative tailgate and a bold design. Is that enough to entice you to the GMC Sierra 1500? You decide.
Story Credits: CarSoup Editors
---