2019 Toyota Prius
When it comes to electrified vehicles, you have to start from the beginning. Because, if it weren't for the Toyota Prius, we would not be talking about battery packs and electric motors in our automobiles.
The fourth-generation Prius received a mid-cycle refresh for 2019. It also gained a new driveline with an electronic all-wheel-drive system designed for traction up to 43 MPH.
For our review, we received the 2019 Toyota Prius in the XLE trim with the new all-wheel-drive system. There are many questions we want answered. Hopefully, we will provide those answers for you.
Luckily, some of the quirks from the first few years of this generation of the Prius had been addressed. You still have a "Cheshire cat" grille, the headlamps had been reigned in with a more visual-friendly shape. The lower grille features small fog lamp units, while there are "vent slots" ahead of the front wheel arches that are just covered in plastic.
The rear end has been massaged thoroughly. Gone are the "tail fin" rear lamp units. Instead, a new wrap around design is in place that looks similar to the ones seen on the plug-in hybrid variant, the Prius Prime. You do have a split rear window, a design element that goes back to the second-generation Prius.
The rest of the body remains the same. The C-pillar has black caps that should have a piece of glass. However, they do not induce a bad blind spot as one might think. In all, it is relative more visual pleasing than before.
Inside, there are several cues that you are in a Prius. One element is the center high-mounted instrument cluster than does not completely distract the driver. More than half of the screen is a TFT screen with a digital speedometer along with a switchable information screen in the middle. Dominating the middle of the instrument panel is a center pod crowned with a seven-inch diagonal touch screen. There is a QI wireless mobile charger located right below the center stack.
A light-colored SofTex upholstery adorns this XLE tester. The front seats offer some backrest support, but the cushions need more thigh support. In all, they are very comfortable for all sorts of trips. There is plenty of room in the back, although anyone taller than six feet would have some challenges for headroom. Cargo space is expandable to 24.6 cubic feet with the rear seats down on the AWD-e model. With the seats down, there is plenty of security for your goodies with a cargo net and a removable sliding cargo cover.
Powering the Prius is a 1.8-liter four-cylinder gasoline unit, which puts out 95 horsepower and 105 pound-feet of torque by itself. The electric motor adds another 71 horsepower and 120 pound-feet of torque to the mix. Toyota advertises a net horsepower rating of 121 between these two power sources. You can switch to four drive modes: Normal, Eco, Power, and EV Only.
This system is connected to a Continuously Variable Transmission, which sends power to its front wheels. For the new all-wheel-drive system, another electric motor works the rear axle. This system only works to send traction via the front and rear motor units up to 43 MPH. In terms of fuel economy, we averaged 53.1 MPG in our care.
The Prius hatchback has always exhibited a solid ride and good handling characteristics. Our tester exhibited a smooth ride and solid handling. The steering system showed some improvement in terms of on-center feel and turning radius. The braking feel for the Prius is quite good. The lag in braking response with the regenerative system is minimal, which made for good stops in normal and panic situations.
The Prius lineup starts with a base price of $23,770 for a front-drive L Eco model. Our XLE with AWD-e tester came with a sticker price of $32,508. There is now six Priuses to choose from, including two with the new AWD-e system.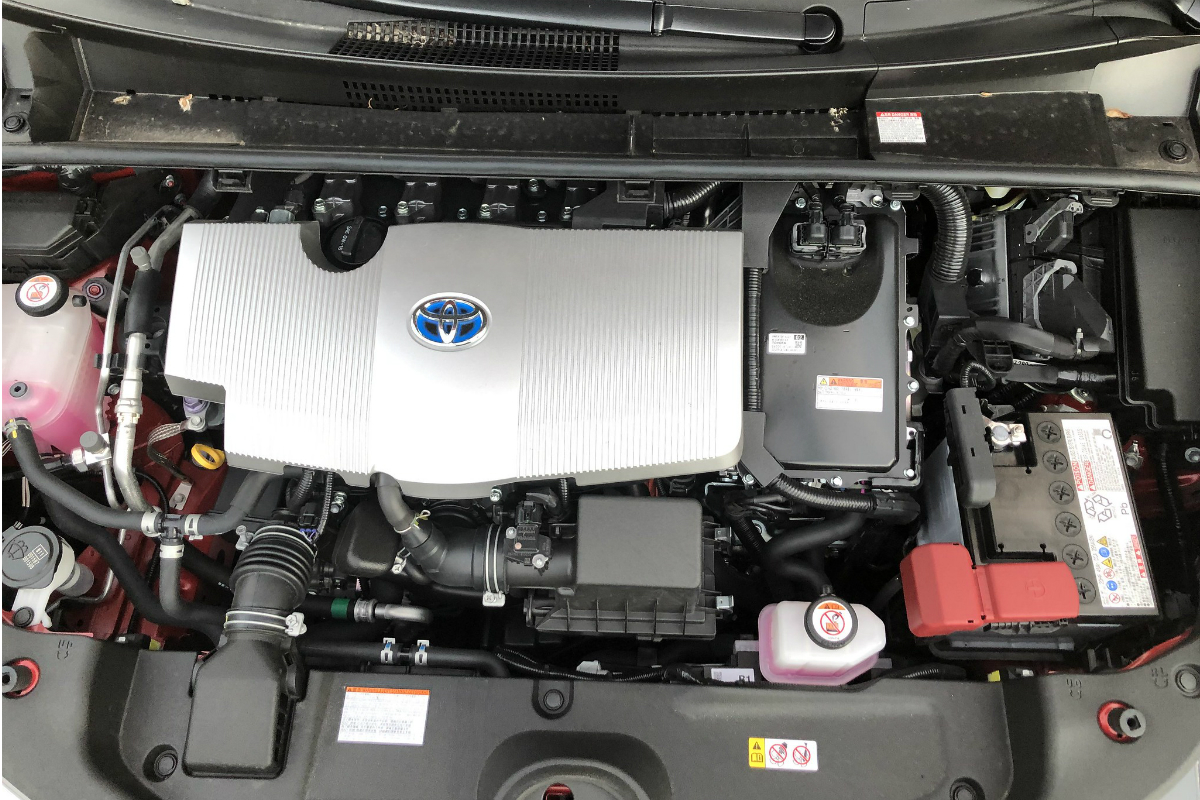 As unique as it once was, the Prius faces some competition for a hybrid-only vehicle. The new Honda Insight, the Hyundai Ioniq, and Kia Niro are its primary rivals. The new Toyota Corolla Hybrid is also seen as an alternative choice to the Prius with a more conventional design.
Being the first electrified vehicle sold in the USA has its advantages. It also helps to be the longest running hybrid-only model sold here, too. The Toyota Prius refuses to rest on its laurels and continue being innovative for its customer base. Adding all-wheel-drive certainly helps its cause tremendously.
Story Credits: CarSoup Editors
---