2020 Jeep Compass
There was a time when a jeep was a measurement of what an SUV is supposed to be. That remains true today.
So, why do we question whether the Jeep Compass is a real Jeep? It is a nice small package that offers plenty of the things you expect in a modern SUV. Still, a front-drive-based driveline and platform from Fiat is not exactly the stuff of legend – the Wrangler and Gladiator, for example.
Yet, can a modern Jeep be a measurement for customers to own a good SUV? We tested a 2020 Compass Trailhawk to get some answers for you.
The exterior of the Compass combines the best the latest Jeep offerings There is a rakish look with appropriate angles creating a modern style overall. One could call it a mini-Grand Cherokee, but the back quarter roof panels and tailgate would tell us otherwise – perhaps the current Cherokee? The object is to meld current Jeep design qualities with some unique features, such as a "floating roof" and an updated taillight design.
The Trailhawk adds specific badges and some rugged features to the Compass. The front fascia opens up below to allow for a more aggressive angle of approach on off-road tracks. The 17-inch wheels, a black hood decal, red tow hooks, and the Trail Rated badge finish up the look of this rugged Compass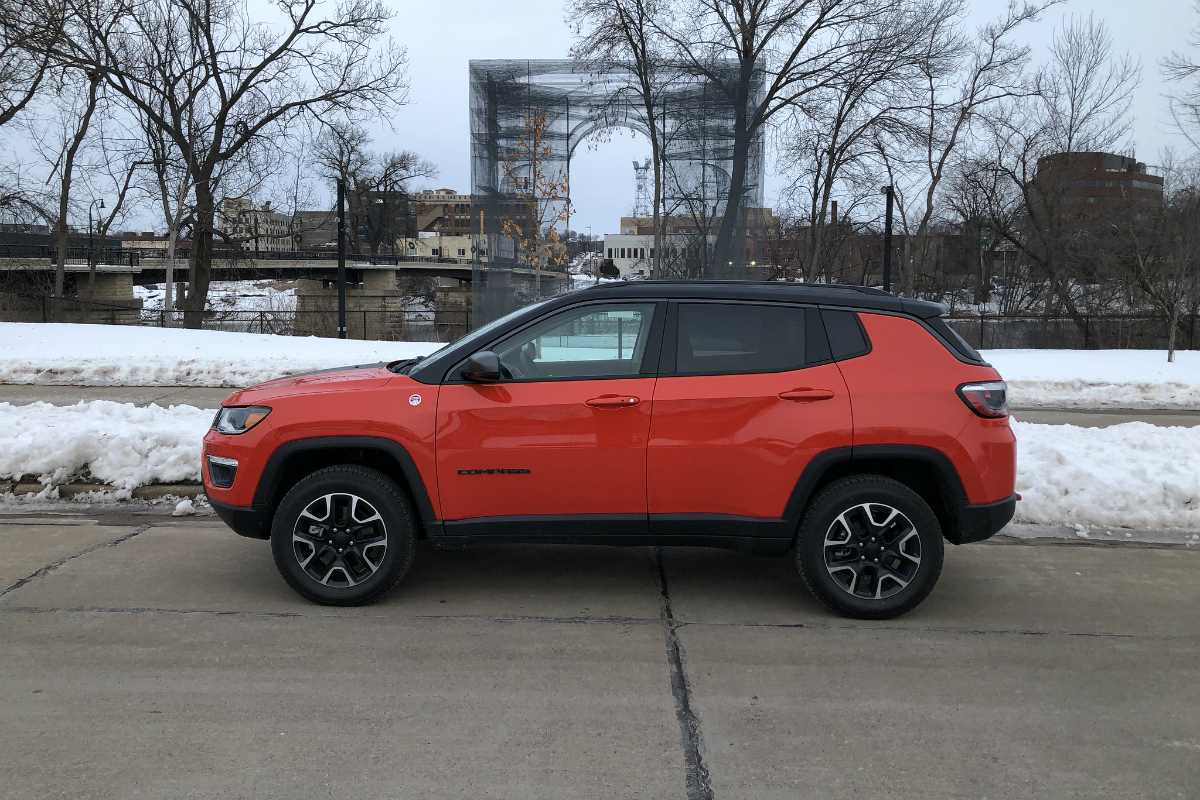 Inside the Compass is an all-black leather interior with orange stitching inside. The instrument panel is a mix of Renegade and Cherokee, though with smaller main dials and a sizable center TFT information screen. The switchgear should be familiar if you have been in a Jeep lately. The starter button is on the steering column and everything else is typical on a Fiat Chrysler Automobiles vehicle – good to operate to the touch.
The front seats are firm with a narrower cushion flanked by some aggressive bolstering. Space is very good up front to find a good seating position. Rear seat room is pretty good with plenty of leg and headroom for all shapes of people. Cargo space is quite expansive, starting from 27.2 cubic feet behind the rear seat, expanding to 59.8 cubic feet with the split seatbacks down.
There is only one engine available on the Compass. It is a 2.4 liter four-cylinder engine with 180 horsepower and 175 pound-feet of torque. You get a nine-speed automatic that connects to the Tigershark engine. Our Trailhawk tester came with Jeep's Active Low 4X4 System, which adds a low ratio above the standard 4WD mode. This system also includes Hill Descent Control, as well as a lock for the drive system. In terms of fuel economy, we averaged 23.0 MPG.
The ride quality is pretty smooth on all surfaces. We experienced some feedback on uneven roads, but the dampening responds quickly, keeping the Compass on an even keel. Handling is controlled with good cornering and overall stability control.
The steering is quite good, with a good turning radius and solid feel on the road. On-center feel is quite good. Brakes are also solid with good stops in both normal and panic situations.
Pricing for the Jeep Compass starts at $22,095 for a Compass Sport with just front-wheel drive and a manual transmission. Our Trailhawk tester came with a sticker price of $31,210.
The Compass sits in a newly emerging market segment that sits between subcompact and the more popular compact SUVs. Jeep's direct competitors include the Nissan Rogue Sport, Hyundai Tucson, Subaru Crosstrek, Mitsubishi Eclipse Cross, and upcoming new models, such as the Kia Seltos and Chevrolet Trailblazer.
One look at its competitors makes the 2020 Jeep Compass a better choice in this class. It is the only vehicle of its kind with a two-speed all-wheel-drive system and the ability to go further on more surfaces and conditions than most small SUVs. Knowing you can get through anything is peace of mind – something you can find quite easily in a Jeep.
Story Credits: CarSoup Editors
---