2020 Lexus GX 460
Off-roading has taken a whole new turn with the growth of overlanding. Overlanding is another level up from just taking on the toughest terrain. It involved using your vehicle as a base camp, as overland requires more than just a day trip across the rocks.
A huge part of the overlanding movement is a vehicle that is seen as too luxurious for the task. However, we discovered that not only the 2020 Lexus GX 460 is highly capable off-road ready SUV, it is also one of the preferred vehicles among overlanding enthusiasts.
The new star of the overlanding set has been around for quite some time with us. The first Lexus GX arrived in 2002, built off of a proven and capable platform. Since then, the GX has been a niche model offering both off-road capability and luxury for up to seven people. Now in its second generation model since 2009, the GX 460 is rugged and refined.
For 2020, the GX underwent some updates to keep it fresh for the luxury overlanding set. A new grille and new triple-bulb LED headlamps added a three-dimensional look up front.
The profile may be tall, but it is easy to step in and out of. The ground clearance is at a good clip not to scare the timid away from the GX. Running boards help in stepping into the GX's cabin without ruining the side profile. Doors open wide and glass is large and deep to see out of. Because of its overall height, you might appreciate the side-hinged tailgate with additional access through the upward-opening rear glass.
The cabin offers a lot of space for adults to sit in the first two rows. Seats are big and are covered with soft, perforated leather. The driver's seat is very comfortable and supportive with plenty of power adjustments to boot. Second row room is exceptional with plenty of height to see over the driver.
There is a third row, but it is only made for small children. You might be better off leaving the third row down and utilize the huge cargo hold that is accessible from the side-opening rear door. You can access the cargo space through the rear door's glass. That cargo area is expandable to 64.7 cubic feet with both the third and second rows folded down.
Aside from the new steering wheel, the instrument panel of the GX is a familiar sight. Simple analog dials frame a small TFT screen providing a lot of information to the driver. The infotainment system is a touch screen with plenty of functions found on other Lexus models, but with easier access. The GX also offers plenty of tangible controls that are easy to use and understand.
Power for the GX comes from a 4.6-liter V8 with 301 horsepower and 329 pound-feet of torque. It is a very smooth and powerful engine, capable of towing up to 6,500 pounds. A six-speed automatic connects to the V8, sending power to all four wheels all of the time through a TORSEN limited-slip differential. The 4-L low range will come in handy on snow days and steep inclines and declines. You can also switch the Downhill Assist Control to make sure your GX is safely descending along steeper drops.
Fuel economy is what you expect from a V8 with a full-time four-wheel-drive system. We averaged 17.3 MPG in our care.
What will surprise you about the GX is how civilized it drives. It is smooth and well dampened to handle all road conditions, as well as roads that do not exist. You do get minor roll and lean in the corners at speed. It is pretty stable, however. Brakes are quite good in both normal and panic stops, also.
The steering is now done with a smaller steering wheel than before. It is connected to a good steering rack, which offers easy work for tight maneuvers. However, the GX has an excellent on-center feel that minimizes play when going down the middle of the lane. Not to mention the silence from its big Bridgestone Dueler HT tires with the right amount of sidewall for off-road adventures.
Pricing for the 2020 GX 460 starts at $53,000. Our Premium tester came with a sticker price of $57,860.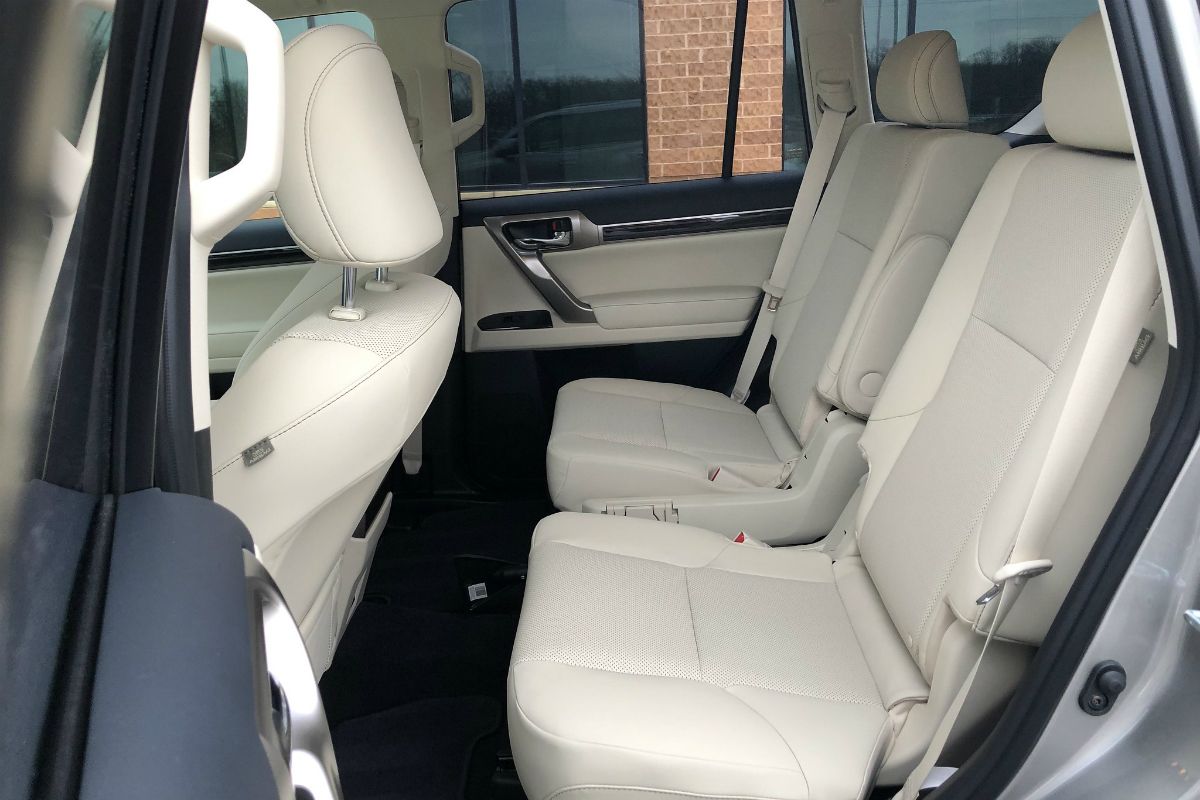 While we think that the Lexus GX is a unique offering among premium branded SUVs, you may be surprised that it has some company. The Range Rover Sport matches well with the GX, but consumers would also cross-shop the Audi Q7, Mercedes-Benz GLE. BMW X5, Jaguar F-Pace, Lincoln Aviator, Cadillac XT6, and Infiniti QX60 against it.
Where the Lexus GX 460 stands out is how rugged this SUV is right out the box. Not to mention the great value and comfort you also get from a vehicle that has conquered most of the globe. But, will it conquer your life? It just might.
Story Credits: CarSoup Editors
---