2020 Nissan Pathfinder
Families want a vehicle that can take them anywhere. They also want comfort and convenience to entertain the second- and third-row passengers over the miles.
Practically all of the mid-sized, three-row SUVs and crossovers do a good job at achieving these wants and needs from families. A lot of them dazzle you with bells and whistles to entice you to buy one of their vehicles. Others simply do the job by going about their business.
The 2020 Nissan Pathfinder is a contender for the family dollar. But does it simply do the job of getting them from Point A to Point B?
A look at the Pathfinder shows us that it has been around for quite some time. It debuted for the 2013 model year. It has bene updated over time, including Nissan's current "V" shape front end. It is very mild mannered in the way it appears in a parking lot.
There are some great attributes that have not changed from 2013. Large rear doors are the norm in the class, especially when it comes to third row access. In the case of the Pathfinder, they are among the largest – wide enough for children to enter and exit to/from the far reaches of the SUV. The step-up is easy, which is one of the traits of being successful in this class.
Our SV tester was pretty comfortable, offering big cloth seats for front row occupants. You only get power adjustments for rake, recline, and height, lumbar. Second row occupants can adjust their seats for rake and recline, along with hear restraint height manually. – all manual adjustments, however. Third row seating is adequate for children.
Instrumentation is clean with backlit dials and a decent TFT screen for vehicle and trip information. Though the Pathfinder is very well laid out ergonomically, there are a few buttons by the left knee that can be hard to reach, including the Blind Spot Monitoring controls. We also found some of the center stack controls rather dated and a bit complicated. Steering wheel controls are also dated, but functional.
Cargo space begins with 16.0 cubic feet with all rows up. Fold the rear seat down, and that space expands to 42.4 cubic feet. With the second- and third-seats folded down, you have 79.8 cubic feet of space for larger and longer items.
Power comes from a 284-horsepower 3.5-liter V6 which offers decent grunt on the highway. There is a slight lack of torque that somehow made the Pathfinder feel sluggish on some maneuvers. You can tow up to 6,000 pounds maximum.
Connected to this V6 engine is the Xtronic Continuously Variable Transmission. It can feel shift points quite well, but we found some response issues at the lowest speeds. Our SV tester came with what Nissan calls 4WD. You can switch to lock all four wheels when traction is necessary, as well as a Hill Descent Control button for downhill assistance on rougher terrain. With the driveline, we experienced an average fuel economy figure of 22.3 MPG.
In driving the Pathfinder, it offers a very smooth ride without any feedback from the road. However, it can exhibit some lean and roll when pushed into a cloverleaf or a curve.
The electric steering system is OK. It does tight maneuvers, however the steering system has a long travel from lock-to-lock to do so. We love the on-center feel and steering weight, as well.  Still, the steering felt fine from making exact turns while offering a solid on-center feel. Braking is quite good in terms of response and stopping power. Normal and panic braking returned good results for the Pathfinder.
Pricing for the Pathfinder starts at $31,680 for a S model with front-wheel-drive. Our 4WD SV tester came with a sticker price of $37,225.
The Nissan Pathfinder plays in a highly competitive field. Some of which we have seen already on this website. Customers will compare the Pathfinder to the Toyota Highlander, Mazda CX-9, Honda Pilot, Subaru Ascent, Mitsubishi Outlander, Kia Telluride, Hyundai Palisade, Chevrolet Traverse, Ford Explorer, Volkswagen Atlas, and Dodge Durango.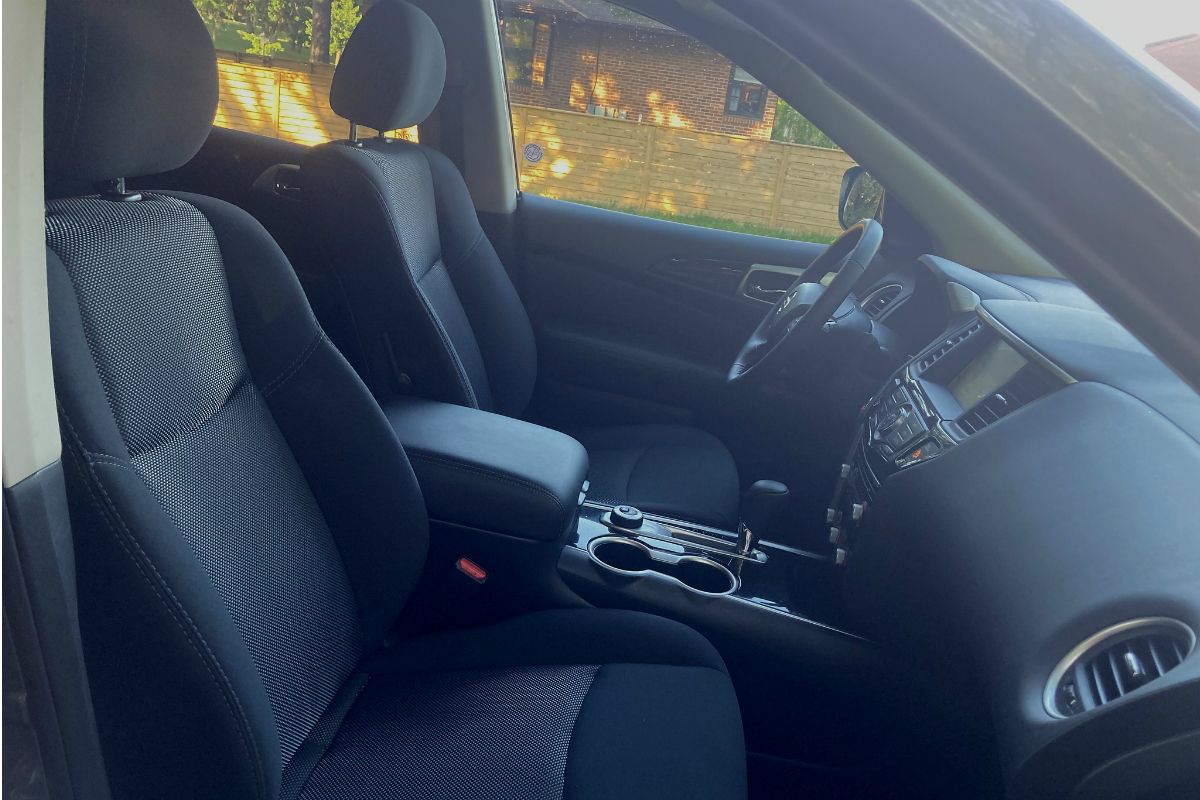 Even in a crowded field, the 2020 Nissan Pathfinder offers a level of comfort, practicality, with good drivability that keeps it competitive. It is a family value worth looking at, even in the face of more advanced and better designed competitors.
Story Credits: CarSoup Editors
---