2020 Dodge Charger
This is the definition of a modern muscle car.
The Dodge Charger symbolizes a heritage of performance. It is an icon that stirs the soul – whether it is a 1968 model or this new 2020 version.
The Charger is also one of the few remaining large sedans available in the marketplace. It sells at a pace that keeps it relevant to not only enthusiasts, but for anyone looking at a big sedan.
We came into the review of the iconic Charger with no expectations. Then, we received our tester – an R/T Scat Pack with a Widebody kit. This is not exactly a typical consumer model, but one that is desirable among enthusiasts.
To talk about this car, wemust strip away the performance add-ons and get right down to the basics. That is where you find out why the Charger is an icon.
The basic design has been with us since the 2011 model year. It has a tapered roofline that yields to a trunk area that takes us back to the iconic 1968-70 Chargers. For 2015, the mid-cycle refresh enhanced the exterior with sleeker front and rear ends. The result is the current Charger that has aged well and still looks iconic for 2020.
Our tester is the R/T Scat Pack, which has its own version of the performance front end with the addition of a rear spoiler. The sleeker and angrier performance front end is standard on every model, except for the base SXT. Our tester had the available Widebody kit that adds additional width to accommodate a beefier suspension and wider tires.
In all, we have an extroverted sedan that fits the enthusiast demographic perfectly.
Step inside to an interior that has been a familiar space for the past nine years. The graphics has changed over time on the instrument cluster and UConnect-driven infotainment touch screen. It is a mix of "retro" and modern, fusing both elements together. The instrument cluster has a comprehensive information screen that includes performance data on our tester. The steering wheel has a thick rim with a flat bottom, along with controls for the cruise control, infotainment system, and information screen – located both front and back of the wheel.
The front seats are large and well bolstered. We found them to be pretty comfortable with some degree of firmness in the upper part of the back rest. Our tester came with a two-tone color upholstery motif of black Nappa leather and "caramel" Alcantara. Each front seat has the Scat Pack "bee" logo first seen in 1967. Space inside is fine, perfect for four average-sized adults. A large 16.5 cubic feet trunk makes the Charger very practical sedan, as well.
You can get your Charger with either a 300-horsepower V6, a 370-horsepower HEMI V8, a 485-horsepower HEMI V8 from SRT, or the massive supercharged Hellcat HEMI V8. Our tester has the SRT-developed "392" V8 – a 6.4-liter engine with 485-horsepower on tap. This engine is connected to an eight-speed automatic transmission driven to the rear wheels. To say it is powerful is an understatement. It is what the enthusiasts want – at least. That exhaust note coming from the back speaks to the exuberant modern muscle from this driveline.
Do not expect to get great fuel economy from the "392." We averaged 18.1 MPG in our care.
If you are shopping for other Chargers, you will find the Pentastar V6 and HEMI V8 from the standard R/T as enjoyable of the more powerful engines in this lineup.
Even with wider tires and track, the ride quality is firm, but smooth. Handling was better than expected, with a sharper response from the wheel. We appreciated the way it took corners, even though we had to add a bit more care than usual, due to its extended width. To note, narrower Charger models are pretty good in the corners.
The steering set is responsive through its thick-rimmed wheel. Do not expect sharp u-turns with the Widebody fenders and tires. On-center feel and stability are very good. As for the brakes, they were the real winner in our tester. With a Brembo braking system and large rotors, stopping power is stunning! We got really short stops from this system, even on wet surfaces. Pedal feel is also very good.
The Dodge Charger lineup starts from $29,995 for a rear-drive SXT model. Our R/T Scat Pack with the Plus and Widebody packages came with a sticker price of $55,955. There are six other Chargers to choose from, including all-wheel-drive models connected to the V6 engine and, of course, the Hellcat supercharged V8.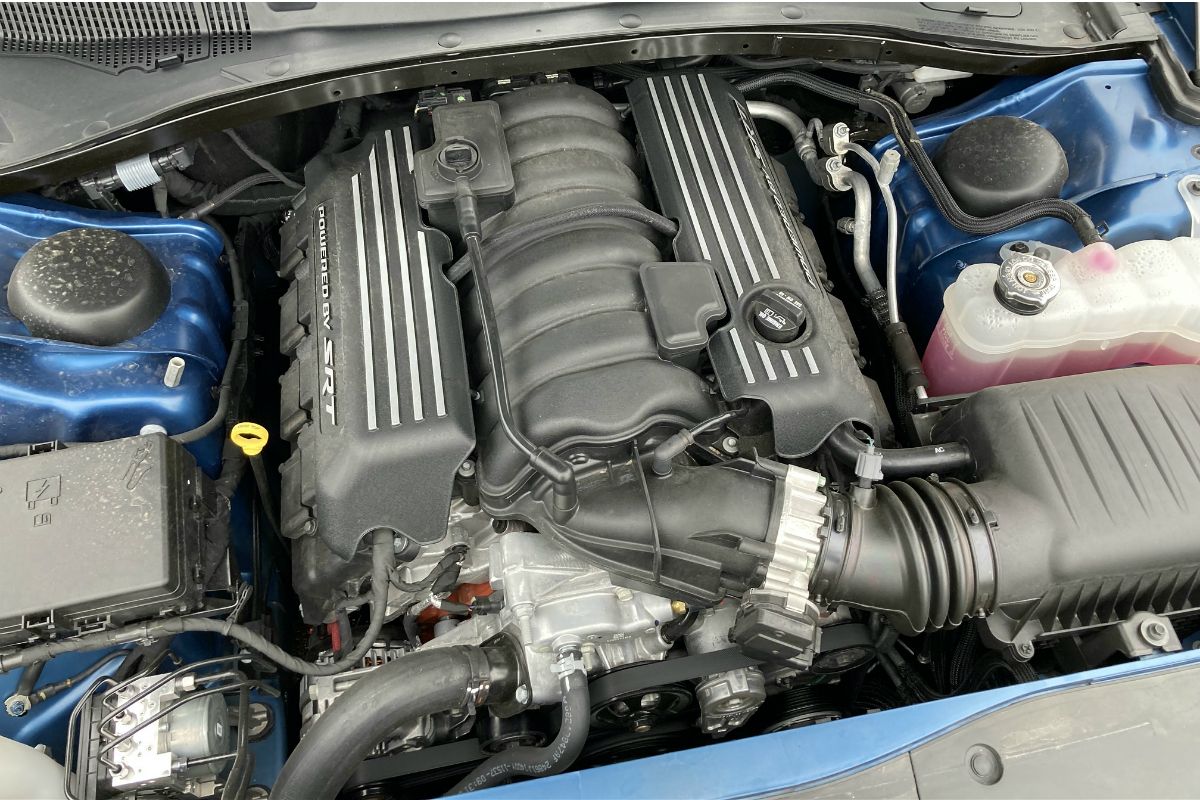 If you are shopping the Dodge Charger with other models, there are not a lot of competitors left in its segment. You can compare one to the Toyota Avalon and Nissan Maxima – but only for the V6 models. Comparing our tester can be a stretch, because it is often seen on the level of high performance sedans costing tens of thousands of dollars more, such as the BMW M5, Mercedes-Benz AMG E-Class, Audi S6, and Lexus GS F.
However, it shows how much the 2020 Dodge Charger is seen as the icon among modern muscle cars. Even if you have a V6-powered version, you can have both heritage and modern performance in a package made for enthusiasts of all stripes.
Story Credits: CarSoup Editors
---