2021 Toyota RAV4 Prime
Did you know that the popular Toyota RAV4 is a triple threat?
As the best-selling SUV in the U.S.A., consumers have the choice between three different propulsion options. You can get your RAV4 with a normal gasoline-fueled four-cylinder engine or a hybrid gasoline-electric version of the same engine.
Now, for 2021, you can get a plug-in hybrid version of this popular SUV. Toyota calls this the RAV4 Prime.
This additional driveline adds pure electric driving to the RAV4's mix. So, we wondered whether this new option works with a vehicle we happen to like a lot.
The short answer is "yes." The RAV4 Prime starts out with using just the electric motor, drawing from its battery pack. It can take up to a Level 2 charge – 240 volt cycle - from your home or public charger, which translates into a maximum of 42 miles of range. That's more than a lot of plug-in hybrids available right now.
Once your battery is drained, power is switched seamlessly to a 2.5-liter four-cylinder gasoline engine. This is a version of the same gasoline engine equipped on normal RAV4 models – as well as attached to RAV4 Hybrid models. Total combined power is rated at a net figure of 302 horsepower.
In recharging the RAV4 Prime, it takes as low as four-and-a-half hours to fill the battery up using a Level 2 charger. There is an option of using a higher cycle – 6.6 kilowatts - for recharging, which cuts the recharge time using a Level 2 charger to two-and-a-half hours. Every RAV4 Prime comes with a charging cord that plugs into a normal 120 volt outlet, which takes up to twelve hours to recharge.
It is easy to know which energy source your using. The digital screen in the middle of the instrument cluster has a display showing you your range numbers for battery and fuel. The third readout tells you your actual consumption figure depending on which source you use. If you're drawing off the battery, you can get your usage by kilowatt-hour. For fuel consumption, it is miles-per-gallon. We like this screen – a lot.
We have been driving the RAV4 Prime using both electric and gasoline. Our average for gasoline consumption came to 49.5 MPG. In all, the RAV4 Prime is definitely efficient.
However, it is also a smooth driving machine. You know when you're in electric mode when you get off the line without hesitation from the transmission. It cruises very well…and very quietly. We found the same characteristics when the gasoline engine took over. The electric motor is still present in low speed maneuvers. That motor also helps in maintaining speed during cruising around town.
Driving the RAV4 Prime is almost the same as the regular RAV4. The ride quality is smooth with solid handling and maneuverability. The steering system offered a tight turning radius, but on-center was on the soft side. The brakes were pretty good, but we wished for more stopping power from the pedal.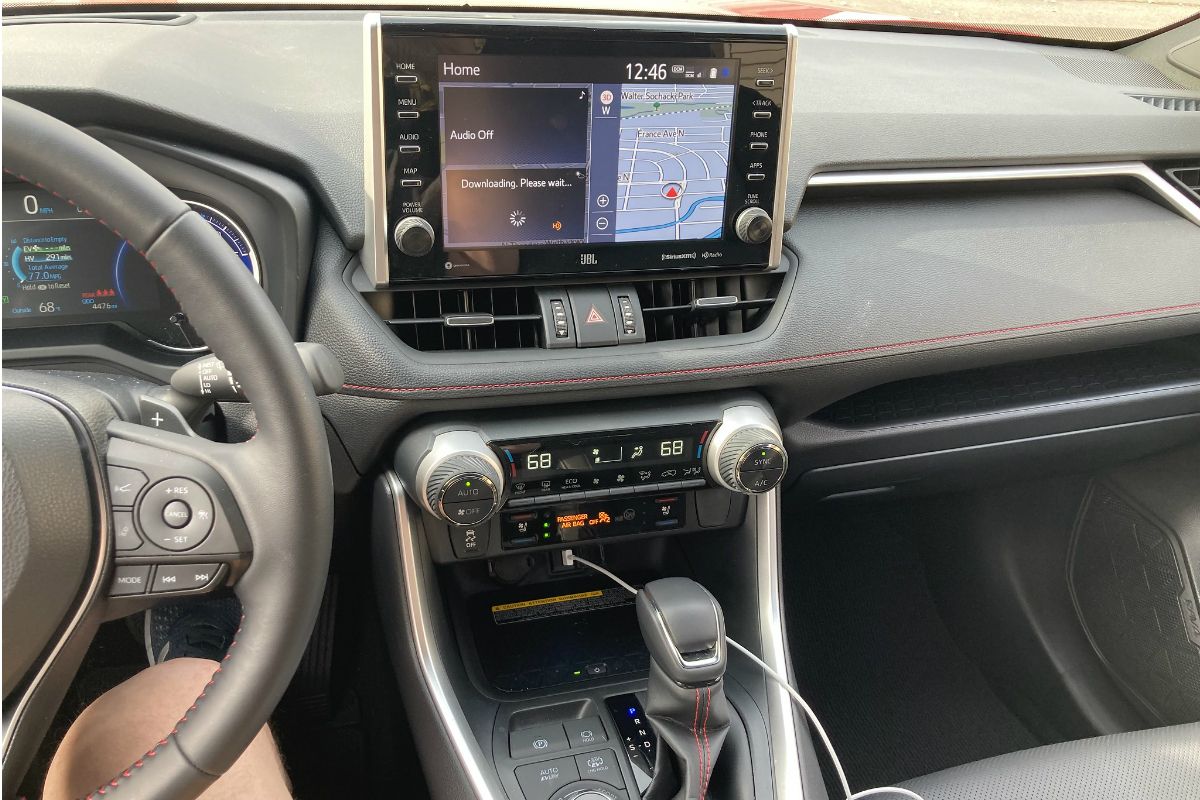 Otherwise, our tester pretty much looks like any other RAV4 in the lineup. There are a few telltale signs that it is a RAV4 Prime, such as specific badges and the extra door for the charging port on the passenger side. Our tester wore the top-of-the-line XSE trim level, with elevated interior, red stitching accents, specific 19-inch alloy wheels, and glossy wheel arch trim.
The RAV4 Prime is offered in two trim levels – SE and XSE. Pricing for the RAV4 Prime SE starts at $38,100. Our RAV4 Prime XSE tester came with a sticker price of $49,578. You still have 11 other RAV4s to choose from, including non-plug-in hybrids. Toyota will only sell 5,000 RAV4 Primes for the 2021 model year.
Plug-in hybrid SUVs are slowly growing in the marketplace. The RAV4 Prime currently competes against the Mitsubishi Outlander PHEV. We are expecting the Ford Escape Plug-In Hybrid to join in this segment sometime in 2021.
With three choices of propulsion available, the Toyota RAV4 gives you the best all worlds. If you are one of the lucky owners of a RAV4 Prime, you will enjoy a better level sustainable transportation that all plug-in hybrids only aspire to have. Even better, the RAV4 Prime is just like any other RAV4.
Story Credits: CarSoup Editors
---