2021 Kia K5
There was once a mid-sized sedan called the Kia Optima. It was a style maker, a comfortable family sedan, and a huge seller for the Korean automaker.
Of course, all things must change. Kia is in a revolutionary brand and marketing strategy with an eye on the future. It seems that they also began to pivot towards a future direction in design and engineering with a push towards more electrification across the lineup.
The latest Kia model to show off its new design language is their new mid-sized sedan. To distinguish it from the past, it is no longer called the Optima. Instead, it was christened as the K5.
The 2021 Kia K5 is a clean-sheet design makeover that exudes the great qualities of its predecessor – in your face styling, a range of drivelines, and comfort for up to five people. Yet, it has many twists to keep us on our toes.
For example, notice how the roofline melds into the trunk lid as part of a fastback effect. Also, the grille is very three-dimensional with its concave design and texture. The LED headlamps are well integrated onto this front clip with "zig-zag"-like turn signals/driving lights. The rest of the K5 is indeed a piece of rolling art.
Our EX tester wore 18-inch machined alloy wheels giving it an upgraded look. The blue color of our tester also gave another dimension to the K5's overall exterior design, letting all of the lines and texture to pop out a lot more. The rear deck is adorned with a single taillight that stretches across it. This is really a great looking vehicle that is designed right for today and the next few years.
The interior follows this theme of "rolling art" to a lesser extent – not by much. The passenger side gets a pseudo-shelf with a woodgrain inlet for a premium look. The rest follows a lot of Kia's design tenets, which is actually a good thing. We like the big analog dials with the information screen in-between them.
We also like the wide 10.25-inch infotainment screen that came with our tester, which is attached to the instrumentation binnacle. The center stack offers plenty of tactile controls for the climate and other related functions. The same is said for the new steering wheel.
The K5 seats up to five people. Front seat occupants get plenty of bolstering, through the leatherette seats themselves are a bit firm for some bodies. Rear seat room is fine for anyone under six-feet tall and can seat three across. The trunk is large, coming in at 16.0 cubic feet before you can fold down the rear seatbacks for longer items.
Underneath the hood of our tester is a 180-horsepower 1.6-liter turbocharged four-cylinder engine. Connected to an eight-speed automatic transmission, our EX tester is quite quick and relaxed on the highway. The K5 is very athletic in passing maneuvers and around town. For fuel economy, we averaged 32.0 MPG.
Our K5 EX tester came only with front-wheel-drive. If you choose the LXS and GT-Line trim levels, you can have it with a new all-wheel-drive system. We were curious as to why the higher trim level of our tester was not offered with AWD. Especially when they are powered by the same engine and transmission.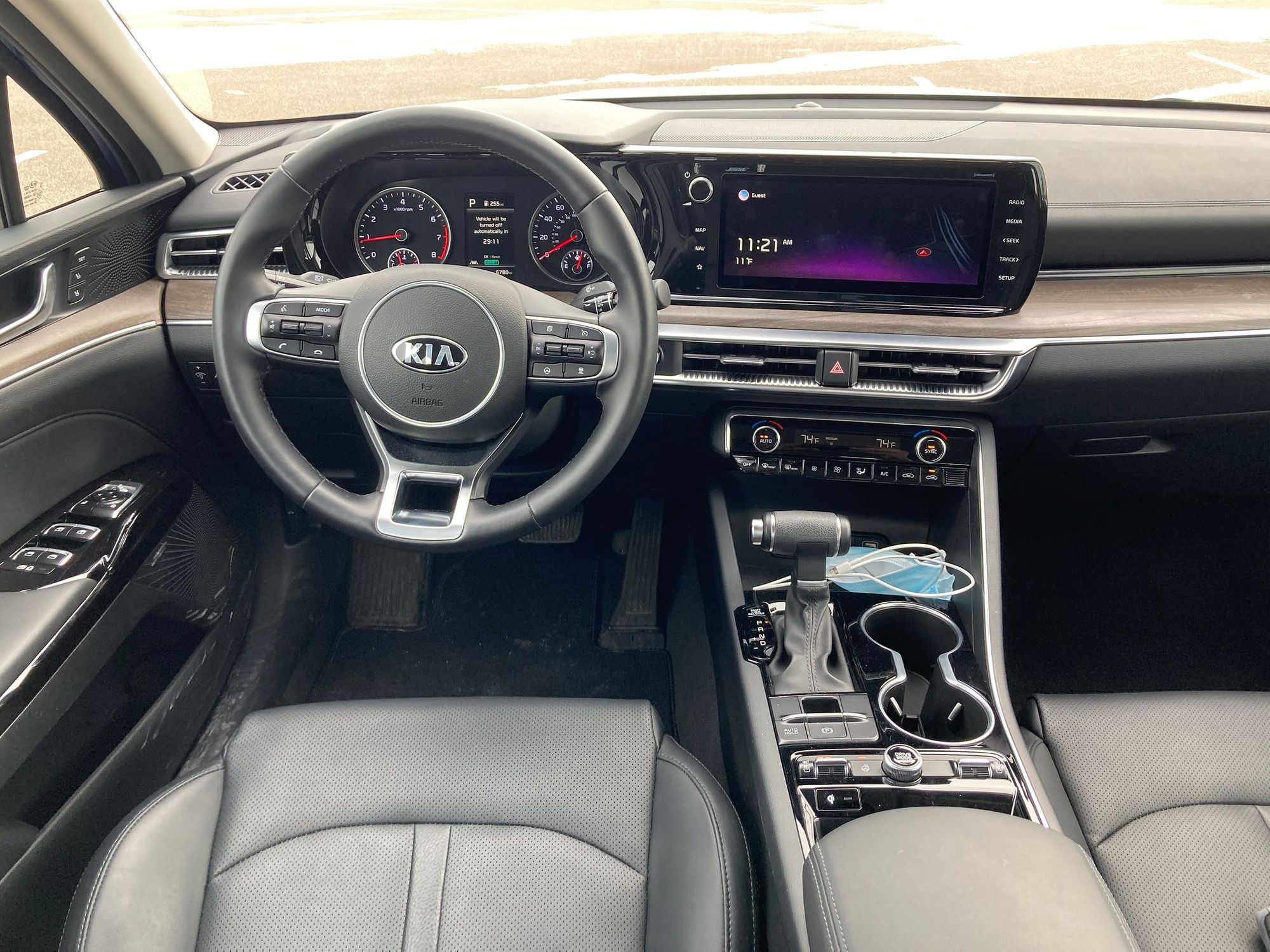 However, the ride quality is great! A very smooth ride to go along with the K5's athletic prowess. In turn, we love how flat the K5 gets around the corners and how quick its reflexes were when met with evasive maneuvers.
The steering system was equally quick, with great feel from the wheel. If out the K5 into Smart or Sport mode, steering weight increases with even better control. On-center feel is just fine.
Braking was very sharp and offered great stops in normal, panic, and winter conditions. We also love the pedal feel for this system.
Kia offers five K5 trim levels. Pricing for the K5 lineup starts at $23,590. Our EX tester came with a sticker price of $32,355. Just above the EX is the new performance leader, the 290-horsepower turbocharged K5 GT.
As much as we liked the Kia K5, we know that it is up against some very strong competition among family mid-sized sedans. Competitors include the Toyota Camry, Honda Accord, Nissan Altima, Hyundai Sonata, Subaru Legacy, Mazda6, Chevrolet Malibu, and Volkswagen Passat.
Still, we really like how the Kia K5 broke new ground for the brand and in the class. It is full of high style and great driving manners. If you like where Kia is going, you might agree that the new K5 is a great start towards fulfilling its new brand identity.
Story Credits: CarSoup Editors
---