2021 Volkswagen ID.4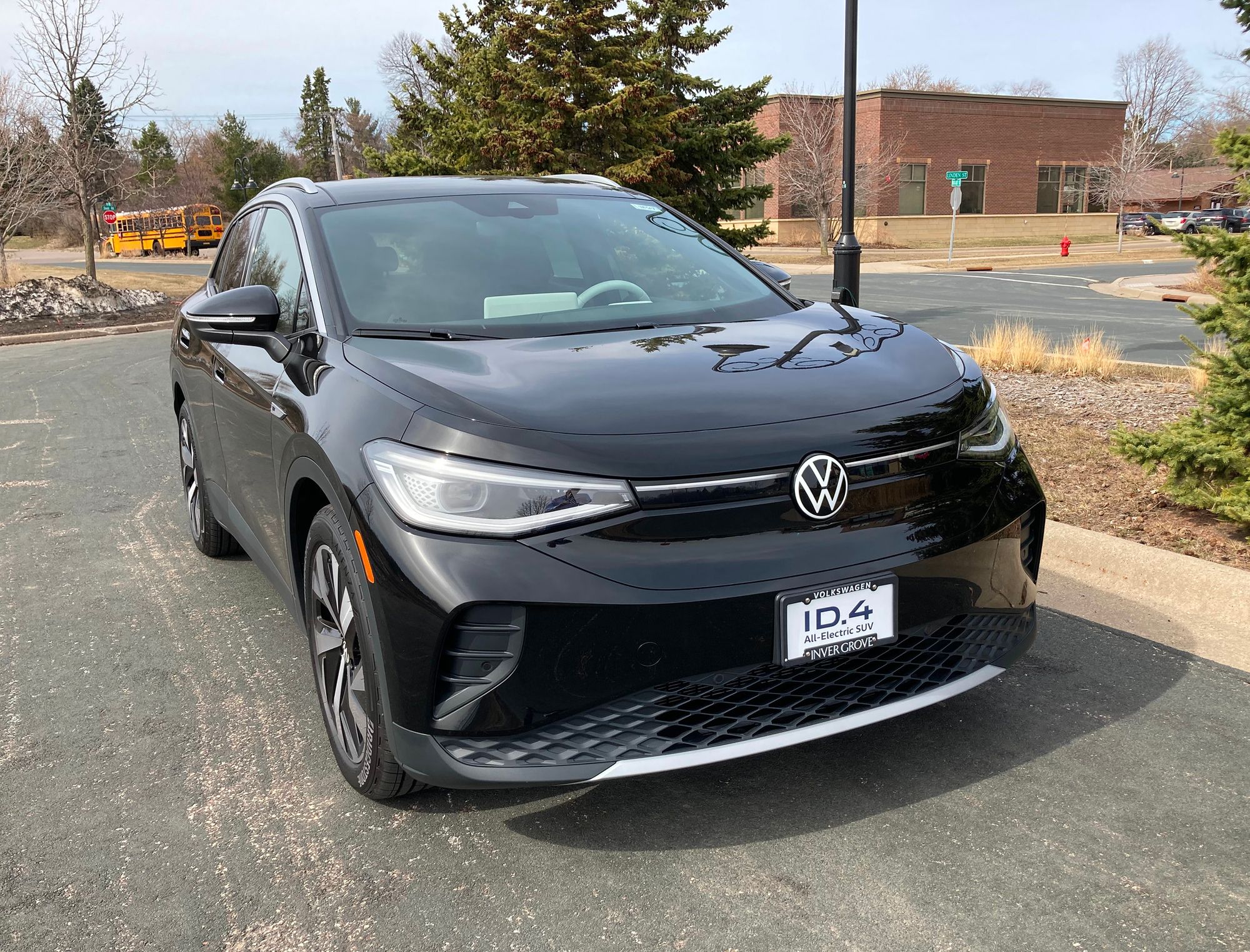 A few years ago, Volkswagen announced their intentions to offer a lineup of battery-electric vehicles for their global markets – the U.S.A., included. After some speculation and plenty of teasing, the 2021 ID.4 crossover is starting to arrive at Volkswagen dealers.
It would be a natural choice for Volkswagen to offer a crossover/SUV as their first fully electric vehicle to be sold across the country. The e-Golf was sold in a few states, yet it only captured a few consumers. Battery range was not a strong suit for the e-Golf.
The ID.4 brings plenty of promise for electric vehicle consumers. It offers more space in a compact crossover/SUV, as well as more range and a choice of drivelines.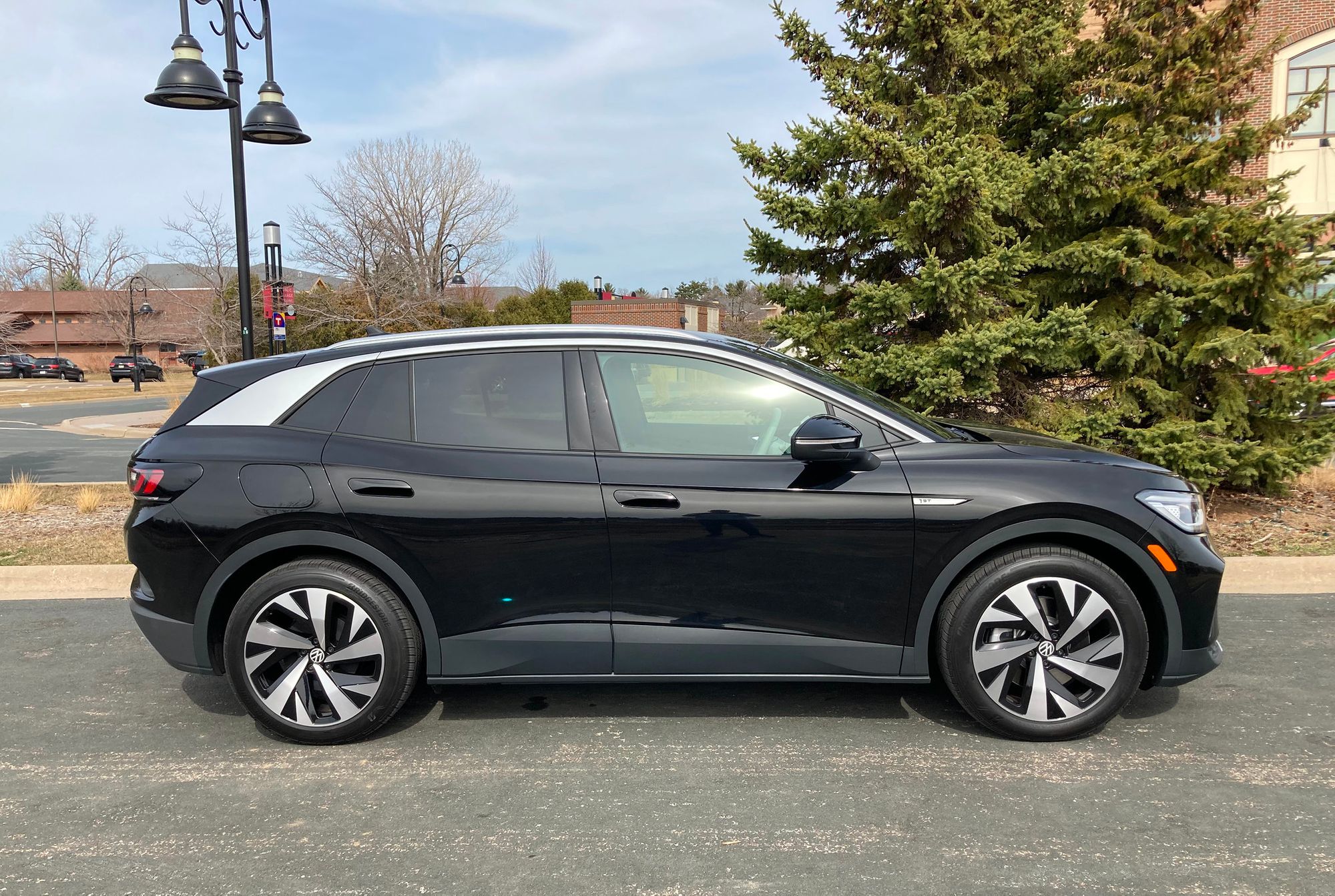 Our first exposure to the ID.4 was with the 1stEdition model. Though this model has been sold out through early reservations, it represents what Volkswagen will offer its ID.4 owners on other versions.
The 1st Edition ID.4 offers some special exterior touches. There are black mirror caps, a contrast color roof with a satin trim on the side, plus white badges and wheel caps.
The basic design of the ID.4 is softer than you would expect from a Volkswagen. The badging gives it away that it is indeed a product from the company out of Wolfsburg, Germany. Still, the ID.4 offers a compact look with plenty of style and personality. You will also find wide opening doors and a liftgate that opens wide and high.
Inside the ID.4 is a very upmarket interior with a lot of soft touch materials. Our 1st Edition tester was swath in white trim all around, including the seats and the steering wheel. They have black contrasting trim pieces, including the center console and carpeting.
Design-wise, the ID.4 introduces many new tech innovations to its cabin. The instrument pod is fully digital with clear readouts. The screen is attached to the adjustable steering column. The infotainment system is all new, along with the largest screen offered on a Volkswagen model at 12 inches.
You will also find some very interesting, but logical switches all around. For example, the transmission control is attached to the right side of the instrumentation screen and is "flipped" to drive or reverse. The steering wheel now has the haptic touch controls for audio, instrumentation screen, and cruise controls.
The leatherette seats were very comfortable and relaxing both front and back. We like the comfort these seats gave us, as well as the generous space for 4-5 adults inside. Be prepared to be amazed at the rear seat room alone with excellent leg and head room.
Cargo space is also generous. Starting with a space behind the rear seats, cargo capacity is measured at 30.3 cubic feet. Fold down the rear seats, and you have up to 64.2 cubic feet of room for hauling home a day's shopping.
Our 1st Edition tester came with a rear-wheel-drive system, a single 201 horsepower electric motor, and a single speed direct transmission with a reverse ratio. This system is powered by an 82-kilowatt-hour lithium-ion battery pack that lies completely flat underneath the passenger cabin. The Environmental Protection Agency rated the ID.4 at 250 miles on a full charge.
In charging the ID.4 at a public DC Fast Charging station, you can charge up the car in 10 minutes with just 60 miles of range. You also can fill up the battery to 80% capacity in just 38 minutes. Right now, Volkswagen has a deal with ElectrifyAmerica where you get three years of unlimited charging from their DC fast charging stations.
There is a quiet sensation when driving the ID.4. The instant torque comes in and takes off quickly from a full stop. It cruises very well and manages both city and highway traffic with ease. The ride quality is solid, managing rougher road surfaces with superb suspension travel. It also handles smoothly, offering quick response in evasive maneuvers.
While it felt more artificial, we found the steering to be sharp with one of the tightest turning radiuses in its class. On-center feel was on-point and held the lane perfectly. The brakes were also very good, with solid stops in normal and panic situations. Not only did we find the pedal feel to be solid, we like the fact that we did not feel any hesitation when it was regenerating energy back to the battery pack.
Pricing for the 2021 ID.4 starts from $39,995 and comes in three trim levels. Rear-wheel-drive models will be available first, with all-wheel-drive models coming later in the year. Our 1st Edition tester came with a sticker price of $45,425 before your tax incentives take effect.
The Volkswagen ID.4 has been positioned in what could be a critical segment among electric and electrified vehicles. It will be compared to the Tesla Model Y, Ford Mustang Mach-E, Toyota RAV4 Prime, Mitsubishi Outlander PHEV, and the upcoming Ford Escape Plug-In Hybrid.
The Volkswagen ID.4 might be your first electric vehicle. Or, a replacement for your current one. Either way, you may be in for a treat as this is a good example on how to produce an electric vehicle – rather, an electric SUV/crossover - for the masses.
Story Credits: CarSoup Editors
---