2021 Honda Ridgeline
When you look at the 2021 Honda Ridgeline, what do you see?
There will be some folks that will immediately dismiss the Ridgeline as "not a truck." However, it looks like one…with a few twists.
We were curious whether the Ridgeline is capable enough to be considered a truck. After all, it is classified as a mid-size pickup truck.
The Ridgeline shares its platform and a chunk of its interior, engine, and transmission with three other Honda models built off the same architecture and assembly plant: Pilot, Passport, and Odyssey. However, the Ridgeline utilizes a different underbody structure designed to take on the tasks of a pickup truck rather than a SUV or minivan.
One could dismiss it as "not a truck," because the Ridgeline is built off a front-drive-biased platform using unibody construction – unlike its cab-and-box-on-frame competitors.
The Ridgeline's pickup truck-like profile has been enhanced for 2021 with a more rugged front clip. The bolder grille changed the personality of the Ridgeline to something that is tougher that means business where you take it. The unibody construction allows for the combination of cab and box, even with the optical illusion found between the two body components. It is the only mid-size pickup truck that is built from a single body.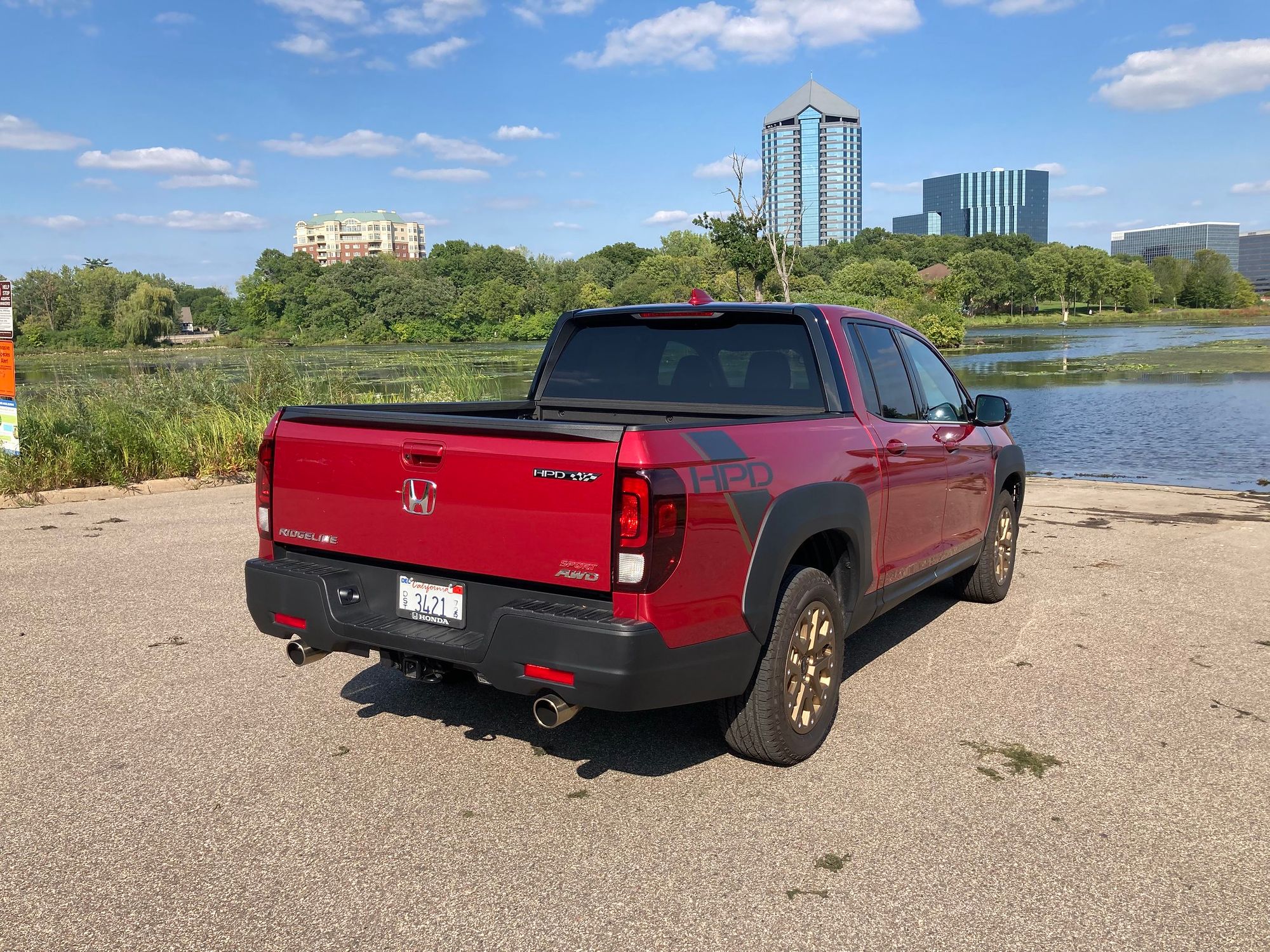 Around the back is a two-way tailgate. You can open it the traditional way, by lowering it. You can also open it up to swing towards the left side of the truck. That way, you have better access to the 64-inch-long bed and its very low wheel arches. You also have better access to the In-Bed Trunk. This lockable 7.3 cubic-foot storage space is great to put anything securely, such as tools and other items you need for activities. You can also use it as a cooler for beverages. When you're done, just open up the drain plug to empty out the In-Bed Trunk.
Our Ridgeline Sport tester came with a HPD appearance package. HPD stands for Honda Racing Development – the motorsports arm of Honda. This package added bronze-colored alloy wheels, wheel arch cladding, a more aggressive grille, HPD striping, decals, and badges.
Cab space is excellent, offering the largest passenger volume in the mid-size pickup truck class. There is room for five people across two rows of seats. In our Sport tester, front seat occupants sit on cloth seats that offer some bolstering and support. There are manual adjustments for rake, recline, and height.
The instrument cluster is mostly digital with the speedometer on the top screen and an information screen below it. There are two analog dials on each side for the tachometer, fuel, and temperature gauges. The touchscreen for the infotainment system sit on top of the center stack, while a push-button transmission actuator dominates the center console. You will find plenty of storage on this console and in the door bins.
Power comes from a 280-horsepower 3.5-liter V6 engine. It is connected to a nine-speed automatic transmission and the standard Intelligent Variable Torque Management AWD system. This system includes Snow, Sand, and Mud modes with pre-set traction settings for these conditions.
This driveline is also capable of towing up 5,000 pounds with a payload rating of 1,583 pounds. It also turned in a fuel consumption average of 22.0 MPG.
The ride quality is just fine. The Ridgeline does not ride like the SUVs and minivan it shares its platform with. Almost truck-like – in a sense. Handling is on the soft side, however.
The same goes for the steering system. Braking is also fine, with solid stops in normal and panic situations. Pedal feel is pretty good.
Pricing for the Ridgeline starts at $36,490. You have a choice of four trim levels – all with standard all-wheel drive. Our Sport tester with the HPD package came with a sticker price of $40,860.
Whether you see it as a truck or not, the Honda has been constantly compared to its mid-size pickup rivals. The competition includes the Chevrolet Colorado, GMC Canyon, Ford Ranger, Toyota Tacoma, and Nissan Frontier.
What we found was a very useful vehicle that offers more in its segment. The Honda Ridgeline also serves as inspiration for a new class of smaller pickup truck that we are seeing now. If you want something useful that can mix work with play, why not consider a Honda Ridgeline?
Story Credits: CarSoup Editors
---