2022 Nissan Frontier
The mid-size pickup truck class has not yielded any new entries in quite some time. It's been a few years since anyone has brought out a fresh new approach to a segment that often gets overlooked.
Nissan thinks has the right vehicle to reintroduce the mid-size pickup truck segment to both work and leisure customers – the new 2022 Frontier.
This new entry into this segment is a mix of tried-and-true and all-new. Tried-and-true due to the fact that a lot of the original formula still works. However, you can't tell from the outside with its leaner new cab and box and all-new interior.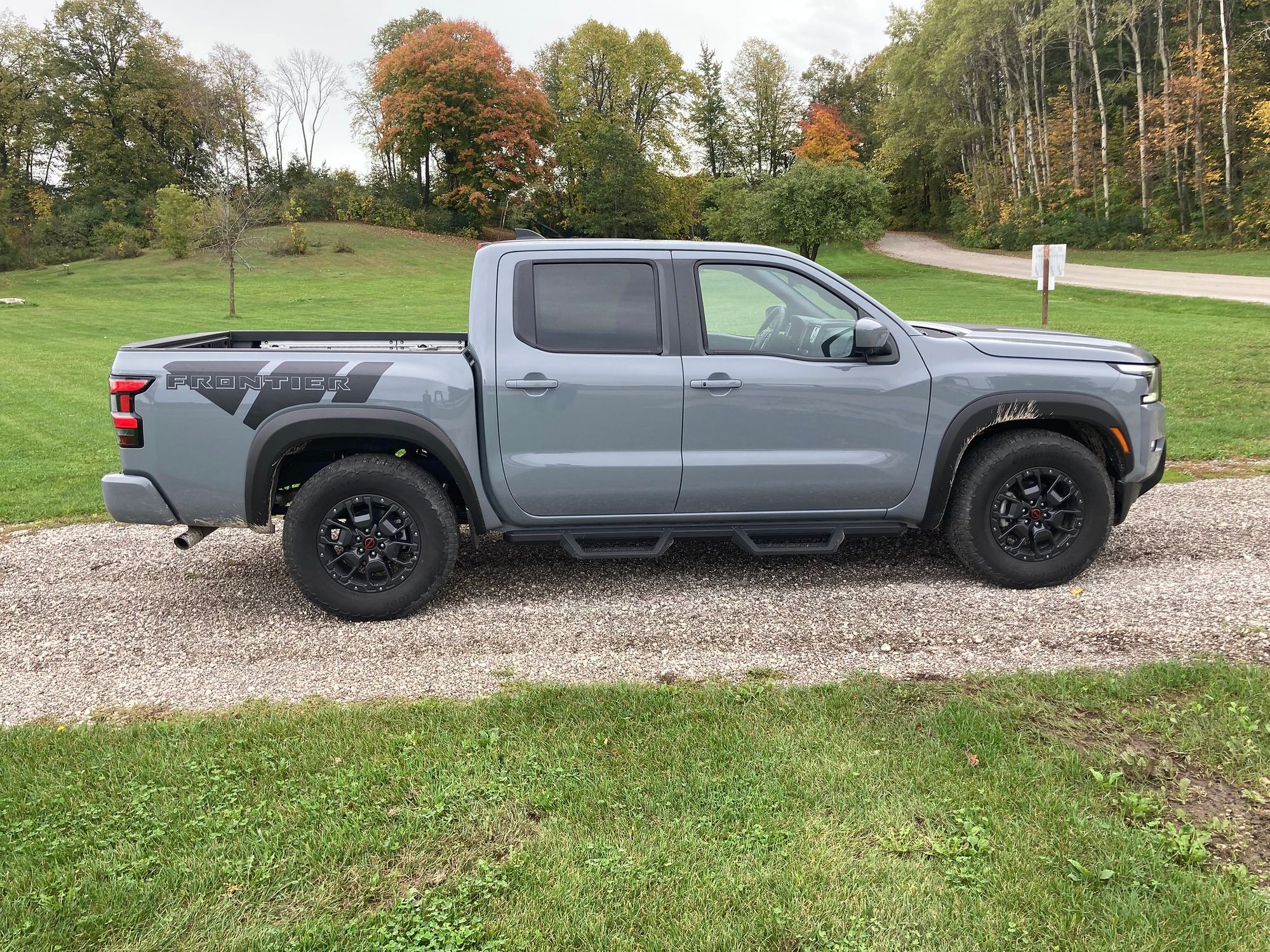 Nissan found inspiration for its cab and box design from its past. The legendary "Hardbody" pickup truck redefined Nissan's most popular global vehicle with its slab-sided panels with its blunt front end and purposeful interior. Nissan took those cues and added more modern design elements to it for a fresh look that continues to distinguish itself from the rest of the pack.
You can see there's a bit of the larger Titan pickup truck in its grille. The rest is clearly original, especially our Pro-X Crew Cab sampler. For this model, Nissan added graphics, dark trim and 17-inch dark finished alloy wheels to the overall look of this rugged sports truck.
Inside is the most advanced interior in its class. The quality has jumped many points up in the Frontier with better touch areas, materials, and finishes. The instrument binnacle for the PRO-X model is what you would find in a higher trim Nissan SUV or sedan with its wide fully digital information screen and clear analog dials on each side of it.
The PRO-X also get an upgraded nine-inch color touchscreen display with smartphone integration and onboard Wi-Fi. You also get dual-zone climate control in the PRO-X, as well. We also like the light and quick shifter in the center console.
The available leather seats were just right for us. They provided enough support and comfort for tackling the countryside. Rear seat room is fine for averaged sized adults, but you do get a lot of headroom inside the cab of the Frontier.
Introduced last year, the powerful 310-horsepower 3.8-liter V6 engine makes this Frontier a strong machine. Although it has 281 pound-feet of torque, the Frontier PRO-X is rated for a maximum payload of 1,430 pounds with a towing limit of 6,470 pounds. You can get higher payload and towing capacities – up to 1,600 pounds and 6,720 pounds respectively - when you choose a lower trim grade in another configuration.
The nine-speed automatic transmission made the new Frontier a much better vehicle to drive overall. Even with just the rear wheels driven, the entire driveline yielded a lot of performance and confidence even with the truck unloaded. It loves to bite down on gravel roads, as well as on the highway.
As for fuel economy, it is estimated that this PRO-X Frontier should get around 20 MPG in combined driving.
PRO-X models get a set of Bilstein off-road shock absorbers, even with in this rear-drive configuration. The ride is smooth with these shocks on both the highway and away from it. Handling felt more confident as it managed evasive maneuvers and curves with ease.
The steering system felt tighter than its competitors. We may have experienced one of the tightest turning radiuses in its class with some maneuvers designed to get us out of certain situations. The brakes felt more confident coming from a solid pedal feel. Normal and panic stops felt just fine.
Pricing for the 2022 Nissan Frontier starts at $27,840. You have a choice of three cab/box configurations across four trim levels. Four-wheel drive is available three of those trim levels, including the top-of-the-line PRO-4X. Our two-wheel drive PRO-X Crew Cab model came with a sticker price of $41,160.
The new Frontier has taken its place in a segment where it is focused on recreational activities instead of putting to work. It still has plenty of competition, including the Chevrolet Colorado, GMC Canyon, Ford Ranger, Toyota Tacoma, and Honda Ridgeline.
Being the newest entry has an advantage over its competitors. However, the 2022 Nissan Frontier mixes decades of experience with a fresh new look and feel. We really like what Nissan has done to its mid-size pickup truck offering We have a feeling you will, too.
Story Credits: CarSoup Editors
---