2022 Lexus NX
Lexus stated that this new generation NX is the start of an entire generation of all-new vehicles for the brand.
Certainly, we can see why they would say that. There are clues that all Lexus models going forward will have certain design elements, technologies, and safety features. Not to mention, additional electrification options that have never offered in a Lexus before – including models with just battery-electric power.
We were curious what the future of Lexus will look and feel like. Our 2022 NX 450h+ tester is the perfect example of the promise this luxury brand is making to its customers. We were curious whether this will indeed fulfill those promises.
One might say that there is a lot of evolution in the overall design from the previous generation. The size appears to be the same, but the wheelbase is over an inch longer. The brand's spindle grille is now prominent with a larger lower section. The front end is flatter than the previous model. A new rear end treatment includes an LED bar that bridges both taillights with the absence of the Lexus logo from the liftgate. Instead you have the Lexus name displayed where the logo used to be.
Our F Sport tester wears the requisite mesh grille texture, along with black-finished 20-inch wheels. Set against the blue paint job, you might say this is the sportiest the NX has ever appeared.
Lexus also gave the NX a glimpse at the future of interior design with more driver focused elements. The instrument cluster is now fully digital and highly customizable. Steering wheel controls have changed and now truly multi-functional. The head-up display will show you which control will do exactly the function you need.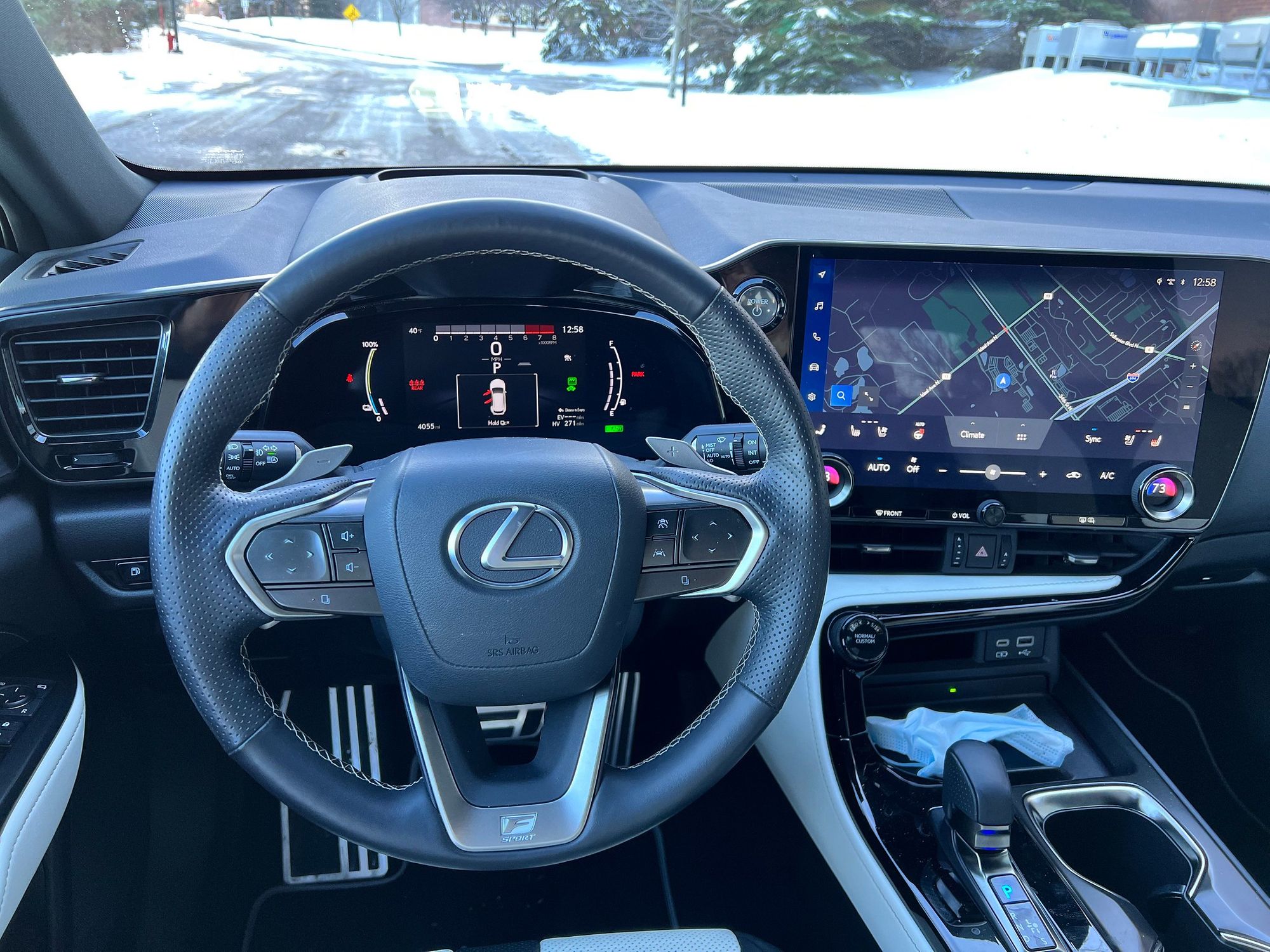 The biggest change in the NX will soon appear across the lineup is called the Lexus Interface. The new infotainment system is now reachable to the driver and is fully touch-controlled. Not to mention, these screens are large. Our tester had a 14-inch screen that simply dominated the dashboard.
The F Sport's front seats are bolstered just right, providing support for the seatback and cushion. There is plenty of space for four-to-five people inside, along with a larger cargo hold than the previous model. You now have 22.7 cubic feet of space behind the second row, expandable to 46.9 cubic feet with those seats folded down.
The 2022 NX is now available with four different performance options. Our tester has the first plug-in hybrid model in Lexus history. It starts with a 2.5-liter four-cylinder engine and adds electric motors and a way to recharge the battery and giving it priority before the gasoline engine kicks in. This system yields a total of 304 horsepower. This drivetrain is connected to a continuously variable transmission with power going to all four wheels.
Operating on battery power alone, Lexus states it should get up to 37 miles of driving on a full charge. However, the gasoline engine takes over once you are in hybrid mode. In that mode, we averaged 31.4 MPG. Although Lexus states that you would average 84 MPGe on both power sources combined.
Our F Sport tester came with an adjustable suspension based on drive modes. Our experience yielded a compliant ride that is part-firm and part-smooth. Handling was controlled and managed curves quite well.
Compared to the previous generation, we found the steering to be a lot more controlled and precise. On-center feel was also on-point without the use of any driver assist features.
Pricing for the 2022 Lexus NX starts at $37,950 for the NX 250 with front drive. Our NX 450h+ F Sport tester came in with a sticker price of $60,665. The plug-in hybrid will be available in select states that have zero-emission mandates.
As Lexus introduces a new NX, it is still diving deep into the highly competitive luxury/premium compact SUV segment. The NX is compared to the BMW X3, Mercedes-Benz GLC, Audi Q5, Jaguar E-Pace, Alfa Romeo Stelvio, Volvo XC60, Acura RDX, Cadillac XT4, Buick Envision, GMC Terrain, Lincoln Corsair, Infiniti QX50 and QX55.
Lexus has given its NX SUV is a fresh new reboot. It is a wonderful vehicle overall for you can choose the kind of performance and efficiency you want. No matter which NX you choose from, you will drive away a winner.
Story Credits: CarSoup Editors
---