2022 Genesis G80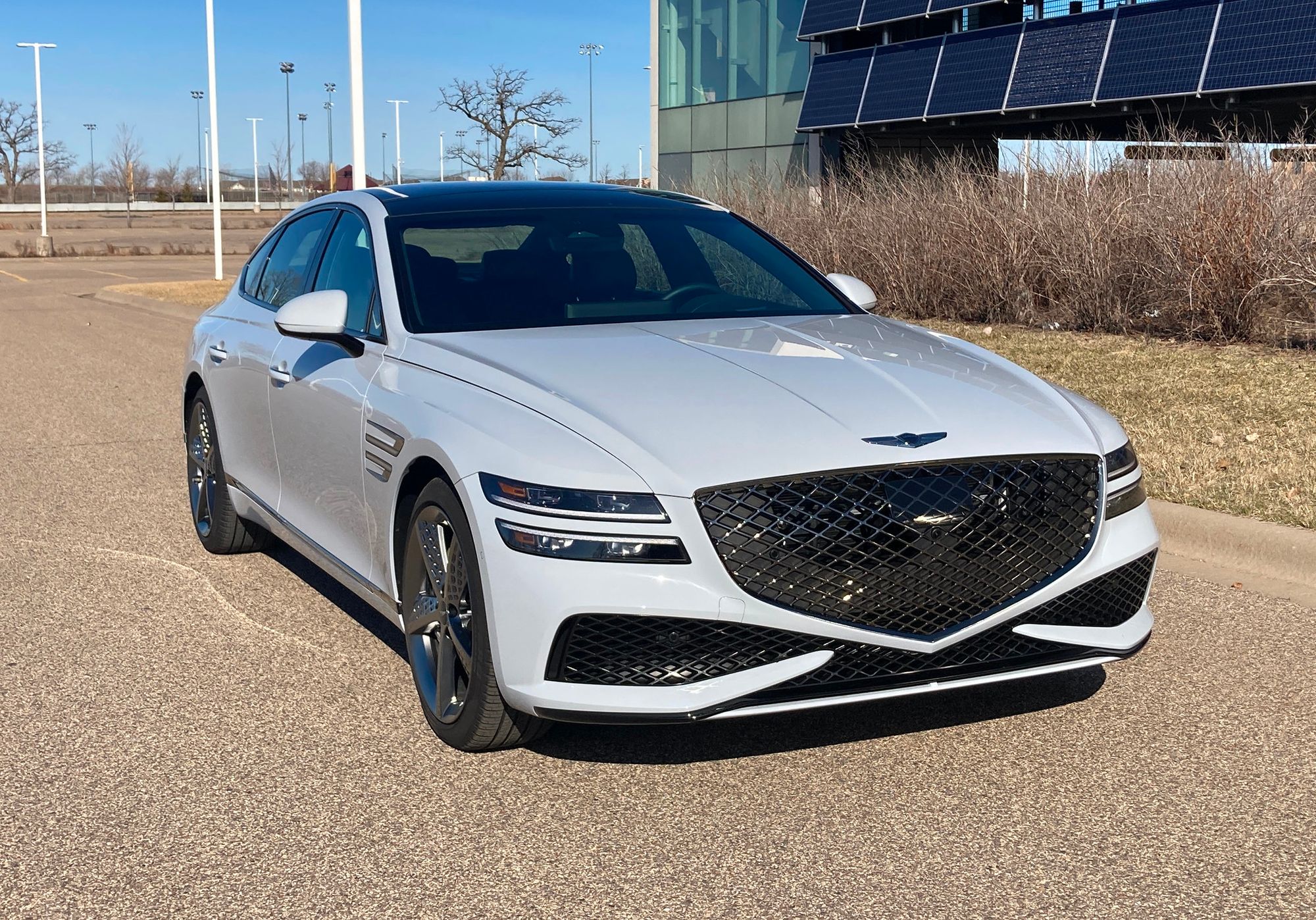 When we present a car from a luxury brand, we always check to see whether it is worth it. So far, Genesis has delivered on vehicles that meet its price point, but they have exceeded it.
The luxury brand of Hyundai spared no detail when it introduced the G80 midsize luxury sedan last year. This third-generation model – first was called the Hyundai Genesis sedan – has taken what it has learned in the past and elevated it even further.
How so?
It starts with a design that is sleek and bold. The Genesis grille is large with a mesh design, flanked by a dual horizontal LED lighting units. The roofline takes a fastback-like approach with a three-glass side profile, finishing up with a short rear deck. The trunk lid itself is sculpted and continues with the dual horizontal lighting signature with a set of LED taillights.
Our tester wore a set of 20-inch sculpted alloy wheels to finish off the G80's look. You will notice a trim package that looks like antique brass, but shinier. This finish is featured on the grille, the glass trim and on the door handles.
In all, the G80 is distinctive with a flair that either attracts or detracts. We think it is bold enough to be attractive overall. We certainly heard from you out on the street when we were driving around town.
Step inside the G80 and you treated to an inviting cabin that is focused on the driver. It also offers good space for its passengers. You will find some elements that for the G80's personality, such as the infotainment controller and the nearby shift knob on the center console and the 3D instrument cluster. Other switches and controls feel elevated and offer excellent logic and touch overall.
Above the center stack is a 14.5-inch-wide touchscreen that is also operated by the aforementioned controller on the center console. You can also operate the volume and presets by the switches on the steering wheel. The G80 offers smartphone integration and wireless charging, as well.
This Sport Prestige tester wears chevron-designed Nappa leather upholstery with contrast stitching. Seating is actually fine for four adults, as long as rear seat occupants watch the high transmission tunnel is the footwell and the sloping roofline. Front seats occupants also get seatback bolsters that automatically sense the velocity of the G80 to lock you in or relieve you when you're simply cruising. The seats themselves are firm, but comfortable and supportive.
You have a 13.1 cubic foot trunk that look more accommodating than its specs. The seatbacks fold down for longer items.
The G80 is offered with two engine choices, along with the choice of rear- or all-wheel drive. Our tester had the more powerful 375-horsepower twin-turbocharged 3.5-liter V6. It is connected to a smooth-shifting eight-speed automatic transmission, and, in our tester, it sends power to all four wheels. Throttle response is superb in all drive modes. It makes driving a G80 a true pleasure in town and out on the highway. It also turned a fuel consumption average of 21.7 MPG.
The ride quality is firm, but compliant when in Comfort mode. In Sport mode, the dampers are adjusted a tad to become firmer. The G80 hunkers down and handles the curves with authority. Overall maneuverability is sharp, coming from a responsive steering rack. The brakes offer great stops in normal and panic situation. This comes from a solid response from the pedal.
Pricing for the 2022 Genesis G80 starts at $48,250. You have a choice two engines, rear wheel drive or all-wheel drive and three trims per engine choice. This G80 3.5T AWD Sport Prestige tester came with a sticker price of $71,095.
The G80 is up against some of the more established players in the luxury car business. In its segment, the G80 is compared to the Mercedes-Benz E-Class, BMW 5-Series, Audi A6, Cadillac CT5, Lexus ES, and Jaguar XF.
However, Genesis has created a mid-size luxury sedan that ticks a lot of the boxes without having to copy someone else. It is also one great sedan that needs to be experienced at its fullest. If you find one, take it home. If not, order one to the specification you want. It is worth the wait.
Story Credits: CarSoup Editors
---