2023 Mazda CX-50
How you define Mazda these days?
While they still build the MX-5 Miata and Mazda3, their vehicle focus is no longer defined as "Zoom-Zoom." Instead, Mazda has been pushing upmarket through their slogan "Feel Alive" as a way to define where their lineup is going to attract new customers to their products.
What if Mazda decided to do something different? Something that still references their position in the marketplace but offers something for a new-to-the-brand customer.
That vehicle is the 2023 Mazda CX-50. It is a crossover that offers our want of adventure wherever we want to go.
The CX-50 nameplate might confuse you. If you're thinking it's replacing the CX-5 or is built on the same platform, they are not related. They only thing they share are a few Mazda components, the engine and transmission. The CX-50 rides on a longer wheelbase, is stretched five inches more than the CX-5, stands taller overall, but with more ground clearance. However, the CX-50 does share some DNA from the Mazda3 and CX-30.
There are plenty of Mazda design elements all around. The grille is wider, with LED headlamp units framing each side of it. The roofline is longer, with more glass area all around. The 8.3-inch ground clearance and plastic cladding along the rocker panels and wheel arches gives it a more rugged appearance overall. The lower bumper area features some shaping that follows the theme of the CX-50's intended ruggedness and purpose.
The four doors open wide, providing great access to the front and rear seats. The liftgate allows taller people to load into the cargo hold with ease. A set of 20-inch alloy wheels finish up our Premium Plus tester's look.
While some might say that the CX-50's cabin basically looks the same as in other Mazda SUVs, there are some subtle differences. The giveaways are the vents, the trim on the passenger side of the instrument panel, and the seat designs. The instrumentation screen is the same one found on select Mazda models, as is the Mazda Connect infotainment system and screen, the shifter, and other controls found throughout the CX-50's cabin.
Seating is for five, or four adults. While providing some bolstering, the front seats tend to be on the firm side. Rear seat occupants get great headroom, but taller people may have to negotiate the leg room in the back, as well as the small lower door sill. Cargo room is good, starting from 31.4 cubic feet behind the rears eats, expanding to 56.3 cubic feet with those seats folded down.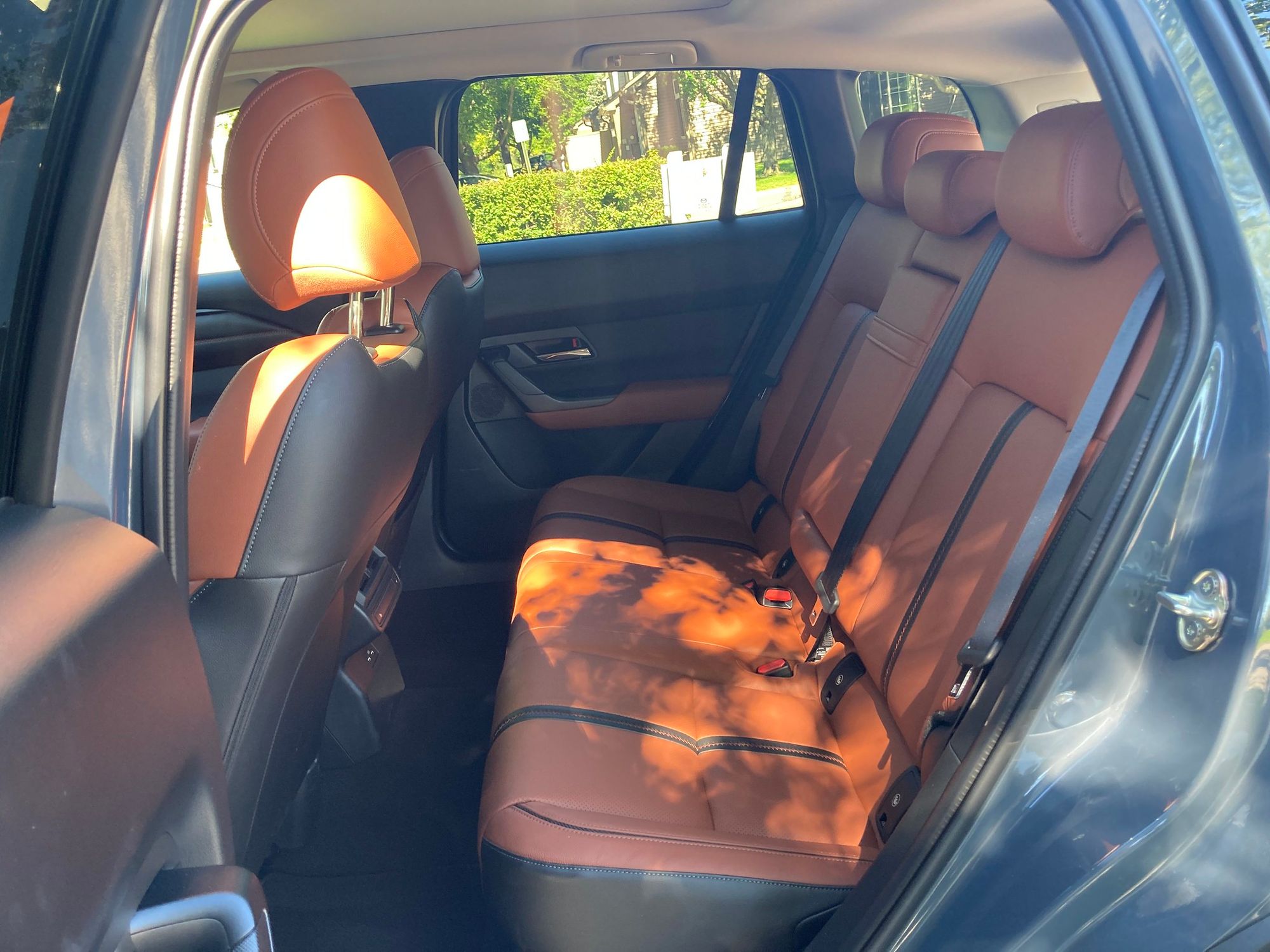 Powering our tester is Mazda's Skyactiv turbocharged 2.5-liter engine. Power figures depend on what fuel you put into this engine. If you stick to regular fuel, you get 227 horsepower and 310 pound-feet of torque. Fuel up with premium, then those numbers rise to 256 horsepower and 320 pound-feet of torque. It is a very powerful motor, connected to a six-speed automatic transmission, send power to all four wheels.
It powerful enough to take this 3,907-pound SUV anywhere you want to go – almost. Yet, it is rated to tow up to 3,500 pounds. However, the CX-50 Turbo could only muster a fuel economy average of 23.9 MPG.
Ride quality-wise, it is a bit firm. While it is smooth on better stretches of highway, you certainly can feel it go through rougher patches of road. It offers a quiet ride through the tires installed on this tester. Handling is fine, with some lean and roll when pushed to the limit.
We wished the steering was a bit tighter. It took a lot of turns to maneuver the CX-50 and the effort was certainly on the heavy side. On-center feel was fine. On the other hand, we like the brakes and its solid pedal feel. Normal and panic stops returned great results with solid action down to the wheels.
Pricing for the 2023 Mazda CX-50 start at $27,550. There is a choice of ten trim levels, including four Turbo models. Our tester came with a sticker price of $43,970.
The CX-50 enters the market as a ruggedized crossover that augments the Mazda lineup. We found that it matches up well with the Subaru Outback. Yet, it also competes with many of its contemporaries, including the Subaru Forester, Hyundai Tucson and Santa Fe, Kia Sportage, Honda CR-V, Toyota RAV4, Chevrolet Equinox and Blazer, GMC Terrain, Ford Escape and Edge, Jeep Cherokee, Nissan Rogue and Murano, Volkswagen Tiguan, Mitsubishi Outlander, and even its own Mazda CX-5.
The CX-50 adds a new proposition for Mazda customers. Offering the promise of adventure, this new ruggedized crossover may be far from its "Zoom-Zoom" roots with an invitation to "Feel Alive" anywhere you take it.
Story Credits: CarSoup Editors
---