2022 Hyundai Santa Fe PHEV
In order to introduce the idea of electrification to the masses, a brand like Hyundai has to offer the full spectrum of drivelines to bring customers closer to the future.
While one could go without any fuel in the IONIQ 5, other Hyundai models offer either a hybrid or a plug-in hybrid model that gives you the best of both worlds: Gasoline and electricity.
One such model that offers the choice of a plug-in hybrid driveline is the Hyundai Santa Fe. We had a chance to experience our first plug-in hybrid in a Hyundai vehicle to see whether this is one way to live sustainably and guilt-free.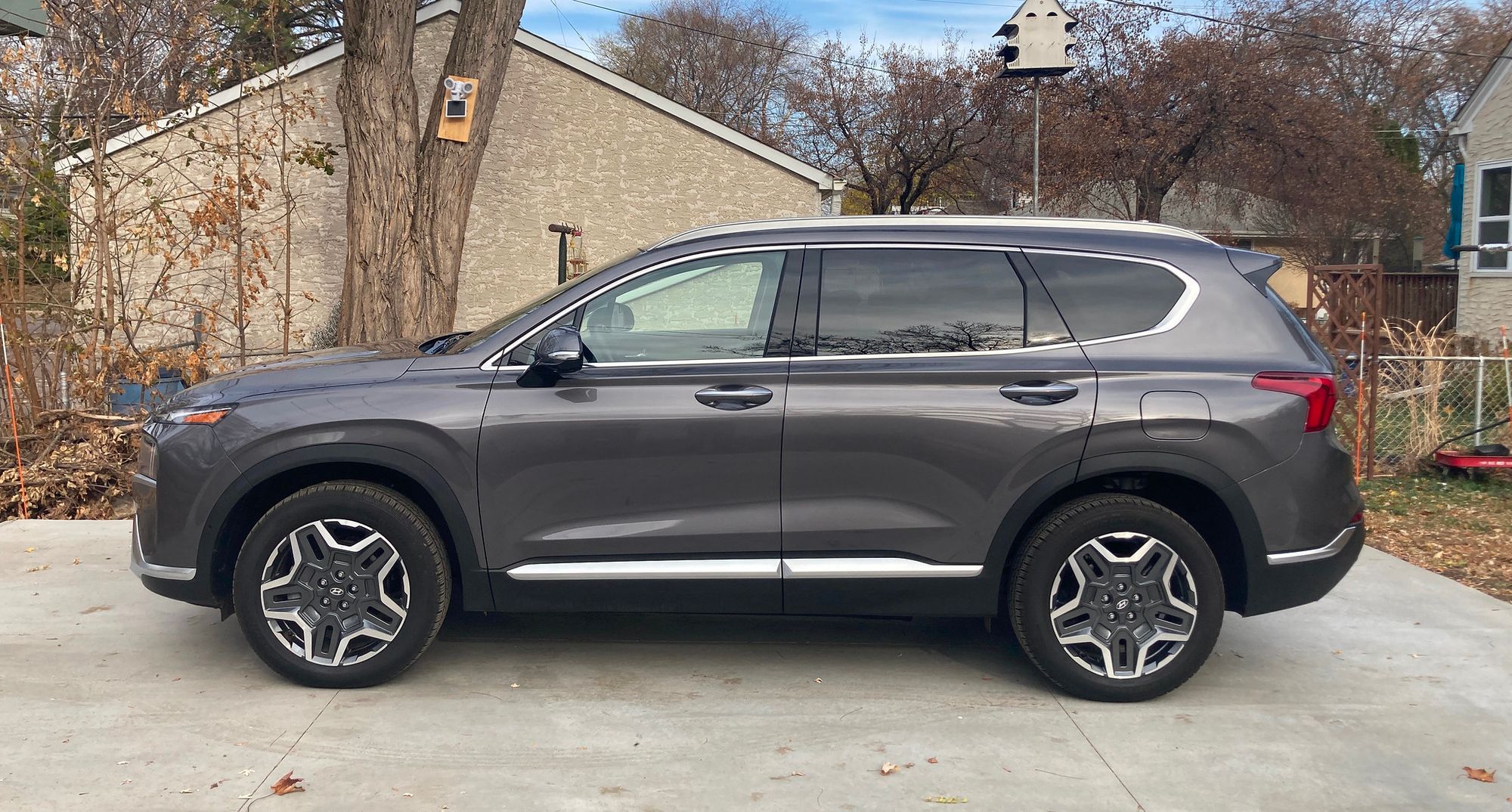 One thing that is certain about the 2022 Hyundai Santa Fe is its distinctive exterior design. You are greeted with a massive grille that announces its arrival. The headlights are positioned low on the front fascia, next to the grille, leaving the upper lamps on the fender for driving lights and turn signals. The headlight units also add LED accent lighting that are exquisite.
The liftgate wears an LED taillight bar across it. That sets off a set of taillights and a wide opening liftgate. Our Limited tester came with a set of 19-inch five-spoke alloy wheels and a chrome grille to finish off this luxury plug-in hybrid's exterior look.
Inside, you are greeted with a 12.3-inch digital instrument cluster behind the three-spoke wheel. The center console offers a push-button transmission controller, a bank of buttons for climate and infotainment controls, and the drive mode knob. On top of the center stack is a wide 10.25-inch infotainment touchscreen. Every switch and control in this Santa Fe PHEV are excellent to the touch and logical to manage.
Our Limited tester had comfortable and supportive leather front seats. The front seats offer plenty of bolstering and are fatigue-free on long journeys. The rear seat offers a lot of room and comfort for 2-3 adults. The cargo space remains the same as with other Santa Fe models. It starts at 36.4 cubic feet with the rear seat up, expanding to 72.1 cubic feet with it down.
The Plug-In Hybrid system starts with a 1.6-liter turbocharged engine, adding a 66.9-kilowatt electric motor that draws from a 13.8 kilowatt-hour lithium-ion battery. That battery is charged from a port at the back passenger side of the Santa Fe PHEV. This system sends power to all four wheels from a six-speed automatic transmission. In all, this system is rated for 261 combined horsepower.
Hyundai states that a fully charged battery is capable of 30 miles of range before the gasoline engine kicks in. However, it does take over four hours to recharge it using a Level 2 charger. In terms of fuel economy, we averaged 30.4 MPG.
Ride quality is excellent. The suspension system does a great job absorbing road imperfections. The Santa Fe takes corners quite well, without much lean or roll.
The steering system offered a tight turning radius and solid response from the wheel. Braking is also good with great pedal feel and response. The Santa Fe offered solid stops in normal and panic situations. In all, the Santa Fe is a nice driving SUV that yields please for everyone on board.
Pricing for the 2022 Hyundai Santa Fe lineup starts at $28,200 for an SE with front-wheel drive. Our 2022 PHEV Limited tester came with a sticker price of $46,780. There is a total of 10 trim levels to choose from, including two PHEV models. Hybrid and PHEV versions of the 2023 Santa Fe will arrive later in the model year.
The Hyundai Santa Fe continues to be a smart choice among two-row, mid-size SUVs. Yet, it has only a few competitors in the plug-in hybrid SUV arena: The Ford Escape PHEV, Jeep Grand Cherokee 4xe, Toyota RAV4 Prime, and Mitsubishi Outlander PHEV.  The Santa Fe PHEV also competes against hybrid and full battery electric models, ranging from the Honda CR-V Hybrid to the Tesla Model Y.
As more plug-in hybrids are introduced across the industry, Hyundai is ready to provide you with a vehicle that gives you the best of both worlds – gasoline and electricity. The Santa Fe PHEV is a good SUV to experience this balance between fueling up and charging up. It is big enough to take a family of five for a road trip, while exuding maximum style over every mile.
Story Credits: CarSoup Editors
---