2023 Hyundai Palisade
We always welcome the Hyundai Palisade when it arrives for duty at our office. It is one of the few vehicles in its segment that honestly accommodates families without any compromise.
For 2023, Hyundai updated its mid-size three-row SUV with plenty of design tweaks. The result is an equally handsome vehicle that families will love even more.
We are getting ahead of ourselves, so let's see how the 2023 Palisade has transformed.
The big news starts up front. The front clip is cleaner with a more squared off grille area. Optically, it appears to be larger than the previous Palisade. The headlamps and LED running lights have also changed to form around the new shape of the grille.
The overall character of the Palisade has not changed. From the LED lighting up front to its LED taillights out back, there is a belt line that connects these points. This continues to give the Palisade the upmarket look that is unique among its competitors from both mainstream and premium brands.
Profile-wise, the design is upright, which helps in creating larger doors for better cabin access to all three rows. The flip side of an upright design is determining whether your parking is perfect. That is a good reason to use the series of cameras that appear on the wide infotainment screen.
Our Palisade Calligraphy tester wore 20-inch alloy wheels with a multi-spoke luxury look. This feeds into Hyundai calling its Palisade an "upscale" SUV. We think the Calligraphy fits that description just right.
Inside, the Calligraphy's quilted design on the seats and door panels are adorned with perforated leather upholstery. The front seats are specifically well bolstered for comfort and support. Across all three rows, passengers will find great comfort and space. Our tester had the two captain's chairs in the second row for seven passengers total. Other Palisade models can seat up to eight people inside.
Third row access is made easier by a one-touch system. A single button can fold and slide the second row seat for better access in and out of the rearmost seats. This is also helpful in creating more cargo space for major shopping trips. Starting from 18.0 cubic feet behind the third row, you can load up to 86.4 cubic feet with both the second and third row folded down.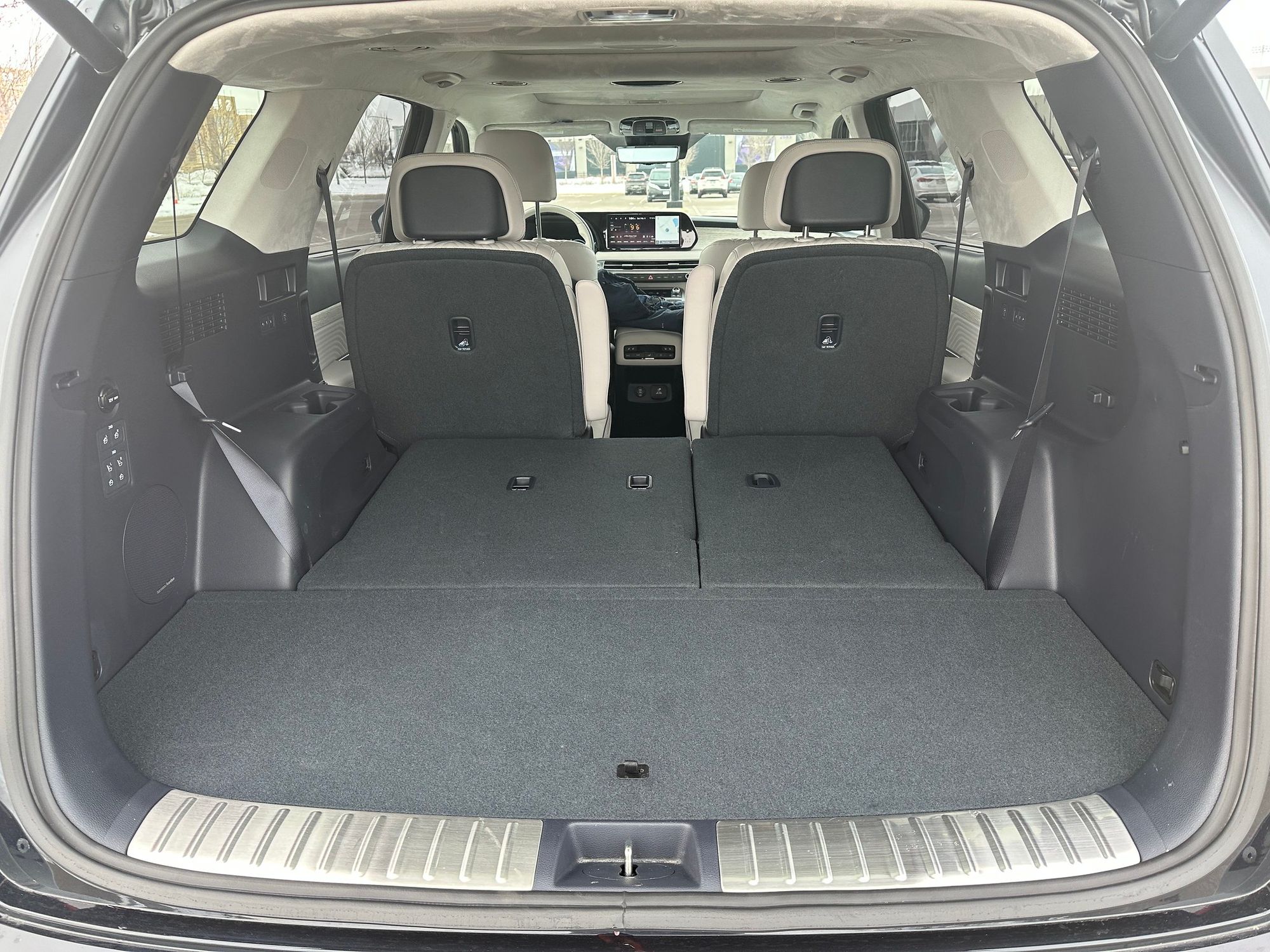 The cone thing Hyundai brought to the 2023 Palisade is a new 12.3-inch digital instrument cluster screen and steering wheel. The updated style brought more luxury to already luxurious vehicle. The cluster's dials change to side cameras whenever the appropriate turn signal is used. The center console istill has the push-button transmission, climate controls, and vehicle systems are within your fingertips. Above the console is a 12.3-inch wide infotainment touchscreen that has a customizable three-pane home screen. It also houses the panoramic and rearview camera system.
Powering the Palisade is the 291-horsepower 3.8-liter V6. While delivering smooth power, it can also tow up to 5,000 pound behind it. All Palisades have an eight-speed automatic transmission standard with available all-wheel-drive. You can select the right drive mode from a knob on the center console, with a center differential lock for the all-wheel-drive system. In our care we observed an average of 22.1 MPG for fuel consumption.
The ride quality in the Palisade is very smooth. It should be perfect to keep the occupants in the second and third rows relaxed as the big SUV absorbs various road surfaces superbly. This vehicle also handles quite well, as it corners with ease devoid of a lot of roll and lean.
The steering set-up is also accurate and solid. The on-road feel at the wheel is also solid. Braking is strong giving us strong stops for a vehicle in its class, whether in normal, panic, or winter situations. The pedal feel is also very good.
Pricing for the 2023 Hyundai Palisade starts at $35,550. Our Calligraphy tester came with a sticker price of $52,310. There are now five trim levels and a choice of front- or all-wheel-drive available.
As the Palisade matures in this segment, as has its competitors. Those competitors include the Kia Telluride, Ford Explorer, Chevrolet Traverse, GMC Acadia, Dodge Durango, Toyota Highlander, Nissan Pathfinder, Honda Pilot, Subaru Ascent, Mazda CX-9, and Jeep Grand Cherokee L.
The key takeaway from the 2023 Hyundai Palisade is you still have a spacious, stylish family-sized SUV made for 7-8 people. It is also one of the strongest values in its class. If you find one on your local dealer's lot – consider it strongly.
Story Credits: CarSoup Editors
---