2023 Kia Telluride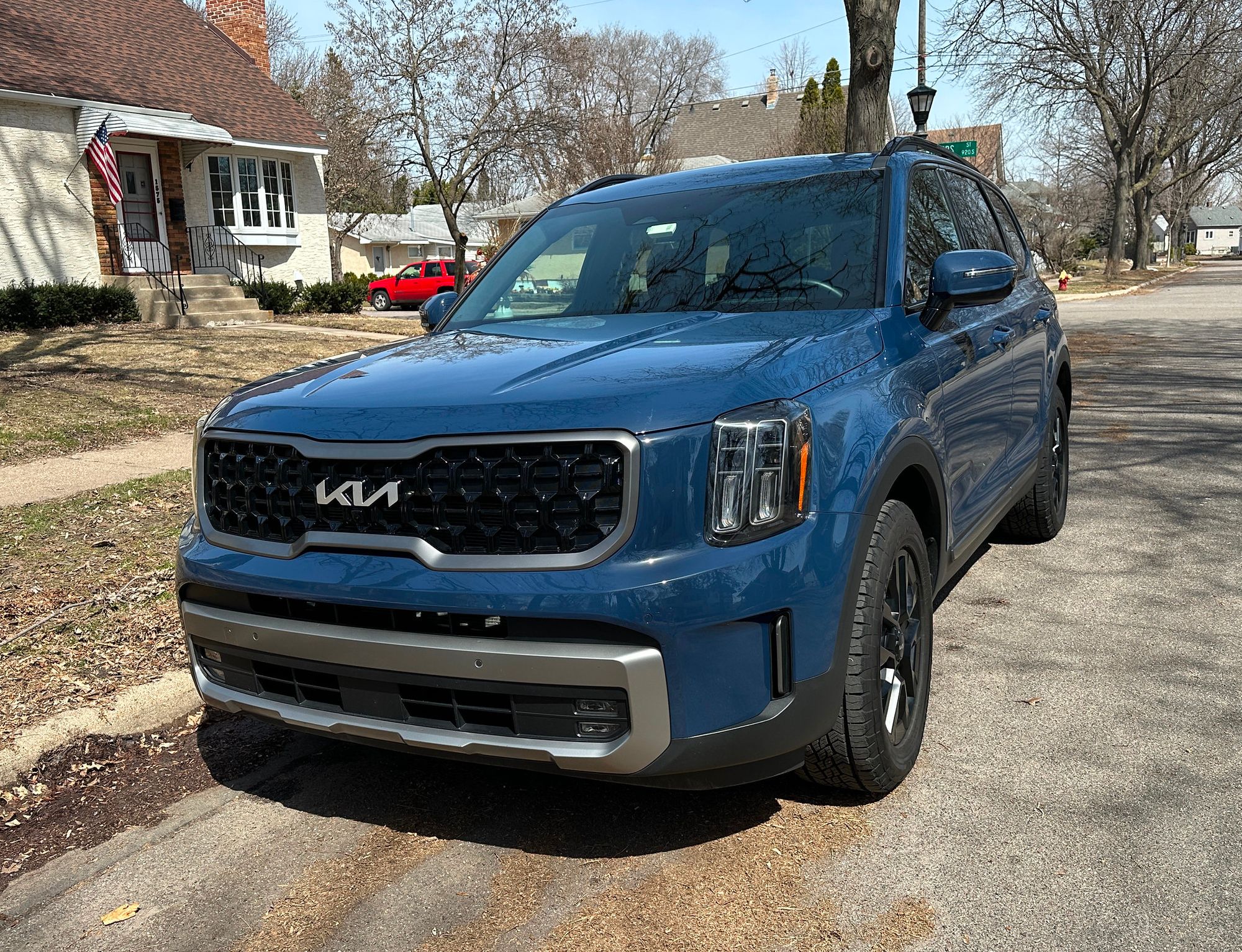 When it was introduced, the Kia Telluride earned almost every automotive accolade – including World Car of The Year. These were all well-deserved honors!
Why did it earn its share of awards? Kia showed that it can compete in the family-sized three-row SUV segment by offering more across the board. Not just with more third row space, but it was driven by a solid driveline and platform that were built for transporting families over long distances.
This winning formula continues with a revised Telluride for 2023. As we discovered, there's more to this story.
On the outside, the exterior is aggressive and quite masculine. Kia continues to make this a brawny SUV that has an air of masculinity and toughness. The updated front end is bold with new vertical headlamp units that flank an even bolder grille.
The side profile remains upright with some special trim at the glass line with a crease line below running from end to end. The rear end is dictated by a set of vertical taillights flanking a very large liftgate. The taillights are integral to the crease line making the Telluride one of the boldest statements in its segment.
Our SX Prestige tester adds a new element to the Telluride – the X-Pro package. Right off the bay, you will notice the 18-inch black finished wheels and all terrain tires. The idea of the X-Pro package is to give the Telluride a feeling of added capability away from the highway.
Stepping inside the Telluride and you are greeted with an all-new instrument cluster/infotainment screen that stretches two-thirds of the dashboard. It is all digital, even with an analog look. The left screen is highly customizable, while the right one handles everything from navigation to smartphone mirroring.
Also, when you turn on your turn signals, the "dials" will show you a view from a camera behind the corresponding mirror.
An updated center console houses a tactile gear lever that is surrounded by plenty of controls located around it. The controls in other places work logically and offer great control. In all, the Telluride offers the driver an improved cockpit to drive from.
Front seating in the Kia is big, supportive, and quite comfortable. They also offer plenty of bolstering and support without fatigue. Second row captain's chairs are as comfortable as the front row ones. They offer plenty of adjustments for rake and recline. The biggest surprise was the third-row access and space, for which the one-touch access made life easier for adults to get into the third row and have plenty of space back there.
All Tellurides are powered by the 291-horsepower 3.8-liter V6 engine. This engine does a great job hauling the Telluride with absolute ease. It is connected to a smooth-shifting 8-speed automatic transmission with all-wheel drive connected to a drive mode system.  As for fuel economy, we averaged 20.8 MPG.
The ride quality is very good with its suspension system absorbing everything in its way. Handling and cornering also produced great results. We also love how the steering system created tight turns while providing good feedback from the road for a vehicle in its class. The brakes were superb, with solid pedal feel and great response at the wheels. Stopping power was there for good stops in normal and panic situations.
Pricing for the 2023 Telluride starts at $35,890. There are now 10 trim levels to choose from. Our SX Prestige X-Pro all-wheel-drive tester came with a sticker price of $55,120.
As the Kia protects its award case by continuing improving the Telluride, it is still up against some formidable competition. Its rivals include the Ford Explorer, Chevrolet Traverse, GMC Acadia, Dodge Durango, Jeep Grand Cherokee L, Toyota Highlander, Honda Pilot, Subaru Ascent, Volkswagen Atlas, Nissan Pathfinder, Hyundai Palisade, Mazda CX-9 and CX-90.
While its competitors are catching up, the Kia Telluride remains the one to get among three-row mid-size SUVs. There is loads of space, plenty of performance, and a wide variety of trim levels to choose from. If you want one that ready's for adventure, the X-Pro package is the way to go.
Story Credits: CarSoup Editors
---