2023 Toyota Corolla Hybrid Sedan
Toyota has always been in the lead when it came to electrified vehicles. They introduced us to one of the first gasoline-electric hybrid automobiles some 21 years ago.
Practically, almost every vehicle sold by Toyota in North America has a hybrid model. That includes four hybrid-exclusive models.
Back in 2020, Toyota added a hybrid driveline to its popular Corolla lineup. They started with one trim level available. For 2023, they expanded to four models and added all-wheel drive to a few of those trim levels.
This expansion of the Corolla Hybrid is part of a mid-cycle refresh of Toyota's compact sales leader. The refresh incudes a new engine for non-hybrid models and the addition of the hot GR Corolla hatch to the lineup.
What attracts consumers to the Corolla Hybrid sedan is its simple, yet attractive design. Exterior changes are modest, such as a new front fascia, headlamps, and taillight arrangement. Everything is simply the same Corolla we all know and love.
For the XLE front-wheel drive tester, we had 16-inch alloy wheels. This elevates the Corolla and invites sustainably minded customers to look for more out of their compact sedan.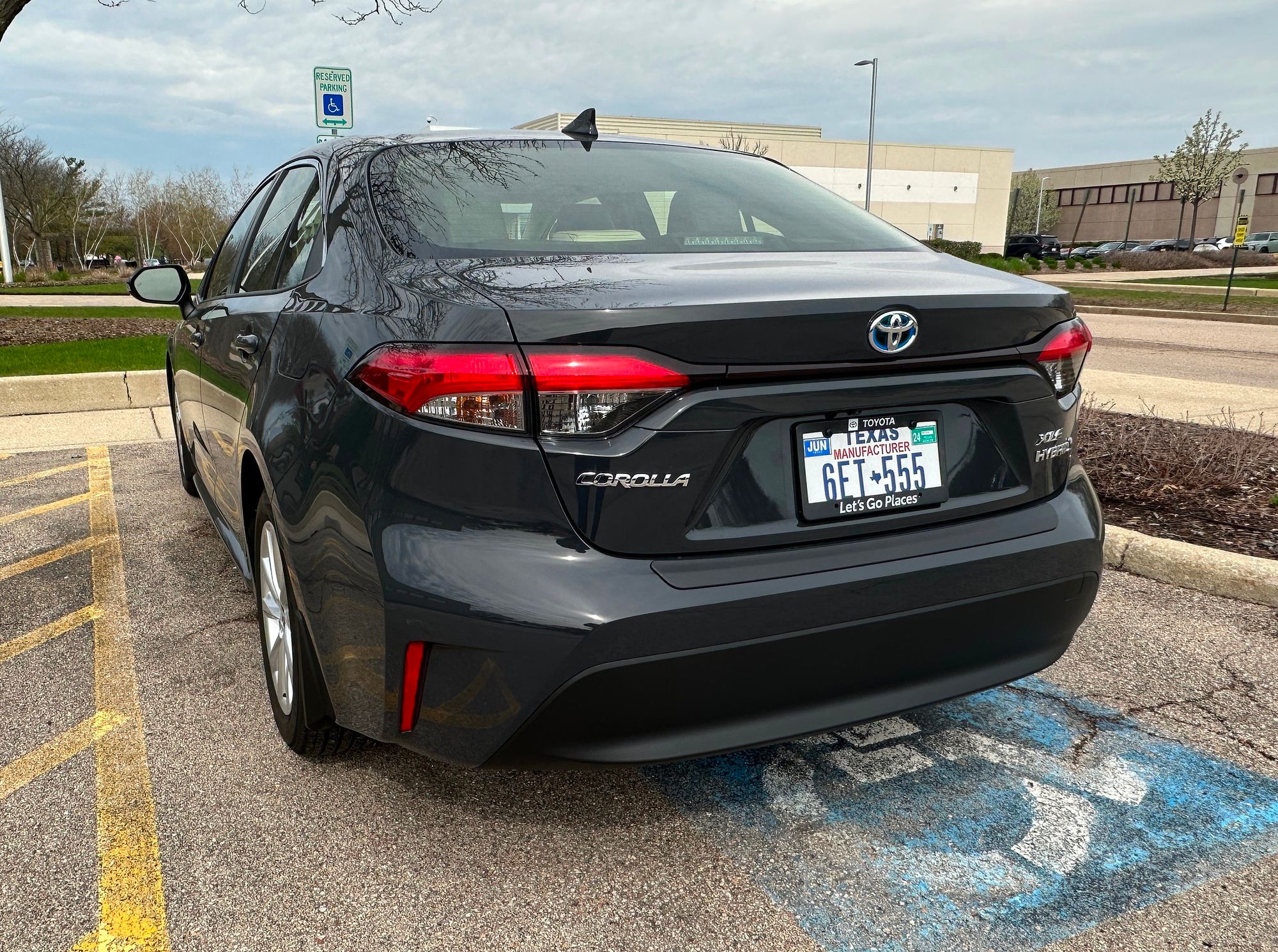 Our Hybrid XLE tester had a handsome two-tone SofTex interior that welcomes its occupants. The front seats are supportive with plenty of bolstering, while providing comfort for the driver. Power adjustments for height, rake, recline and lumbar make it easy for many bodies to the right position behind the wheel.
Rear seat room is fine, though anyone over 6'2" may find headroom to be limited thanks to the slope of the roofline. Cargo space looks like it would carry more than just its 13.1 cubic feet as stated on the specification sheet. The rear seatbacks do fold down for longer cargo.
The instrument panel is handsome and very functional. On the Hybrid, the binnacle is dominated by a TFT screen that serves as a digital speedometer and information center. The fuel and temperature gauges flank each side of the screen in a half-circle. Climate controls are simplified and reside below the big eight-inch tablet-like infotainment screen. Also simplified is the center console with the electronic parking brake and related transmission controls around the shifter.
The Corolla Hybrid is powered by a 138-horsepower 1.8-liter four-cylinder gasoline engine connected to an electric motor. A continuously variable transmission connects the two power sources to the front wheels. A battery pack draws energy to the electric motor, which gets regenerated upon braking or slowing down. In terms of fuel efficiency, we averaged just 49.1 MPG.
We enjoyed the smooth ride of the Corolla Hybrid XLE. It offered up solid absorption of rougher parts of the road. The handling provided flatter cornering and sharper reflexes when they needed to be.
The steering had a solid on-center feel and great road feedback. The Corolla's turning radius is very good. Braking is lag-free, which results in a seamless and strong system. We love the great pedal feel and control.
The Corolla Hybrid LE starts with a base price of $22,800. Our XLE tester came with a sticker price of $29,231. The XLE is available only with front-wheel drive, while you can get all-wheel drive in the LE, SE, and SE Infrared Hybrid models.
The Corolla Hybrid is no longer a unique proposition among compact sedans. It currently competes with the Hyundai Elantra with more models to come. You can also compare this with the Toyota Prius and Kia Niro.
In the past few years, Toyota found that some customers would prefer the Corolla Hybrid over the Prius on value for money alone. In some respects, we agree. This is one hybrid to consider if you only needed a sedan rather than a hatchback.
Story Credits: CarSoup Editors
---