2023 Chevrolet Equinox
If you look at just the sales numbers, then you know which SUV is the most popular. However, there is another measurement. Just look around. No matter the city, suburb, town, or rural tracts of land – you will find a lot of Chevrolet Equinoxes running around.
It is because Chevrolet has plenty of dealerships you can go to not only get one, but to service them.
Based on that alone, one may dismiss the Equinox for being too middle-of-the-road. Then again, how many of you actually considered one for your daily mode of transportation?
The current generation Equinox has been around since the 2018 model year. That is part of the reason for its popularity. The 2022 model year update freshened up the exterior with a new front clip. That included new LED lamp units and a new placement of Chevrolet's Bowtie on the grille. The rear end received a new set of taillamps. The rest is has it has always been – a compact SUV with a distinctive roofline and C-pillar glass that continues to be recognizable everywhere you go.
Our LT tester is a simple package, equipped with a. set of 17-inch alloy wheels. Before you call it "basic," consider that there is a trim below the LT that consumers rarely get to see.
Inside the Equinox, drivers are greeted with a clearly-designed instrument cluster with analog dials – including the fuel and temperature gauges on top of the cluster - and a robust information screen between them.  Throughout the Equinox's cabin are straightforward controls for everything, including the climate controls, the control knobs for the infotainment touchscreen system.
Seating is available for up to five. There is room for adults the rear seat area. Front seats offer plenty of support and are pretty comfortable. The LT trim comes standard in a two-tone cloth upholstery. Cargo space is generous, with 29.9 cubic feet available behind the rear seats. With the rear seats folded down, cargo space grows to 63.9 cubic feet.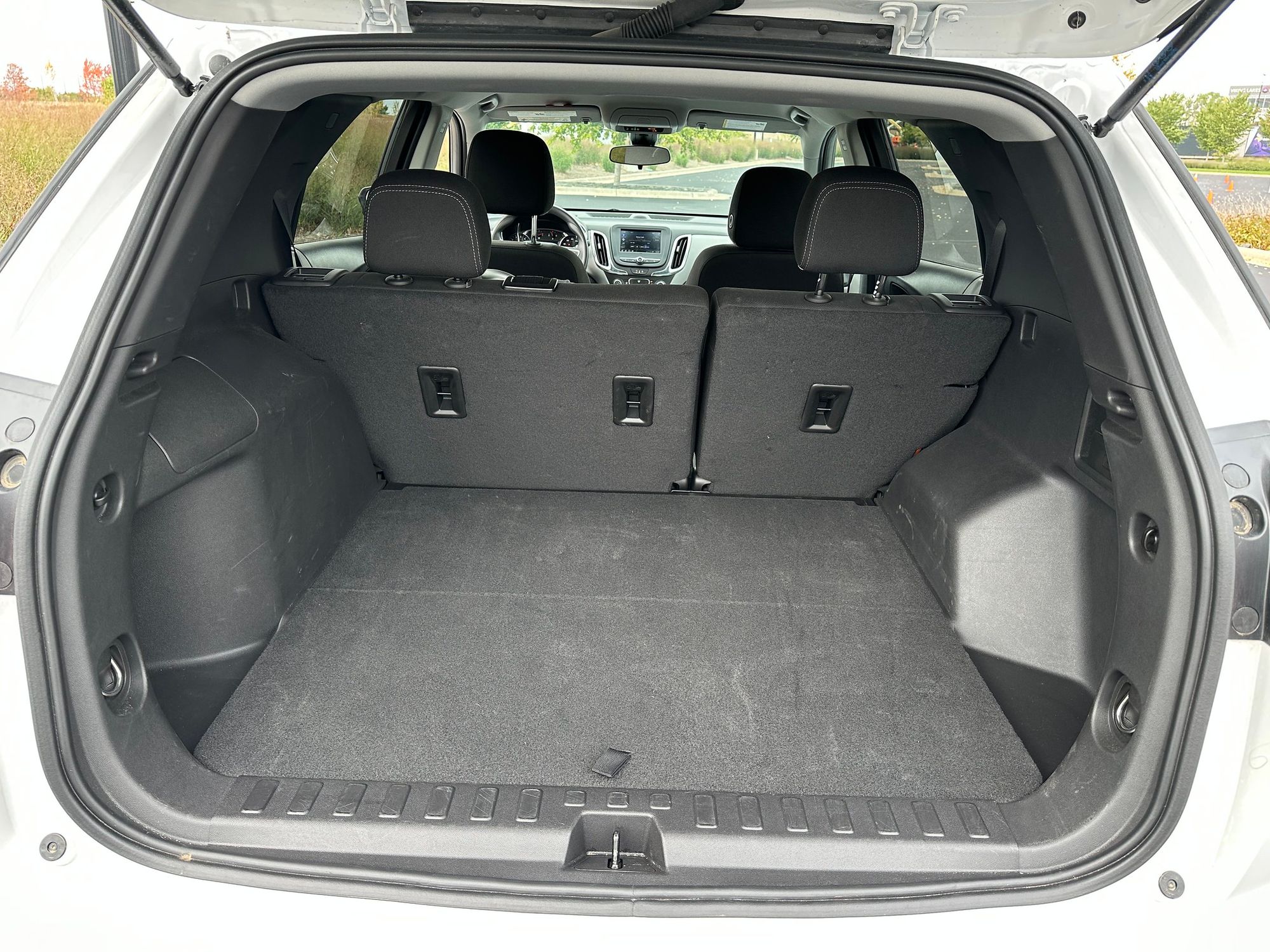 Power comes from a 175-horsepower 1.5-liter turbocharged four-cylinder engine, also putting down 203 pound-feet of torque. It is connected to a six-speed automatic transmission sending power to the front wheels. All wheel drive is available, as well.
This driveline is happier when you're just cruising around on the highways or cutting across town. When accelerating, it can do the job quite decently. As for fuel economy, we observed an average of 30.5 MPG.
Ride is very smooth and comfortable. It does a great job absorbing rougher road surfaces without hesitation. We found the handling pretty decent with just front-wheel drive. There was plenty of control when going through evasive maneuvers. Cornering was pretty nice, as well.
The steering system offers up a works a solid turning radius. On-center feel was actually pretty solid without any play. Wheel response was just right. The brakes felt very good and yielded good pedal feel. We experienced solid stops in normal and panic situations.
Pricing for the 2023 Chevrolet Equinox lineup starts at $26,600 with a choice of four trims. Our LT front drive tester came with a sticker price of $29,095.
The Chevrolet Equinox is a popular choice in a hotly contested segment. Other choices include the Toyota RAV4, Nissan Rouge, Honda CR-V, Subaru Forester, Mazda CX-5, Mitsubishi Outlander, Hyundai Tucson, Kia Sportage, Volkswagen Tiguan, Jeep Cherokee, GMC Terrain, Ford Escape and Bronco Sport.
The Chevrolet Equinox is popular for various reasons. Not just because there are so many on the road, but this compact SUV offers plenty of you need with loads of value. Perhaps this is your choice for family transportation or a commuter vehicle.
Credits: CarSoup Editors
---