2023 Toyota Crown
Back in April, we previewed the new flagship sedan for Toyota, the Crown. We concluded that it was a compelling vehicle offering a hybrid driveline and all-wheel drive standard.
Several months later, we were presented with the keys to a 2023 Crown Platinum to see whether this aerodynamic sedan was the right move for Toyota at the top of their sedan range.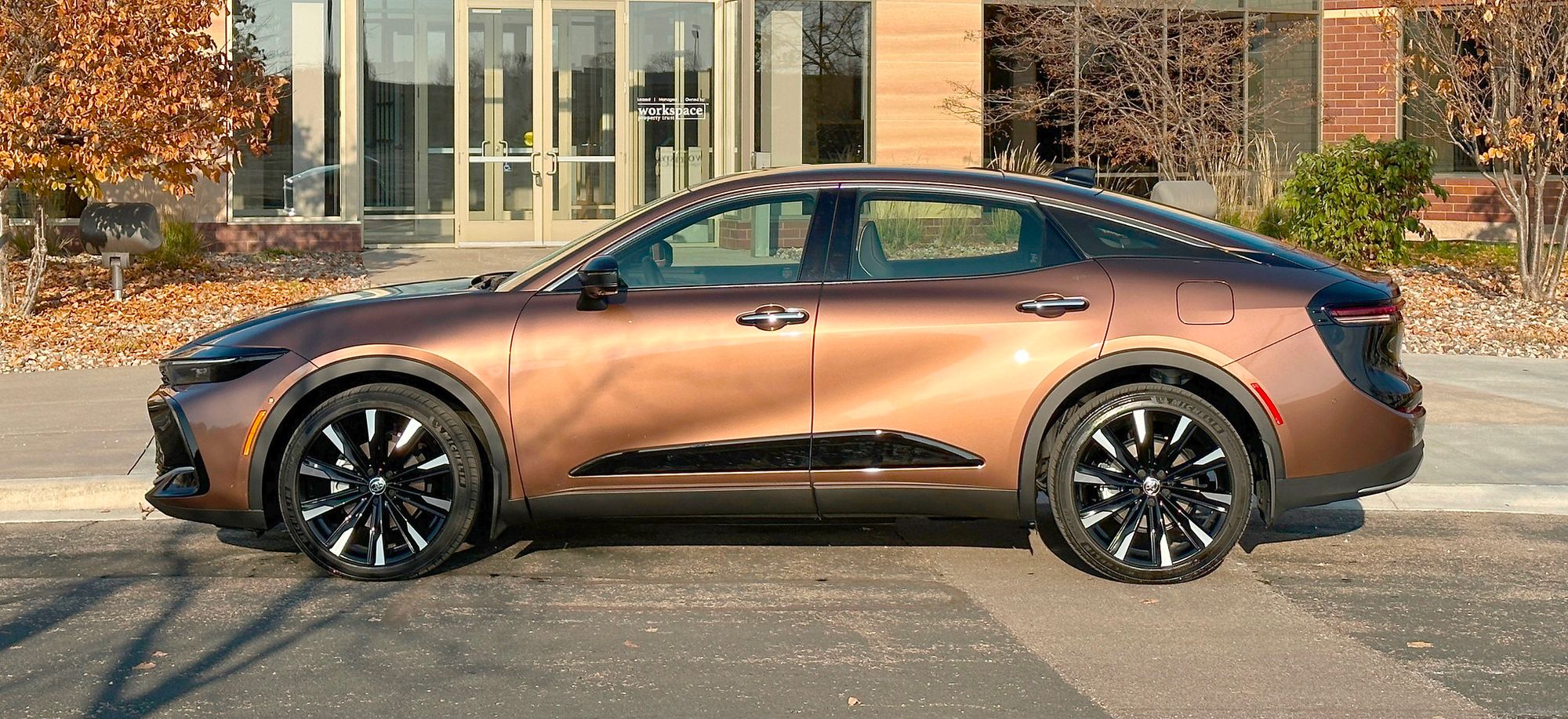 We were intrigued by the sleek exterior that is a departure from Toyota sedans of the past. You are greeted by a blunt grille-like panel, leading onto a pair of slim LED headlamp units. We repeat that this is a sedan, yet the roofline might lead you into think that it is a hatchback. Instead, a trunk lid opens up at the window line down to the bumper. A thin line of taillamps round out the Crown's overall look.
The one thing we pointed out was how the Crown was taller than other vehicles in its class. It stands four inches taller than the Camry. It is designed to give the driver a better outward field of vision, as well as a "step-in" access to the cabin.
Our Platinum tester came with the available bi-tone paint job finished with a black hood, roof, and decklid. It is also wears a set of 21-inch 10-spoke alloy wheels. In all, there is no question that there is nothing like the Crown on our roads.
Step inside for a straightforward cabin experience. The 12.3-inch digital instrument cluster is customizable to the kind of information the driver needs. The 12.3-inch infotainment touchscreen is just off to the right above the center stack. This system offers wireless smartphone mirroring and wireless charging. All controls should be familiar as in other Toyota models – including the shift-by-wire selector on the console and the tactile steering wheel buttons.
There is comfortable space for four adults, or a family of five. Front seat occupants enjoy a firm, but comfortable experience with some bolstering. The Platinum receives leather upholstery that is of decent quality. You also get 15.2 cubic feet of trunk space. The rear seats fold down in a 60/40 split for longer articles.
This Platinum tester is powered by Toyota's Hybrid MAX driveline. This system consists of a turbocharged 2.4-liter four-cylinder engine, two uprated electric motors at each axle, and a six-speed direct shift automatic transmission with all-wheel drive. All told, this system yields a net horsepower rating of 340, along with 400 pound-feet of torque.
In the Crown, the Hybrid MAX works very well. Acceleration is smooth, and it cruises quietly. You can change the temper of the driveline through a series of drive modes, including Sport and Sport S+. The latter two will induce the driveline to attain a more spirited driving behavior.
As for fuel consumption, we averaged 28.3 MPG.
This Platinum model is equipped with an Adaptive Variable Suspension system that corresponds to road conditions to adjust ride quality and handling. This comes into play in Sport S+ mode. This creates a very solid ride over smooth surfaces. In Normal, Eco, or Comfort modes, you still have a very solid ride that absorbs the bumps very well.
Handling is good with nominal body roll and lean through the curves. Evasive maneuvers were done well with solid response from the wheel. On-center feel can be adjusted according to drive mode. In Sport S+, the steering wheel is locked within the lane. In other modes, on-center feel was fine without any play in the wheel. The system had a good turning radius to manage tight maneuvers.
Pricing for the 2023 Toyota Crown starts at $39,950. There are three trim levels to choose from. Our Platinum tester came with a sticker price of $54,569.
The Crown is a new kind of sedan that is sleek and future-forward. However, it still competes with some serious competition among mainstream and premium brands. Competitors include the Chrysler 300, Dodge Charger, Nissan Maxima, Lexus ES, Acura TLX, Infiniti Q50, BMW 3-Series, Audi A4, Mercedes-Benz C-Class, Genesis G80, and Cadillac CT5.
Even if you compare with any sedan in its price range, the Crown represents something that is future-forward. It is proving that sedans should remain relevant for us. When you are shopping for a new sedan, ask yourself "why not this one?" Why not, indeed!
Credits: CarSoup Editors
---